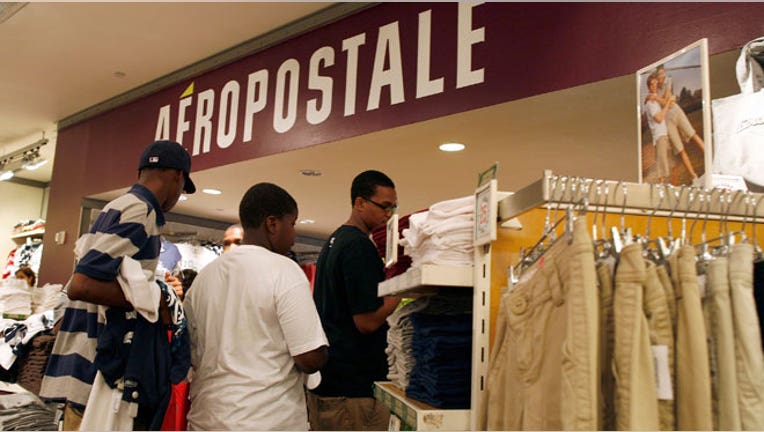 Teen apparel retailer Aeropostale Inc (NYSE:ARO) reported its fifth straight quarterly loss, hurt by a 15 percent fall in same-store sales, and said it entered into a deal with private equity firm Sycamore Partners for a 5 percent stake.
Aeropostale shares fell 13 percent in extended trading on Thursday.
Sycamore will provide a $150 million loan to the company, in exchange for the right to acquire up to 5 percent of its shares at $7.25, the stock's closing price on the New York Stock Exchange on Wednesday, Aeropostale said.
The loan will consist of a five-year $100 million term loan and a ten-year $50 million term loan, the company said.
The private equity firm will own about 12.3 percent of the Aeropostale when it exercises its right to acquire the shares.
Stefan Kaluzny, a managing director at Sycamore, will join Aeropostale's board. Sycamore will also have the right to appoint another member to the board. A third independent appointee will be mutually agreed upon by Aeropostale and Sycamore.
The company reported a net loss of $70.3 million, or 90 cents per share, in the fourth quarter ended Feb. 1, wider than a loss of $671,000, or 1 cent per share, a year earlier.
Excluding items, it posted a loss of 35 cents per share.
Sales fell 16 percent to $670 million in the fourth quarter.
Analysts on average had expected a loss of 31 cents per share on revenue of $683.8 million, according to Thomson Reuters I/B/E/S.
Same-store sales, including online sales, fell 15 percent in the quarter, as it struggled to keep up with the tastes of young shoppers.
The company said it plans to close about 50 Aeropostale stores and two P.S. stores. It has retained a real estate consulting firm to advise on accelerating the pace of closures, and other rent-saving actions.
Aeropostale also forecast a first quarter net loss of 70-75 cents per share, excluding certain items such as store closures, and professional and accounting fees related to the Sycamore deal.
Analysts were expecting a net loss of 17 cents per share for the first quarter.
Aeropostale shares closed at $7.30 on Thursday.