Adopted Son Inspired 'Christmas Milk'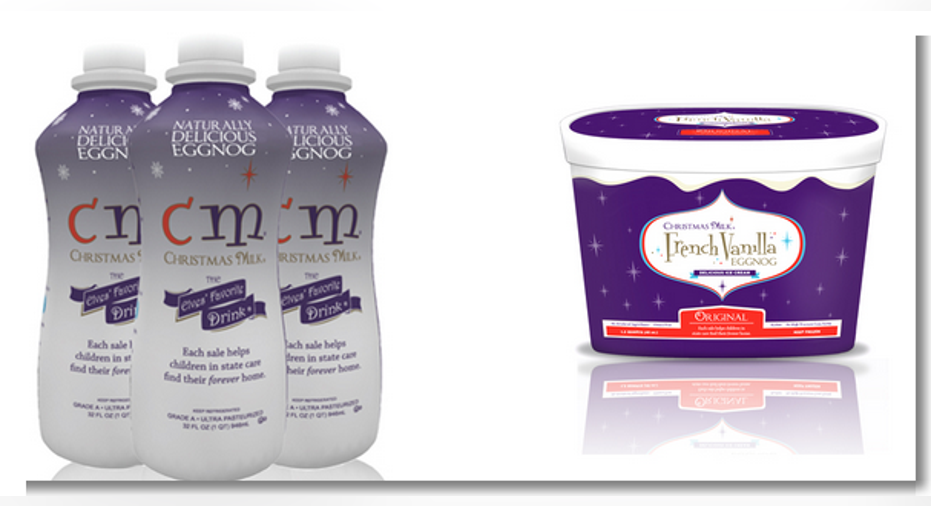 Small Business Spotlight: Christmas Milk, @christmasmilk
Who: Heidi Fausel
What: A year-round eggnog beverage
When: 2010
Where: Frisco, Texas
How: Founder Heidi Fausel says she got the idea for Christmas Milk from her oldest son, whom she adopted from foster care.
"I poured him a glass of eggnog, and he said, 'It's Christmas Milk!'" says Fausel. "We kept calling it that for months."
When she was laid off a few months later, Fausel says she began thinking about creating her own line of eggnog to raise awareness about adopting children from foster care.
"We Googled the domain name, it was available, and we had our product on the shelves two-and-a-half years later," says Fausel.
Fausel says a portion of every sale goes to help children in foster care; Christmas Milk is sold in 23 states for $3.99 to $4.99.
Biggest challenge: "Learning the business!" says Fausel. "Neither me nor my husband have a food background."
One moment in time: "This past season, we were doing a demo and a girl grabbed the bottle, looked at me, and said, 'We had this last year! Now it's a tradition.' It gave me chills," says Fausel.
Best business advice: "Be true to yourself. We've got a lot of feedback that says, 'Why haven't you called it Holiday milk?' But we're sticking to our product," says Fausel. While the product is packaged in purple, a non-religious color, Fausel says the Christmas Milk name is meaningful to her and her family.