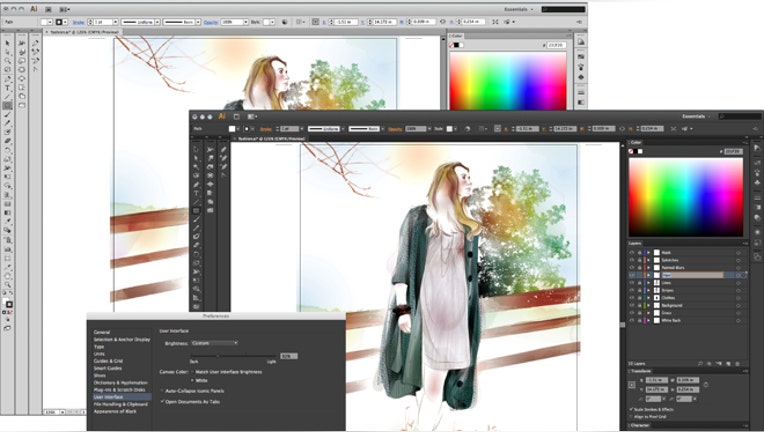 Adobe Systems Inc. (NASDAQ:ADBE) unveiled second-quarter results Tuesday that beat expectations, but the software company updated its full-year forecast, lowering the top end of its guidance range for revenue and earnings per share to reflect weaker demand in Europe.
The Silicon Valley-based software giant narrowed its full year view to between $2.40 and $2.46 a share; previously the company had forecast adjusted full-year earnings between $2.38 and $2.48 a share.  The company also narrowed its full-year revenue growth outlook to a range of 6% to 7%, compared to its previous guidance for 6% to 8% growth.  That view is still mostly in-line with expectations for earnings of $2.44 a share on revenue growth of 6.6%.
For the current quarter, the company expects adjusted earnings between 56 cents and 61 cents a share on revenue in the range of $1.075 billion to $1.125 billion, mostly lower than Wall  Street's forecast for 61 cents a share on revenue of $1.13 billion.
For the second quarter, the maker of Photoshop and Flash software reported net income of $223.9 million, or 45 cents a share, up from year-ago profit of $229.4 million, or 46 cents a share. On an adjusted basis, earnings improved to 60 cents a share, compared with earnings of 55 cents a share one year ago.
Second-quarter revenue rose 10% to $1.12 billion, up from year-ago sales of $1.02 billion. The results narrowly topped expectations, as analysts were looking for earnings of 59 cents a share on revenue of $1.11 billion, according to a recent poll by Thomson Reuters.
"Our strong Q2 results were driven by the successful launch of Creative Cloud and Creative Suite 6, strong Acrobat revenue and 35 percent year-over-year revenue growth in our Digital Marketing Suite business," said Shantanu Narayen, president and CEO of Adobe, in a release. "These results demonstrate our leadership in the Digital Media and Digital Marketing markets."
Shares of Adobe rose about 1% in Tuesday's session. So far this year, the stock is up 16%, but is off its highs of $34.78 and the stock slid nearly 4% in after-hours trading.