Adjusting to College Life is Hard, But There's Help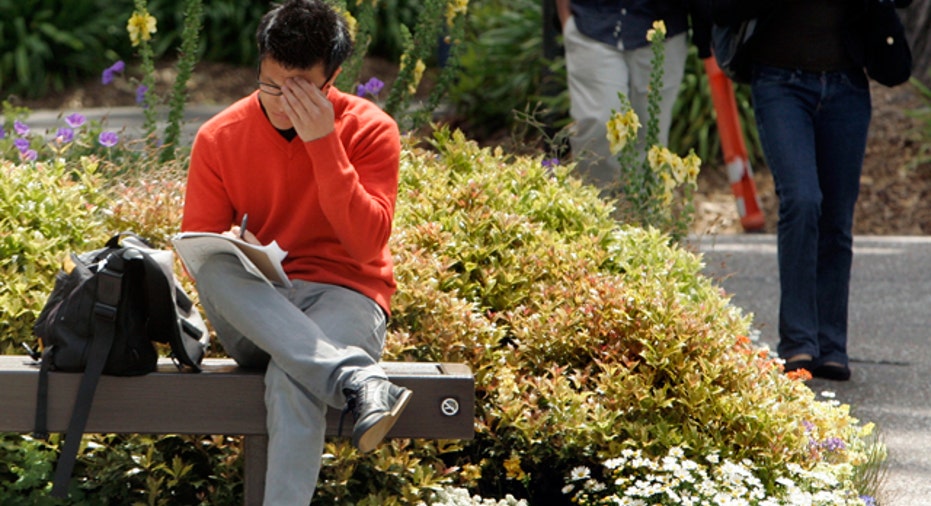 Growing up is tough enough without the worries of your financial future, so Money101  is here for you. E-mail us your questions and let us take off some of the pressure.
Going away to college is a big adjustment for everyone, and for some, it may be a more drastic change than expected.
According to a Cooperative Institutional Research Program survey administered nationally by the Higher Education Research Institute, freshmen students' self ratings of their emotional health dropped to record-low levels in 2010. Only 51.9% of students reported their emotional health was in the "highest 10%" or "above average," a drop of 3.4 percentage points in 2009 and a considerable decrease from the 63.6% who placed themselves in those categories in 1985.
I think sometimes when college kids are experiencing stress, they often can feel very isolated, and it can be a very lonely and frightening experience, says Dori Hutchinson, director of services at the Center for Psychiatric Rehabilitation at Boston University. Knowing about what the resources are and the communities that are there for support and help is very critical.
Any college experience includes some level of stress and feelings of emotional imbalance, and thats a good thing--it helps students mature and prepare for the real world. But that doesnt mean students have to handle the pressure alone; schools offer a variety of tools and resources and there are steps every student can take to help create a balance in their life.
Issues on campus
The stressors that college kids faced a few decades ago have changed, according to the experts.
The fast-paced lifestyle of modern life coupled with the financial implications of the recession and staggering cost of tuition puts pressure on students to make sure their college experience is worth every penny.
The level of education you need in order to get a job today is very different than the level of education that you needed 20 or 30 years ago, says MJ Raleigh, president of the American College Counseling Association. Theres a heavier burden [that] you have to have a college degree to have any kind of career or life--you cant just go out of high school.
Hutchinson explains that kids are being parented differently than they were in the past, resulting in a lack of independent life skills.
In many cases theyve been sort of micromanaged as theyve gone through the high school years and theyve often been protected from a lot of disappointments, she says. Once they get to college and theyre on their own, lifes disappointments happen and kids are often lacking that resiliency to deal effectively with those events, events that happen in life like getting a poor grade, or your boyfriend or girlfriend breaking up with you.
Experts list anxiety, relationship issues and an overwhelming amount of depression as the predominant mental health issues students experience.
Theres a recent study that showed that nearly half of all college students reported having felt so depressed in the last year [that] it was difficult to function, says Alison Malmon, founder and executive director of Active Minds. With a lack of sleep from college life, it doesnt really help ones mental health state at all.
Parents role
Experts strongly suggest parents facilitate open communication with their child about how to identify and deal with mental health problems. Parents of kids with pre-existing issues should discuss a plan of action on how to seek out resources help when needed.
I think teaching the kids to self-advocate for themselves and their needs, parents encouraging that and supporting that, is what really needs to happen, says Hutchinson.
According to Raleigh, if a student is over the age of 18, any information from his or her mental health medical files (with the exception of harming themselves or others) requires a waiver or release of consent to share that information with the parents.
Talk to your student about if youre in that place where youre feeling suicidal, please call us and talk to us, or tell it to your therapist if youre working with someone on campus, let them know, says Raleigh. The truth is that most [therapists] are going to talk to that student and say can I call your parents?, because of the fact that thats their greatest support network and were going to do everything we can to get that person to a healthy, safe place.
Malmon says that the hope is that the majority of family situations are supportive and that students can benefit from keeping their parents in the loop, but that its not the case for everyone.
Thats why its important that students have the right to protect the information if they want it protected, she says.
Resources available
Students seeking outside assistance wont likely have to leave campus. While every school offers different outlets for stress release and emotional support, Malmon explains that all universities provide their students with resources that can help them cope.
In addition to extensive mental health clinics and licensed psychologists, many campuses are also training residential advisors (RAs) and faculty members on how to create a support system for students and recognize signs of trouble.
There are many robust networks available to them if they avail themselves of it, says Malmon. There are also a variety of online services as well, some of which are offered directly through the university and some are through outside organizations available to students.
Although college kids may not be prepared to handle and treat serious mental issues, peer-to-peer counseling can provide an outlet for those with roommate and social problems. Hutchinson says that when college kids are in distress, two-thirds of students turn to their peers for help rather than adults.
Hutchinson notes that colleges are becoming more responsive to the needs of their students, especially considering the various tragedies on campuses in the past decade as a result of untreated mental illness.
I think more and more college campuses are recognizing that mental health is a part of good, adult health--we all need good mental and physical health, she says. Most campuses have tried to be responsive to the fact that they need to be supportive of their students mental health, [that] peoples mental health is a resource.