Adidas Defies Under Armour With $1M NFL Combine Contest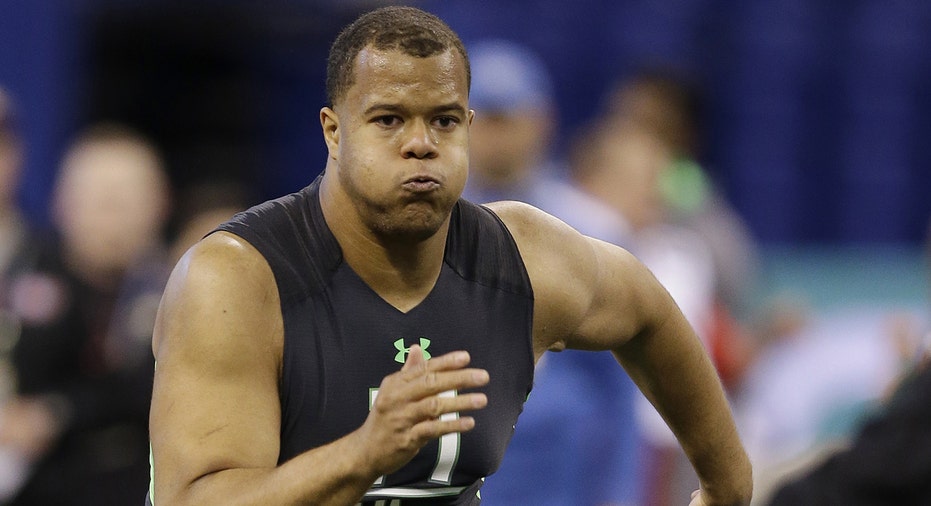 All eyes will be on the nation's top football prospects at the 2016 NFL Scouting Combine, but Adidas is relying on a clever marketing stunt to steal the spotlight from the event's sponsor, Under Armour Inc. (NYSE:UA).
Adidas is offering $1 million to any performer who breaks the NFL Combine's record in the 40-yard dash while wearing its new "adizero 5-star 40" cleats. The current record of 4.24 seconds, set by running back Chris Johnson, has stood for eight years.
If the record stands, the 40-yard dash contest is worth an estimated $1.78 million in advertising for Adidas' brand, according to Apex Marketing Group, an analytics firm. If the record is broken, the equivalent advertising value for Adidas spikes to $2.27 million.
Even if a new record-holder is crowned, $1 million is a small price to pay for Adidas to hijack the conversation at an Under Armour-sponsored event – especially given the heated battle for consumer interest in the crowded sports apparel industry.
"No matter what happens, for Adidas, it's a positive," Eric Smallwood, Apex Marketing Group's managing director, told FOXBusiness.com. "People that would not be talking about Adidas associated with the Combine are talking about it."
On a global scale, Adidas is a far larger brand than Under Armour. The German apparel company earned $19 billion in revenue for its 2015 fiscal year, compared to $3.9 billion for Under Armour.
But Under Armour has experienced rapid growth in recent years, particularly in the crucial United States marketplace. The Maryland-based company surpassed Adidas in late 2014 to become the second-biggest sports apparel brand in the country. Adidas has been searching for ways to regain its footing with American consumers ever since.
Adidas' aggressive efforts to promote its million-dollar 40-yard dash contest on social media are evidence of its renewed commitment. In one post, Adidas fired a thinly-veiled shot at Under Armour.
"They sponsor it, but we own it," Adidas wrote on Twitter (NASDAQ:TWTR). "Break the 40-yard dash record in adizero, win $1 million."
The 40-dash promotion carries little risk. To win the money, athletes don't just have to break a record that has stood for nearly a decade – they have to do so while wearing Adidas cleats.
Sports franchises and companies often pay for insurance on long-shot giveaways and cash contests, Smallwood said. For example, charity golf tournaments buy insurance on "hole-in-one" promotions that carry cash prizes.
A new record would also grant Adidas a ready-made marketing campaign, similar to what Puma has created around Jamaican track star Usain Bolt, the world's fastest man.
"What do they have to lose, from a marketing standpoint?" Smallwood said. "If they have somebody break the record and give $1 million, they're going to use the heck out of that promotion. They're going to, ideally, sign that athlete."