Adelphi Lacrosse Team Plays Trump Speech During Pre-Game Entrance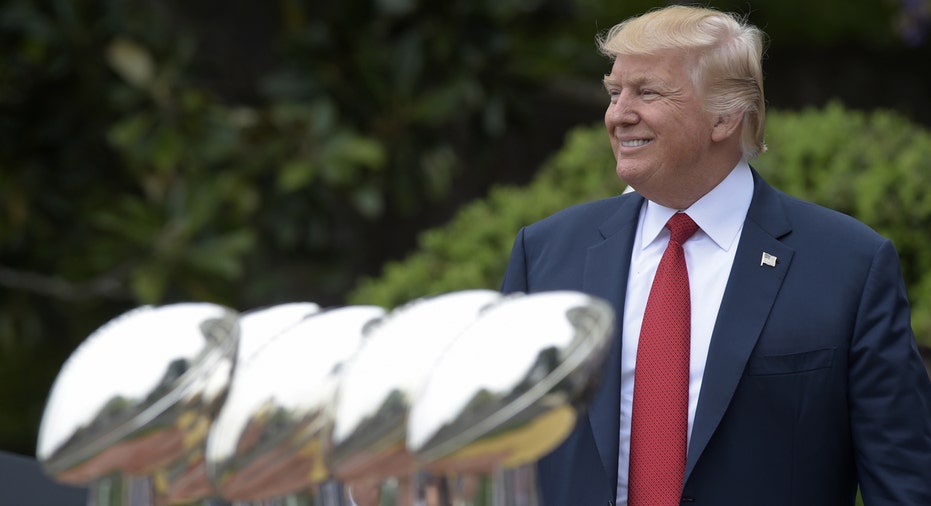 A college sports program is trying to make lacrosse great again by using a recording of one of President Trump's speeches as its pre-game entrance music.
The men's lacrosse team at Adelphi University, a private college in Garden City, New York, ran onto the field with an American flag as Trump spoke. Barstool Sports posted footage of the entrance on its Instagram feed on Wednesday morning, but it's unclear when the event took place.
"In all of our cities and all of our towns, I make this promise. We will make America strong again. We will make America proud again. We will make America safe again. And we will make America great again," Trump said in the recording, which included his oft-used campaign slogan.
Adelphi's athletic director, Danny McCabe, told Newsday that the use of Trump's speech before a game is not a violation of any school policy. The school's lacrosse coach, Gordon Purdie, added that the entrance was "not intended to provoke or to be taken as a political statement."
"The men's lacrosse team's regular-season pregame warm-up music is selected as a team and approved for use so long as they do not contain vulgarity or inappropriate subject matter," Adelphi athletic director Danny McCabe said in a statement. "The songs they proposed and used this season meet those guidelines. As such, we are obliged to follow the policy."
Barstool Sports' post about Adelphi's entrance had been viewed over 915,000 times on Instagram as of Thursday morning.