Activist Investor Starboard Grabs 13.3% Stake in Office Depot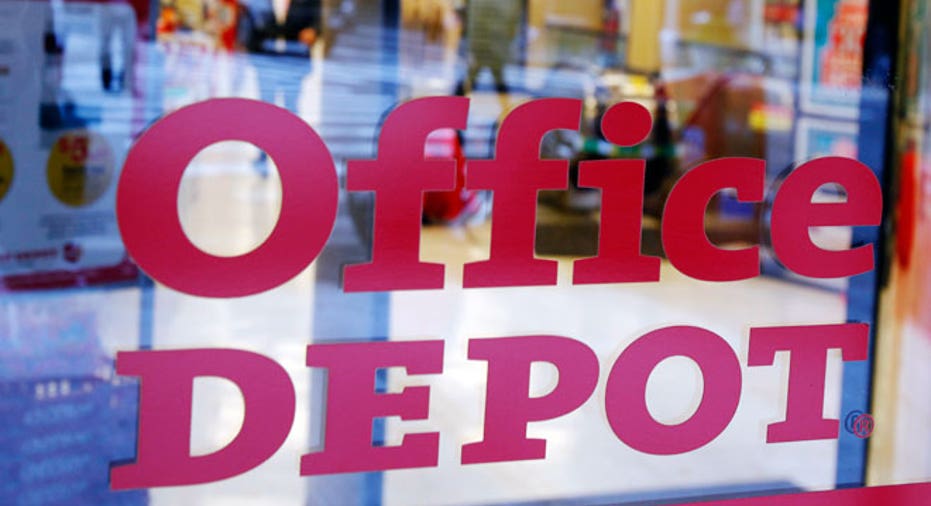 Activist investor Starboard Value revealed on Monday it has acquired a 13.3% stake in Office Depot (NYSE:ODP), sending shares of the office-supply retailer climbing 7%.
Describing the company as "deeply undervalued," Starboard fired off a letter to Office Depot CEO Neil Austrian that called for a slew of sweeping changes, including slashing general and administrative expenses, cutting back on advertising, increasing the mix of higher-margin services in North America and shrinking its stores.
"We strongly believe that Office Depot is deeply undervalued and that there are opportunities to substantially improve operating performance and valuation based on actions within the control of management and the board," Starboard CEO Jeffrey Smith wrote in the letter.
Office Depot's shares have gained about 9% over the past year, compared with a 20% leap for the S&P 500, a 35% rally for rival OfficeMax (NYSE:OMX) and an 18% slump for Staples (NASDAQ:SPLS).
"ODP's stock price has underperformed over almost any time period, and we believe it is time for management and the board to take immediate action to address this underperformance," Smith said.
The 13.3% investment in Office Depot makes Starboard the company's largest shareholder. Starboard has a history of investing in companies it believes are undervalued and underperforming and then calling for changes to fix them.
In addition to Office Depot's share performance, Starboard noted that the company's operating margin of 0.7% over the past 12 months is well below that of Staples and OfficeMax, which have margins of 6.4% and 1.9%, respectively.
Starboard also said it estimates that Office Depot de Mexico, the company's joint venture with Grupo Gigante, could be worth more than 50% of the company's entire enterprise value.
Shares of Boca Raton, Fla.-based Office Depot soared 7.29% to $2.65 on Monday, leaving them up 22% so far this year.
The Starboard letter comes just days after Fortune reported that Bain Capital and a number of other private-equity firms are exploring a buyout bid for Staples that could be worth around $10 billion.