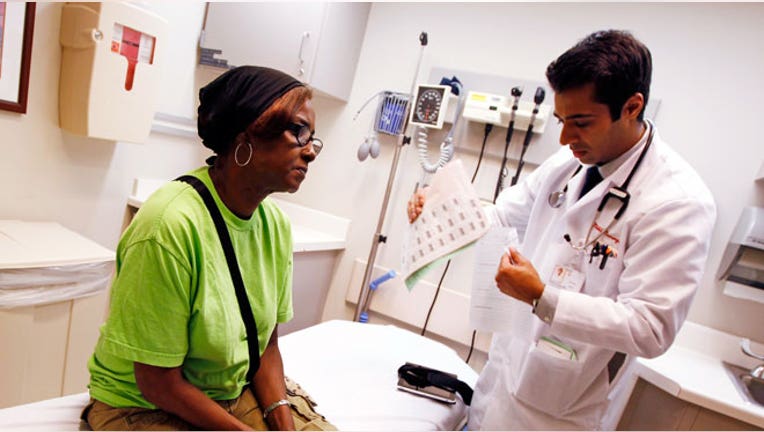 In today's health-care system, a doctor's main job is to diagnose and treat patients' ailments, but in the future, their focus will shift to prevention.
Accountable health care is the idea that your doctor is responsible for keeping you healthy, and the trend is gaining momentum as a way to keep rising health-care costs under control. Under this appraoch, doctors would get a lump sum from the insurer to cover all the costs associated with taking care of you and share in any of the cost savings.
"Accountable health care matters to consumers because it is the best hope of bringing health care spending into alignment," says Mike Long, chief executive of Lumeris, a healthcare technology company.  "Accountable care organizations, which are formed when payers, providers and health systems work together on behalf of the patient, are focused on driving down cost, improving quality outcomes and enhancing patient and physician satisfaction."
Under the current system, there's a lot of overlap and duplication because patients see their  primary care physicians as well as  specialists, and they don't always communicate and track who has performed what test or tried what drug and could waste time and money running redundant tests and trying unnecessary treatments.
"With a fee for service, you get paid for doing something each time you do it," says John Walker, chief medical officer of Cornerstone Health Care. "With accountable care, we're moving toward being held accountable for the outcome of the patient in terms of quality and in terms of costs."
And it's not only the doctors and hospitals that will be held accountable. Patients will also have to work more closely with their health care providers to manage their care.  "Rather than the system doing things to you, or fixing you because you have chosen to live an unhealthy lifestyle, everyone becomes more accountable for cost, quality and satisfaction," says Long.
Accountable care can take many forms. There are accountable care organizations that work with insurers and are in charge of all aspects of a patient's care. Accountable care can also fall on the primary care physician who is affiliated with organizations that manage patient care or it can end up being the responsibility of a hospital.
For instance, in the case of a heart attack all the money to treat the patient could go to the hospital, which would then be accountable for that patient's care and recovery. Either way it's structured, the goal is to have all of the care providers connected to avoid duplications and give the patient better care. "It can be a number of organizations that are big enough and organized enough to be able to accept lump payments," says Thomas Hastings, a doctor at Esse Health in St. Louis. "Treatments should cost a lot less because information passes a lot more smoothly and everybody is aware of what everyone else is doing."
One of the most effective ways to lower the costs associated with health care is to prevent people from getting sick in the first place, hence the focus on preventive care. Patients under the accountable health care model will have more access to preventive screenings and tests to identify any risks of illness before it becomes a full blown problem.
Patients will be provided with electronic tools to engage and educate them about healthy lifestyle choices and how to manage specific diseases. With accountable care, health-care providers will know when patients aren't taking their medication, aren't adhering to their medical plan and when it times to get a screening.
Doctors will be able to identify gaps in care and will be alerted to them before a patient visit.  "Automation is the key in making accountable care more feasible," says Raj Toleti, president, coordinated care solutions and chief technology officer at PatientPoint, which provides engagement services for hospitals and patients. "Figuring out what a patient is getting done and not done manually is cost prohibitive."