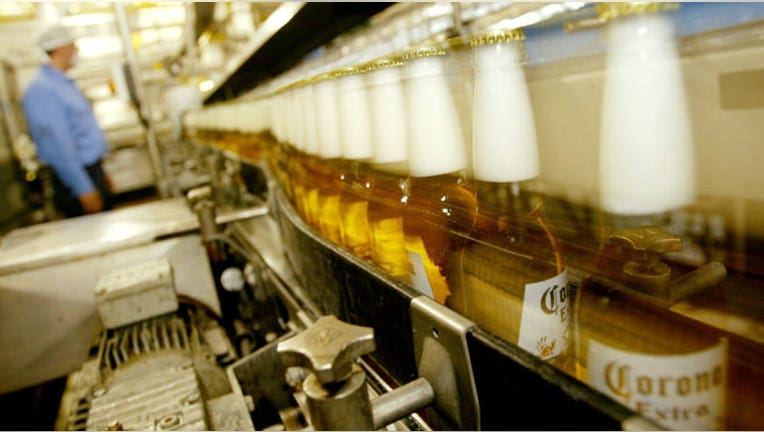 Just in time for the summer heat, Anheuser-Busch InBev (NYSE:BUD) unleashed a $20.1 billion all-cash deal on Friday to take control of Corona maker Grupo Modelo
The huge deal would further increase the massive size of the world's largest brewer, marrying brands like Corona Extra and Modelo Especial with AB InBev's Budweiser, Bud Light and Beck's.
However, the sheer size of the combined company, which would have annual revenue of $47 billion for 2012, could give antitrust regulators pause.
AB InBev said it has agreed to pay $9.15 a share in cash for the 50% of Mexico's Grupo Modelo that it doesn't already own, representing a 30% premium on the company's close on June 22, the final trading day before reports began swirling about a potential takeover.
The two companies have a long history together, starting with a partnership that began in 1993.
"There is tremendous opportunity from combining two leading brand portfolios and further expanding Grupo Modelo's brands worldwide through AB InBev's extensive global distribution network," AB InBev CEO Carlos Brito said in a statement.
The companies said they see the combination generating annual synergies of at least $600 million. The combined company would manufacture 400 million hectoliters of beer volume each year and have a presence in 24 countries with 150,000 employees.
To help pay for the deal, AB Inbev said it has added $14 billion of additional bank facilities. Still, the Belgian brewer said it expects to remain below its targeted net debt to normalized Ebitda ratio of 2.0x during the course of 2014.
"Together we will be the leading global brewer with top brands around the world and positions in some of the fastest growing countries," said Grupo Modelo CEO Carlos Fernandez. "This is an exciting transaction that will bring our brands and proud heritage to even more consumers internationally while offering an increasing number of AB InBev's brands in Mexico."
Simultaneously, Grupo Modelo revealed plans to unload its 50% stake in Crown Imports to Constellation Brands (NYSE:STZ) for $1.85 billion. The joint venture, which will now be 100% in the hands of Constellation, imports and markets Grupo Modelo's brands in the U.S.
The announcement, combined with upbeat quarterly results and a $160 million acquisition of Mark West, helped send shares of Constellation surging 20.54% to $26.20 in recent trading.
Shares of AB InBev also leaped to fresh 52-week highs, recently trading up 3.82% to $76.61.