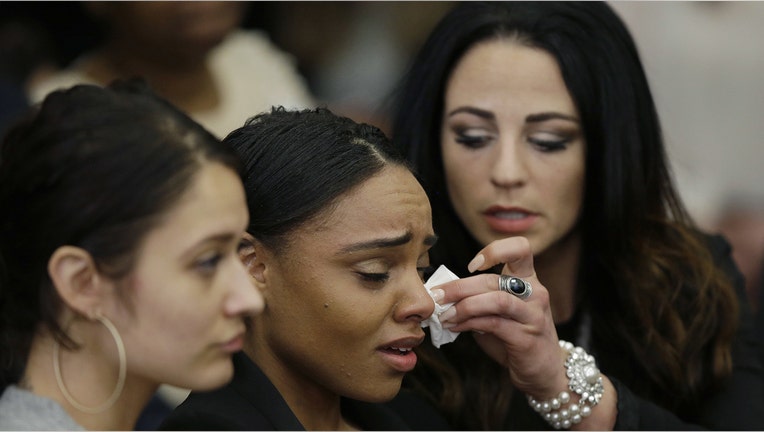 Shayanna Jenkins-Hernandez, the fiancée of Aaron Hernandez, said she initially thought news of the former New England Patriots star's suicide last month was a prank.
"I thought it was a hoax, that this was some cruel person playing a trick on me," Jenkins-Hernandez said during an interview with daytime talk show host Dr. Phil, in her first public comments since Hernandez's death.
Hernandez was found hanged on April 19 in his prison cell at a Massachusetts correctional facility, where he was serving a life sentence for the 2012 murder of Odin Lloyd. Hernandez reportedly left three suicide notes near his body – two of which were addressed to Jenkins and the couple's young daughter.
Jenkins-Hernandez said there was no indication Hernandez planned to kill himself, stating that their last conversation "had nothing to do with suicidal thoughts."
"I felt like we were looking so bright. We were going up a ladder to a positive direction," Jenkins-Hernandez told Dr. Phil.
A Massachusetts judge opted this week to erase Hernandez's conviction for Lloyd's murder, citing a longstanding state legal tenant that renders rulings void if the defendant dies before the appeal process is complete.
Hernandez reportedly told his fiancée that she was "rich" in one of the suicide notes, fueling rumors that the former NFL standout committed suicide to clear his criminal record and make it easier for his estate to protect or recover financial assets.
Jenkins-Hernandez reportedly addresses the rumor during the Dr. Phil interview, which is set to air in two parts next Monday and Tuesday.
A legal expert told FOX Business this week that it's unlikely Hernandez's estate will be able to recover lost bonus or pension money from the Patriots or the NFL, despite the fact that his criminal record is technically clean.