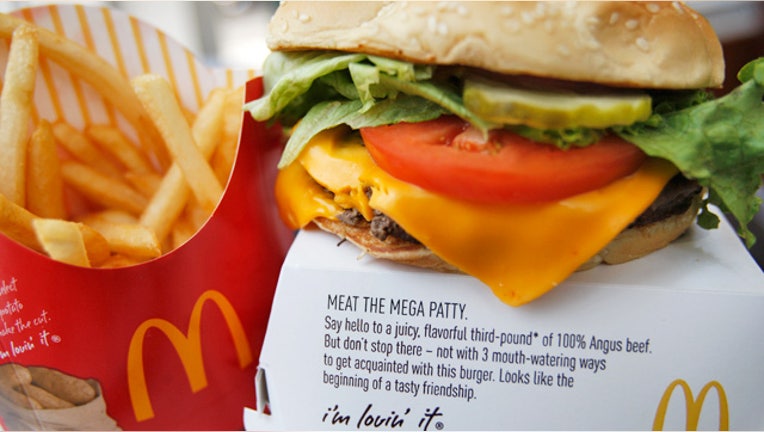 McDonald's Corp (NYSE:MCD) on Thursday reported global February sales at established restaurants that missed Wall Street's target, primarily on European weakness, and warned that economic uncertainty could hamper profit growth, sending shares down more than 3 percent.
The results showed that the world's biggest hamburger chain, which has outperformed most of its peers despite economic turmoil around the world, is not immune to economic belt-tightening in Europe and higher food and labor costs in the United States.
"These challenges are expected to impact the company's first-quarter operating income growth," McDonald's said in a statement.
"I was not expecting to read that sentence in this report," Victory Capital Management analyst Dave Kolpak said.
"We've gotten used to being blown away with upside surprises" in McDonald's monthly same-restaurant sales, he said.
McDonald's does not give quarterly earnings guidance and company representatives declined to elaborate.
TOPSY-TURVY MONTH
McDonald's on Thursday reported a 7.5 percent gain in February sales at global restaurants open at least 13 months.
Analysts polled by Thomson Reuters were looking for a worldwide sales gain of 7.7 percent, while those polled by Consensus Metrix had expected a gain of 8.2 percent.
Europe, which just edges out the United States as McDonald's biggest market for revenue, saw sales rise 4 percent. Analysts were expecting the region to gain more than 6 percent.
Deadly frigid temperatures hurt sales in the region, where top performers included Britain and Russia.
"We think Wall Street was underestimating the effect of the cold snap in Europe," said Janney Capital Markets analyst Mark Kalinowski, who was expecting European same-restaurant sales to rise 5 percent in February. Kalinowski has a "buy" rating on McDonald's shares and is advising clients to pick up shares on Thursday's dip.
McDonald's is not alone in reporting weakness from the region. Starbucks Corp, Gap Inc and some other large consumer-focused U.S. companies also are feeling the pinch of European debt woes and austerity measures.
Sales in its Asia/Pacific, Middle East and Africa unit rose just 2.4 percent, missing analysts' calls for an increase of around 8 percent.
Japan, which is still recovering from a massive earthquake and tsunami, reported a 1.2 percent decline in February same-restaurant sales. A shift in the timing of the Chinese New Year also pulled down results in the region.
Same-restaurant sales in the United States jumped 11.1 percent, far better than the roughly 8 percent gain expected by analysts. Domestic sales got a boost from Chicken McBites, beverages, breakfast and Filet-O-Fish sandwiches.
Analysts said the U.S. results showed that McDonald's continues to steal market share.
McDonald's has a broad menu - including $1 hamburgers, salads, espresso coffee drinks and "premium" Angus burgers - that appeals to a wider range of customers than the young men who typically frequent other fast-food chains.
It also uses its massive size to negotiate lower costs for food and other items than its rivals.
That has helped the company outpace direct rivals such as Burger King and Wendy's Co.
"It's still outperforming everybody," Edward Jones analyst Jack Russo said.
Shares in McDonald's were down 3.5 percent to $96.67 in early trading on the New York Stock exchange.