A More Spiritual 'Situation'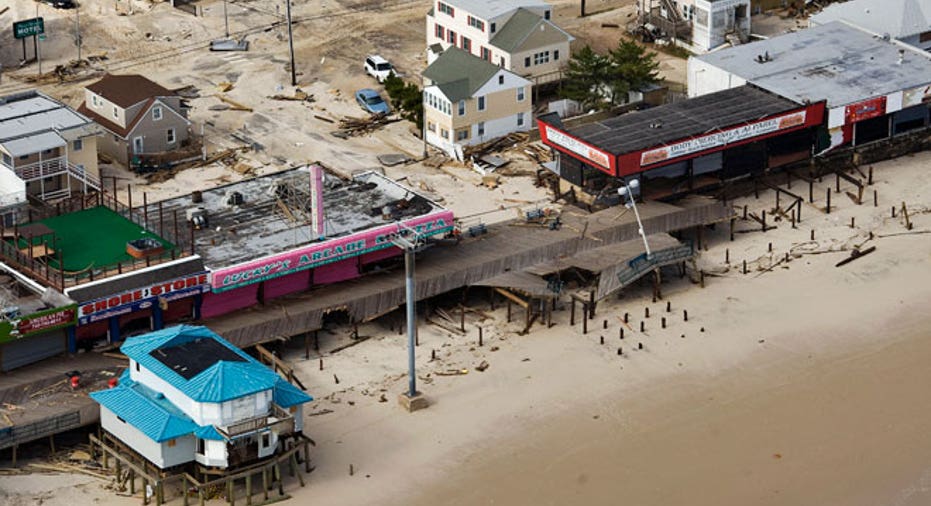 Having let the reality of Hurricane Sandy sink in for a few days, I've developed a bit of a fantasy and it involves MTV. It goes something like this.
Imagine a camera panning the length of the now-devastated New Jersey shoreline. Words then appear on the screen: Jersey Shore, Special Final Season.
Cut to a shot of Snooki, JWow and company doing whatever it is they normally do, only suddenly the camera stops on each of their faces. Their expressions are serious.
"We're back for another season because we want to give back to the place that made us famous and wealthy," JWow says. "We've agreed to donate half our salaries to the disaster relief effort," says Snooki. "But we will also be devoting each episode to creative ways of raising more money for the Jersey Shore rebuilding fund," says The Situation. It's reality television with a refreshingly altruistic twist. It's a chance for self-involved, materialistic young adults to grow and, before a national audience, let the deeply satisfying feeling of giving play out. Real, meaningful giving that is specific and directed. Imagine all those avid viewers seeing what purpose and a mission can look like. I know, I know, this show has been a diversion for many. They're not looking for spiritual refreshment. Or inspiration. Or even seriousness. It's crass escapism. And look, MTV and others have made a ton of money courting and keeping this audience. Good for them. It's the land of opportunity and whether I like it or not, vapid reality TV is where it's at. But, you see, I'm from New Jersey. Born and bred. Like Governor Chris Christie -- who aptly called the Jersey Shore our "soul" -- I've been vacationing at the there for most of my 50 years on earth and it's part of who I am. Not the hot tubbing, clubbing Jersey Shore but the family-oriented, coming-of-age place. Playing in the sand as a toddler, hanging with my cousins as a pre-teen, sunbathing with my friends as a high school and college student and now sharing a beach house in Lavallette every summer with my siblings and parents. We need you, that's all of you involved with this show, and we need you now. We need you to make up for the godawful reputation you've given a place we love and show the nation what New Jersey is really about. We're a bit gruff, a little bad-ass, very loud, and definitely have an edge. But we're also loyal, big-hearted and wicked smart with twisted humor. If there's one thing I've already learned from Hurricane Sandy it's how to ask for help without feeling like it's a sign of weakness. When my power went out in my Hoboken, N.J. home at approximately 6:15 p.m. Monday night, I was enveloped in a kind of fear I'd never felt before. I've weathered storms and I've certainly had my power go out, but this was more claustrophobic and core-shaking. I was lying on my bed with covers over me when I decided to go to my friend's place a few blocks away. The only trouble with that decision was those few blocks would bring me closer to the raging Hudson River and already whipped-up winds. I bundled up and when I reached my front porch I was stopped in my tracks by the wind. A young woman walking west said that walking toward the water felt dangerous. As she kept on, I saw a man walking across the street and I yelled to him to see if he was going my way. Without answering my question, he crossed the street and started walking with me toward my friend's apartment building. When we got to the door, I thanked him profusely and introduced myself. He shook my hand, said his name was Roberto and "You're welcome" and then he walked in the other direction. It became clear he had gone out of his way for me and I got teary as I realized I'd just been the recipient of extraordinary kindness. I went to a vulnerable place. Perhaps that's why I can ask this so unabashedly. Please, Jersey Shore folks, help my state. Your state. Our state. I know our government will help, that the Red Cross will do wonders. But you are in a unique position to pull off a fundraising effort that is targeted to help restore the Jersey Shore. It will mean a lot of jobs as construction gets underway. Next summer we could have our escape with our families in a place we love. Its year-round residents, well, what a huge gift it would be to them. Wouldn't that feel amazing? As one who watched the first episode of Jersey Shore and never tuned in again, you might even get me to tune in for a season. That's my fantasy and I'm sticking to it.
Nancy Colasurdo is a practicing life coach and freelance writer. Her Web site is www.nancola.com and you can follow her on Twitter @nancola. Please direct all questions/comments to FOXGamePlan@gmail.com.