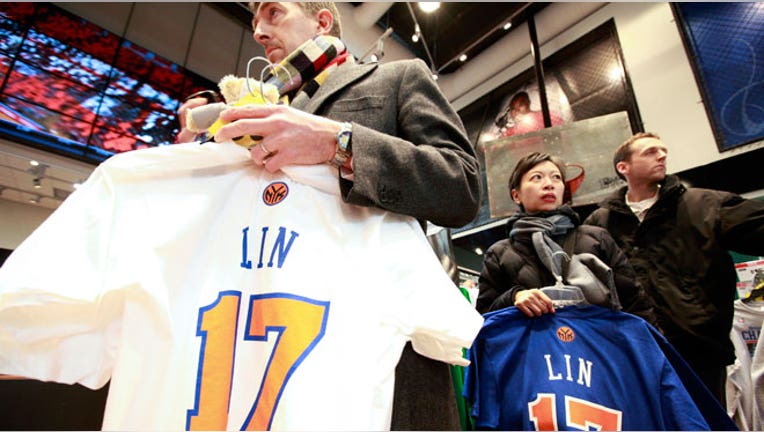 New York Knicks point guard Jeremy Lin is the hottest name in sports right now. He has been money on the court in leading the previously moribund Knicks to seven straight wins. He has proven he can shoot the rock, but he's most valuable in helping others score points.
Now, his uncanny ability to assist and make his team shine is a skill that is about to translate from the hardwoods of Madison Square Garden to the spotlight of Madison Avenue. It's a skill that no doubt will ring up some big bucks for the undrafted player whose Knicks contract wasn't even guaranteed before his breakout performance February 4th.
"He has incredible value," says Rob Tuchman, the president of Elite Experiences.  The long-time sports marketer has done NBA player deals with PepsiCo (NYSE:PEP) and Wal-Mart (NYSE:WMT) among others.  "It's the most meteoric rise ever and he has the most potential (marketing) value ever."
Lin's appeal extends beyond his lightning-quick crossover from benchwarmer to star player.   He's a clean-cut, deeply religious Asian-American Harvard graduate. Sports marketing pros agree that's a rare and lethal combination for corporate America.
"Nothing compares to the uniqueness of Lin," explains David Schwab, founder and managing director at Octagon First Call, a firm that secures celebrities, athletes, and others to market brands for corporate clients. "We live in a 'now world', so brands must look for programs and celebrities that can create awareness and buzz for them.  For brands with springtime campaign launches in the NBA and even a Chinese-American demo, a discussion with Jeremy is warranted."
Schwab said he has had a number of calls this week from brand clients to discuss using Lin in upcoming campaigns.
David Meltzer, CEO of Sports 1 Marketing, says it's hard to draw a parallel to Lin's instant impact. "Tim Tebow had great success, but he was already a huge, popular success. Lin is an overnight sensation. Olympians can only have this type of a rise."
Currently, Lin's only endorsement deal is with Nike (NYSE:NKE). The athletics apparel company signed him to their roster in 2010 even as all 30 NBA clubs passed over Lin in that year's draft. Nike now looks smart for signing Lin, no doubt on the cheap, as he was not a shoe-in to make an NBA roster out of Harvard.
Nike spokesman Brian Strong says the company's own scouts saw the potential where the NBA talent judges missed it:  "There was something about Jeremy that made him look like a fit for Nike basketball."
Now the company will undoubtedly use Lin's newfound celebrity, as well as his heritage, to court consumers stateside and in the fast-growing Asian markets.  Last summer Nike took the California-born Lin to Taiwan, including a stop in his father's hometown, to conduct clinics. And the shoe giant already has sports marketing reps for Lin in the greater China region who are surely fielding a lot more calls these past two weeks.
The athletics apparel maker also included Lin in a skills shoot last summer -- http://www.youtube.com/watch?v=yH1J4bxp18U -- along with superstars including Kevin Durant, future Knicks teammate Amar'e Stoudemire, & Blake Griffin. That footage could easily be recut and rolled out in a new campaign, although Nike is closely guarding its plans for capitalizing on its investment.
"We're not ready to discuss what's upcoming just yet," said Strong. "We'll continue to celebrate Jeremy's success and look for opportunities to highlight that. It's quite the phenomenon."
Strong did confirm that photos circulating the internet of supposed Linsanity sneakers are not authentic. The orange and blue (Knicks colors) shoe depicted is an actual Nike Hyperfuse 2011 model, but the Lin logo is not official.
Fans may not have to wait too much longer though. An analyst familiar with the matter says Nike is currently cobbling new kicks for their sudden star spokesman and that they are coming soon.
"They are actively working on a Lin shoe but won't be here in the near-term.  It takes time to build a shoe. It will have to be an existing shoe with some Lin tweaks."
"Linsanity" has been a boon for the sports marketing business. The NBA Store and sporting goods stores in Manhattan have had trouble keeping Lin's jersey in stock.  And Tuchman says corporate clients of his sports and entertainment company, Elite Experiences, are now clamoring to celebrate the Knicks' resurgence.  "There's tons of interest, it's crazy!  It was probably the most requested event last week," he said.  That's a 180 degree turn for Tuchman's firm, which had zero requests for Knicks events prior to this newfound Linterest.