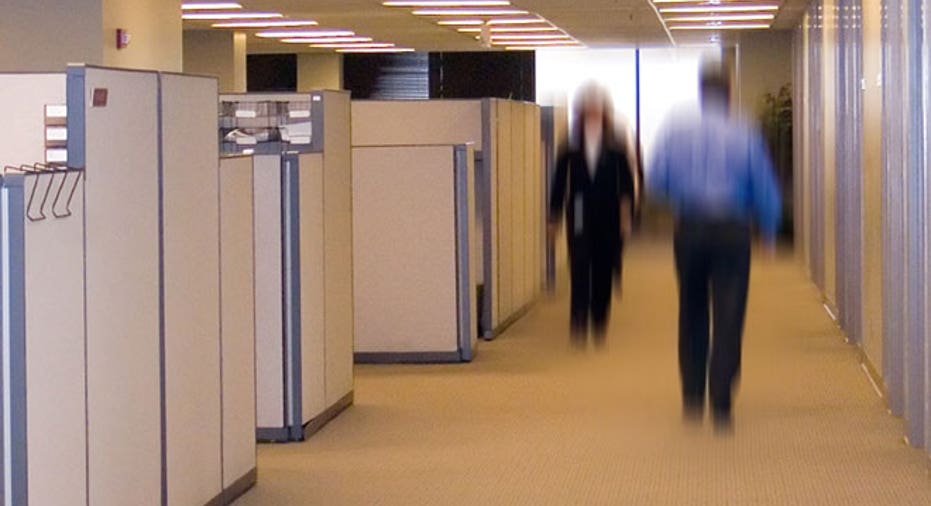 When Charlice Noble-Jones took the long walk home from the carnage in Downtown Manhattan on September 11, 2001 -- that's 100-plus blocks to Harlem -- this is what she was thinking about her Wall Street job:
"If you had died today, was that what you want to be remembered for?"
When she tells me this in our recent interview, I can almost see the image of this woman trudging, thinking, trudging some more, mind swirling. She gets to Central Park to cross over from the East to the West side, she recalls, and people are tossing Frisbees and she begins to wonder if it was all a figment of her imagination. But she saw too much. Way too much. It happened.
"Whatever we're doing, it should be worth dying for," Noble-Jones says.
'Dying' is not a word she throws around lightly. Widowed at 32 when her husband died of pancreatic cancer, this 36-year-old single mother then lost her father two years later.
"I understood death at that point," she says. "I don't have any fear [of death] now. When it's time, it's time."
Now living in Atlanta, she is a fourth grade social studies teacher who also runs a Snap Fitness franchise she won in a contest last year. Unlike winning a luxe trip where you simply pack your bags and go, this prize came with a lot of responsibility and required some business know-how. Fortunately, spurred on by her own weight loss progress there, Noble-Jones had already been dreaming about her very own Snap Fitness franchise and had created a business plan before she'd even heard about the essay and video contest.
That's some pretty fancy manifesting right there. She emerged victorious out of the roughly 2,000 applicants for CEO Peter Taunton's competition, whose prize was worth around a quarter of a million dollars. And while there are obvious blessings that came with the win, Noble-Jones felt a whole different kind of gratitude.
"I call it the gift," she says, adding that she told Taunton, "You've given me the ability to almost rewrite my legacy. It doesn't have to end with people saying, 'Oh, I feel so sorry for her.'"
With that kind of outlook, Noble-Jones is teaching even when she isn't trying to. And she has already found, in the five months since she opened her gym's doors, that a lot of teaching is involved in running it well. With the high rate of diabetes in the area, her staff has worked hard to learn about it. They put a team together for a triathlon. They teach people to set goals they wouldn't have set a year ago. When a member lost her husband and didn't want to get out of bed, the gym gave her a place to go.
What a gift it has been. Noble-Jones loves that even her 8-year-old, Preston, gets it. When he walked into the new office for the first time, he said, "It's a once-in-a-lifetime opportunity."
Noble-Jones and Taunton plan to open another location next year. While she is committed to teaching again next school year, she is open to scaling back to substitute teaching at some point if Snap Fitness needs more of her attention.
"We're not here to make money, we're here to help people reach their goals," Noble-Jones says. "The money is a by-product. After what I've gone through, it wouldn't be right to just do it for money."
Having made "a lot" of money when she worked at Deutsche Bank in New York, she knows how it feels on both sides of that equation. When she started to plan for getting her own franchise, she got to the point of wondering how she'd get the loan. Her mother told her if they liked her they'd give her one. That was before they even knew about the contest.
"I was like, 'Yeah, right,'" Noble-Jones says, laughing. "Now I think she's the smartest person in the world."
When she calls this a gift, she points out that everything is where it needs to be. And yes, she recognizes that means she's saying that all of the loss and the exposure to loss put her in this right place. She was angry about surviving for a while, but now sees the value in the living, how every action has a reaction.
"In the financial industry I was in, people were missing for weeks [in the aftermath of 9/11]," Noble-Jones says. "We did their work for them and hoped they'd be found."
In fact, when she was notified that the police had found her lost wallet in the rubble, she was greeted with hugs of relief by the officers when she showed up to claim it.
"They thought I was gone," she said. "I was on a list."
And so, again she asked herself the question:
"You didn't die now. What are you going to do?"
Teach. And live with no regrets.
Nancy Colasurdo is a practicing life coach and freelance writer. Her Web site is www.nancola.com and you can follow her on Twitter @nancola. Please direct all questions/comments to FOXGamePlan@gmail.com.