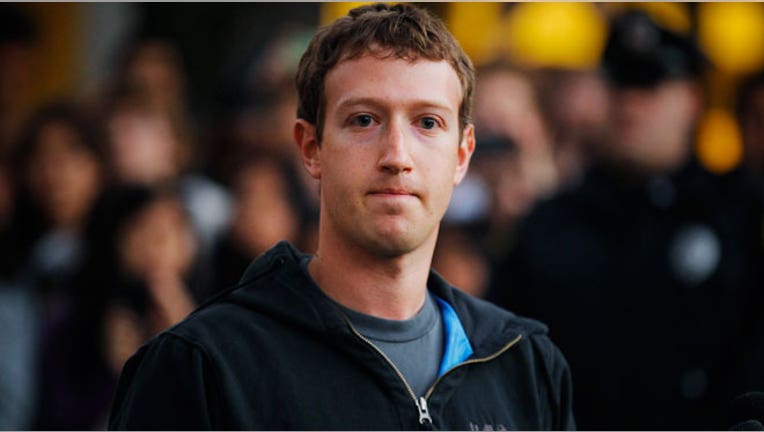 Imagine Facebook (NASDAQ:FB) CEO Mark Zuckerberg clad in a hoodie in a secure room at the social network's Menlo Park, Calif., headquarters encircled by a handful of his closest allies.
Sitting nearby will likely be his chief operating officer, Sheryl Sandberg, as well as chief financial officer David Ebersman and Facebook's investor relations heads. Their common mission will be to soothe shareholder concerns and convince analysts of Facebook's potential despite its turbulent introduction to the public markets. Since the May 18 IPO, its shares have retreated 25%
The catch: It will all take place over the phone, tonight.
The scene will reflect Facebook's version of the White House Situation Room during what will be the social network's highly-anticipated first earnings call and Facebook's first major public appearance since its botched IPO.
"The first quarterly call is a significant milestone and I think it is a powerful platform for [Zuckerberg] to reaffirm his vision of the company," said Rob Berick, senior managing director of the investor relations group at communication consultancy Dix & Eaton.
White boards will likely be close by, the better to jot quick notes on, and piles of documents with detailed analysis of the company's financials along with shareholders' most pressing concerns will surround Facebook's most senior executives.
The call will likely start with Zuckerberg, Ebersman or Sandberg reading prepared statements that reflect the company's results for the second quarter ended in June. The consensus is calling for per-share earnings of $1.21 on sales of $1.15 billion, according to a Thomson Reuters poll.
However, the heart of the showdown will take place during the Q&A, where Facebook will likely take around 20 to 25 questions directly from analysts. Topics will range from earnings to longer-term concerns that have plagued the social network since its public debut.
While Facebook hasn't stated who will be participating on the call -- and it wouldn't be uncommon at all for Zuckerberg to pass the microphone to Sandberg or Ebersman at certain points -- most shareholders will be looking to hear from the CEO directly, especially during the rapid-fire Q&A.
Facebook did not respond to FOXbusiness.com for this story.
"This is an opportunity to demonstrate that [Zuckerberg] has command of where the organization is going," Korn/Ferry CEO Gary Burnison said. He has to prove "not only that he's a visionary but also that he's responsible for execution."
Zuckerberg will be front and center on Thursday's call as the 28-year old CEO tries to convince shareholders that he has what it takes to steer the tech behemoth through turbulent times and into a prosperous future.
"You don't want to duck and weave as a leader of a company during an earnings call. You want to hit things head on."
"Looking ahead, I wouldn't necessarily believe that [Zuckerberg] would maintain that type of presence on each and every call, but I'd be surprised if on this one he did not have a significant role," said Berick, who previously directed corporate communications and investor relations for Scott Technologies.
The call will be listened to closely by investors eager to analyze the company's trajectory as it unfolds as a public company. Shareholders will be looking for Zuckerberg to lay out a long-term plan that includes tackling revenue concerns and widening its customer base.
With all eyes (or ears) on Zuckerberg, and management aware that the direction of this call will reverberate across the industry, one can only imagine that the young CEO will have undergone extensive training and will be prepared to tackle hardball questions as analysts digest a disappointing two months and determine whether Facebook can turn things around.
Call participants will likely meet a more well-versed and professional Zuckerberg from the young leader who chose to skip out on a few key roadshows in the months leading up to Facebook's IPO. The CEO's demeanor will be important as it could give insight into whether he has matured into his new role as CEO of a major public company.
"This has enormous visibility," Burnison said. "You don't want to duck and weave as a leader of a company during an earnings call. You want to hit things head on."
Zuckerberg and his IR team have likely brainstormed the most pressing analyst concerns and have anticipated certain questions regarding the quarterly numbers. The company has probably worked and reworked various ways to ask and answer questions, practiced tones and inflections, decided where to draw lines on certain topics and perhaps even adopted a so-called kill phrase.
Kill phrases, established by IR teams and conference call operators beforehand, signal the operator to interject and nudge the call back on track. They are rarely used, said Berick, who in his 20 years of orchestrating conference calls has only had to trigger the kill phrase a handful of times. However, he said they may prove necessary if the Q&A starts to veer uncomfortably off topic, particularly toward shareholder lawsuits related to the Nasdaq OMX Group (NASDAQ:NDAQ) and the botched IPO.
Most companies cap off weeks of preparation through careful run-throughs of the earnings numbers and potential Q&A topics, as well as mock calls that might include both internal team members and external cohorts such as the legal or public relations teams.
Practice calls will analyze everything from the way call participants are projecting to the level of ambient noise in the background and will help executives "get used to talking to a broad audience while actually only talking into a little speaker on their desk," Berick said.
While Scott Kessler, an equity analyst at S&P Capital IQ covering Internet stocks, including Facebook, said it is difficult to identify in what direction the Q&A will go without first analyzing the company's earnings report, he said hot topics will likely include how Facebook plans to grow and sustain revenues, including how it plans to monetize mobile and maintain support from major advertisers such as Ford (NYSE:F) and Wal-Mart (NYSE:WMT). After the soft results from Zynga (NASDAQ:ZNGA) last night, Facebook execs can also expect some tough questions on that topic as well. (Zynga's popular games are distributed on Facebook.)
"The investor relations team needs to be very well grounded in terms of this past quarter's results as well as the future gating," Burnison said.
It also might not be surprising in the aftermath of Google's (NASDAQ:GOOG) earnings report, where the search engine revealed an increase in paid clicks but an accelerated decline in pricing, that analysts will question Facebook about how it plans to overcome various mobilization challenges.
Other analysts will be wondering how Facebook plans to keep a cap on expenses despite aggressive expansion plans, and Kessler, who also serves as head of the IT Sector equity research team at S&P Capital IQ, said he would be interested to see how Facebook plans to tackle a higher tax rate.
Facebook is set to report its second-quarter earnings after the bell.