A Coach Finds Her 'Inner Glitter'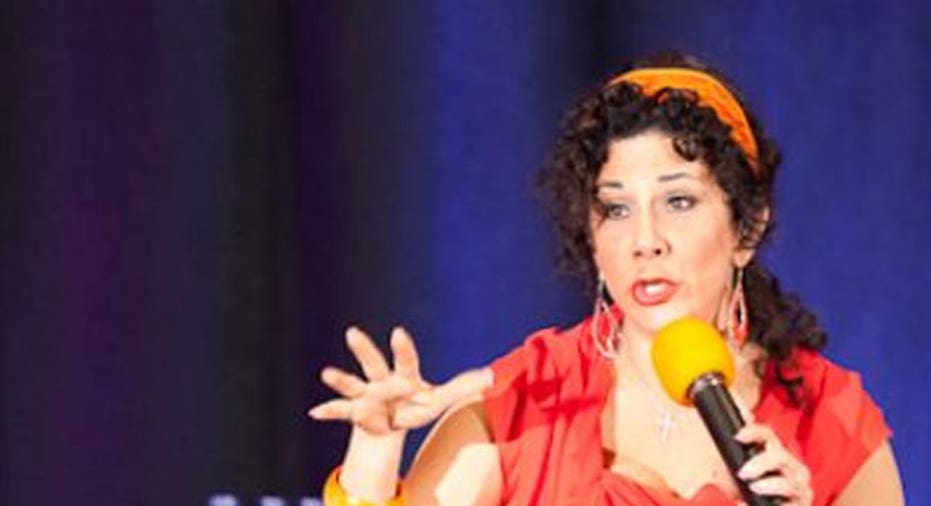 Laura Berman Fortgang isn't prone to wearing leopard. So when the character she's created, Lurlene Anne Hornblower (a.k.a. Life Coach Lurlene), dons animal print pants, shoes, and a headband and pairs all that with some sassy hot pink, she gets a little strut about her and her gait quickens.
Oh yes, Life Coach Lurlene means business.
You can choose not to take her seriously because she's spouting off about all the people she advised at Wal-Mart (NYSE:WMT) before quitting to pursue her life coaching dream or because she lives in the Lazy Acres Trailer Community in North Florida, but that would be at your peril. Because, you see, we all need some Lurlene in our lives.
"You can't see the glitter if you can't see the sparkle," she told the sold-out audience in her recent appearance at Studio Players in Montclair, N.J.
She was there to stage a seminar called "Find Your Inner Glitter with Life Coach Lurlene" to help the community theatre raise money for its damaged roof. What they got was sort of a life coaching seminar disguised as a comedy act, melding and blurring the lines so that entertainment oh-so-cleverly left them with a message. Throughout, audience participants were invited onstage to learn how to strut like they were wearing leopard, tap into a moment from the past that lit them up or share a problem in the Q&A.
At one point, using a "Mood Board" onstage, Lurlene asked the audience if they'd been "sad, mad, tired, or broke" lately. She wrote each word on the board and then invited them to turn around their thinking by putting the word "glitter" in front of each one.
"Quickly we can get you out of the dark," she said.
Glitter sad. Glitter mad. Glitter tired. Glitter bored. Then she abbreviated it to G sad, G mad, G tired, G bored.
"See, you can't mean it now, can you?" she said. "You have set yourself free. You hit your G spot, your Glitter spot."
The audience laughed. Message received.
When I ask Fortgang in our recent interview about coming up with this concept, she talks of having an epiphany that so many don't buy what life coaches offer and then she boils it down to this question – How do you make things accessible to an audience that might not normally attend a 'typical' life coaching seminar?
"Notice [Lurlene] didn't say 'shift mindset,'" Fortgang says. "She said, 'G mad.'"
Coach-speak vs. snappy, delivered in Lurlene's native Alabama accent to boot.
What we have is a hoot of a character created by a woman who is merging her two passions – performing and coaching. Fortgang is a personal coach, author (five books including recent release The Prosperity Plan), speaker, corporate spokesperson and interfaith minister with a background in professional musical theatre. She was one of the first to be trained as a professional coach and was a founding member and early board member of the International Coach Federation.
In 2010 Fortgang emceed Conversation Among Masters – an annual gathering of master-level coaches – and was asked a very coach-like question, "What dream do you have that we don't know about?" In the year following, acting came to the forefront and she did a show called "The Great American Trailer Park Musical." After it ended, she'd had so much fun playing a character named Betty, she asked the author of the play if she could create a character based on her.
The answer was no. But the idea was born.
"I felt after 20 years I wasn't using everything available to me," she says.
Fortgang hit Google, came up with a name, and set the wheels in motion. A wife and mother of three, all of her family members are involved in her Lurlene act in some way. She has spent eight months creating content, building Lurlene's wardrobe and studying with an improv coach that pushed her to be "very free."
"Once I hired a coach, I thought, 'you must be serious,'" Fortgang says with a laugh.
But the process hasn't been all laughs. It has given rise to serious questions and careful answers. How do you create a character? What are the rules?
Then deeper.
Is this going to kill my career as a serious life coach?
The answer has been an emphatic no. In fact, what people want to see when they hire a personal coach is someone who is willing to reinvent herself and who is doing what she is advising in the context of the coaching. Get in there. Take chances. Be scared.
"Doing this I've been more scared than I've ever been," Fortgang says. "A few times I've thought, what have you done and why are you doing this? I do have this sense of a whole other audience to reach."
Not only is it an entry point for some that might not consider coaching, for Fortgang it is experiencing that "great feeling" of mastering something. She has been asked if the people she interacts with in the audience at her show are plants.
"No," she says. "What for someone else is bungee jumping or sky diving, this is it for me."
That scary unknown element that comes with Lurlene inviting questions serves to hone Fortgang's skills in her coaching practice where she specializes in career transition.
"Those leopard pants make you braver," Fortgang says. "Not that I was un-brave before – I know that's not a word – but I am braver. It's just easier. I have less hesitation. I feel more me now that I've allowed Lurlene to come in."
Lurlene has such a strong sense of self that she's ready to take on some of the celebrities in People magazine for some coaching. She touches on Kim Kardashian – "who could mess up a mayonnaise sandwich" -- and some Ashton and Demi in the show. During our interview, I ask her if she has any advice for Jay-Z and Beyonce after the hospital issues during the recent birth of their daughter.
"There's nothing that brings everybody to the same level like childbirth," Lurlene says. "As a show of good faith and apology for gettin' all big and famous on people the babies in that NICU whose parents were inconvenienced should have small annuities set up in their names. And every year on their birthday, they don't just get Blue Ivy floral arrangements, they get some glitter care! Just sayin'."
Not shy, that Lurlene.
At the end of the show in New Jersey, she asked the audience members to stand, raise their arms in the air and repeat after her:
"I'm gonna git somethin' good."
And again.
"I'm gonna git somethin' good."
Coaches call that an affirmation. Lurlene just sprinkles it with glitter.
Nancy Colasurdo is a practicing life coach and freelance writer. Her Web site is www.nancola.com and you can follow her on Twitter @nancola. Please direct all questions/comments to FOXGamePlan@gmail.com.