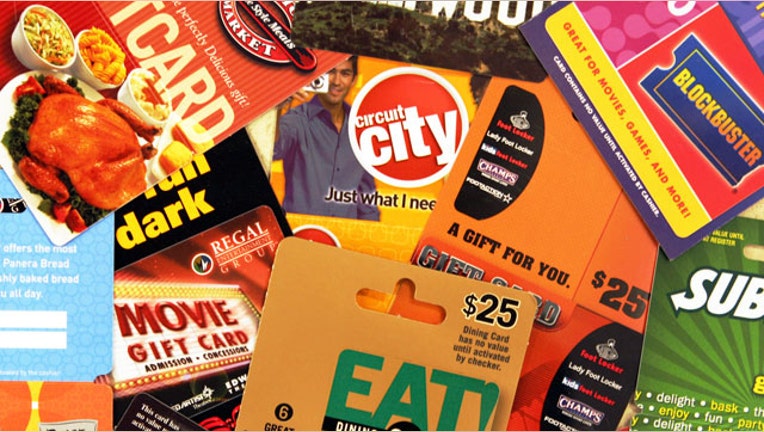 Worried that your gift of money stored on plastic is too impersonal? Fret not. If you can master two things -- the gift card you choose and the way you package it -- it can end up being the most fun gift your recipient gets!
Since it's likely that someone on your list will be getting a gift card from you (last holiday season, more than $28 billion was spent on gift cards, according to the National Retail Federation), you might as well have fun with it.
"The way you package and deliver the gift card can make it more personal and creative," says Andrea Woroch, a consumer savings expert and spokeswoman for GiftCardGranny.com, a site for buying and selling discount gift cards.
A good strategy is to look for something inexpensive to package along with the gift card that goes with its theme. "I like to believe that you can create a big wow present on a small budget," says Leah Ingram, author and frugal living expert for Family Dollar, a chain of discount stores.
Here are some unique and memorable gift card presentation ideas (and check out CreditCards.com's gift card wrapping video for even more ideas).
1. A good case for gift card giving. You may have given or received a wallet or photo frame with a gift card in it in the past, but this idea puts a modern spin on that idea -- slipping a gift card into a functional and funky mobile phone case like this one.
2. DIY snow globe. If you're a crafty DIY type, you'll warm up to this snow globe gift card holder you can make yourself. All it takes is a mason jar, some glitter, small sparkly ornaments, water and a glue gun. Affix the gift card, standing on its edge, to the lid's underside. Add water, glitter and decorations to the jar, and then screw it together. (The gift card obviously has to be plastic or laminated to survive being submerged in the water). Of course, if you're artistically inclined, the ideas you'll find on Pinterest (where this one was originally spotted) are endless.
3. Tie it with a pretty bow (or something better!). Packaging cards with related items is always fun, such as a movie theater gift card with some boxed candy, so here's a musical take on that idea: Tie up an iTunes card with a colorful pair of ear buds (and because you're so thoughtful, they will be in your recipient's favorite color, of course). "My teenagers are always losing or breaking their headphones, so we can never have enough of them," says Ingram.
4. Send them on a coffee tour. Put those cardboard coffee cup trays to good use the next time you do an office java run. Save one to stuff with clear, empty plastic coffee cups that you can fill with gift cards to four different local coffee shops. Or, for a variation, place a gift card in one and beverage-related treats in the others (think tea bags, mini marshmallows for hot chocolate; etc.). Put the whole thing in clear cellophane, and finish off with a pretty bow.
5. Crush the holiday craze. Odds are someone on your holiday shopping list is a Candy Crush player. What better way to enable his or her pastime (ahem, addiction) than with a gift card for Facebook game credits? You can wrap it up in the center of a bag of mixed candies (not the exploding kind, of course!).
6. Build a house.
7. A spin on Hanukkah gift giving. A handmade Dreidel gift card holder from Etsy will light up someone's Hanukkah. Or, another option is to pick up a large dreidel and tape the gift card to the "gimel" symbol (which represents the best spin you can make in the game, of course!). Pair it with some chocolate gelt for an extra sweet treat.
8. Coupons that really add up. Pick up a coupon organizer or coupon wallet, and load it with handwritten offers that can be redeemed by your recipient along with an appropriate gift card. "You can give new parents the gift of a night out by adding a restaurant gift card along with a coupon for free babysitting," says Ingram. Another variation: A tween boy might appreciate a couple of coupons for extra "plugged in" time to go with a gift card to his favorite video game store or an Xbox Live points card.
No matter how you package your gift card, the main goal is to be sure that it's appropriate for the person receiving it. It's the thought that counts, so even when you're giving a gift card, when there's real thought behind it, it'll be a hit.
See related:
6 ways you can still enjoy unwanted gift cards