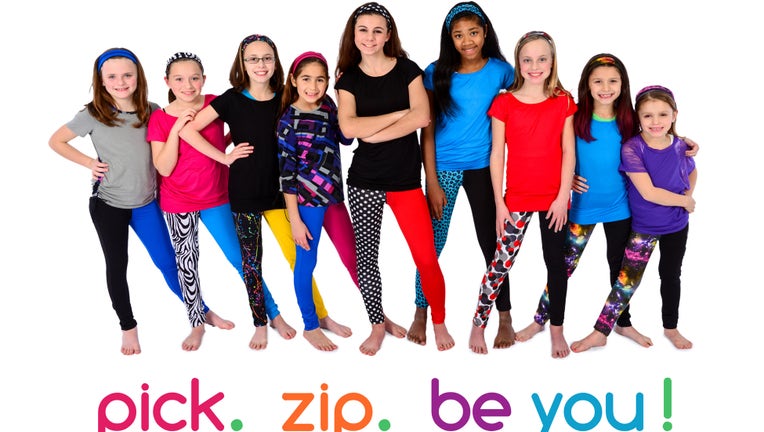 Today's American Success goes to Tom Ervin, who started his first business in college and today, more than 50 years later, he's hard at work on his eighth.
Inspired by a conversation with his 10-year-old granddaughter Josie, Ervin created OPPOS, which makes mix-and-match leggings. With sizes for girls ages 5 to 14, the leggings are sold in pieces: The brightly colored and patterned pant legs can be zippered together for a unique look. The leggings, sold online at the company's website, are priced at $19 per leg.
Ervin, who has six children and 20 grandchildren, retired a few years before the OPPOS idea lured him back into business. His most recent company, a real estate software business called Envision, sold in 2004 to ABN AMRO, which Ervin says was the biggest bank in the Netherlands at the time.
Ervin and his wife Nancy invested $175,000 of their own money into OPPOS, which manufactures its products in Chicago using all American-made materials. After coming up with the idea in 2013, Ervin purchased the patent for a detachable legging concept, and OPPOS first started selling its leggings in February.
This year, Ervin said the company is on track to do anywhere from $75,000 to $100,000 in sales.
Bitten by the Entrepreneurial Bug
Ervin, the son of a Notre Dame professor, grew up in South Bend, Ind. The family later moved to the suburbs of Detroit, and Ervin started his first business as a marketing student at the University of Detroit.
"I worked for a landscaping company, and in between sophomore year and junior year, I went on my own and bought a great big truck and fancy uniforms," Ervin said.
"My dad heard about all the money I spent and he started to cry. 'Tom you spent all your savings and bought a truck and you have no customers,' he said, 'and you're going to lose all that hard earned money,'" Ervin said. "I said: 'You've got to look big if you want to go big, and I've got to pull up in front of houses in a big truck and wear a uniform to get business.'"
Ervin was right: Tom Ervin Landscaping took off, and the budding entrepreneur was able to put himself and his brother through college on the earnings.
The experience taught Ervin his most valuable lesson about being in business.
"You have to deal with the idea of spending money and not knowing if it will ever come back, and you have to put yourself in debt," Ervin said.
With that in mind, Ervin said he and his wife Nancy, whom he married right after college, self-funded all eight businesses.
"She's had the courage to stand by me in all this risk-taking," Ervin said. "It's not her nature to do this. She's courageous and so she's always the one that borrowed the money, lined up credit cards to run up and paid all the bills for the business."
And though she may not be as much of a risk-taker naturally, Nancy Ervin is also quite the entrepreneur in her own right. Ervin said his wife's publishing company, which made educational materials for families that were relocating, helped put all of their children through college – and helped support the real-estate software business Ervin was working on.
"For the first five years of Envision, I took no money out of the company. We lived off Nancy's company and every dollar I reinvested," Ervin said.
Now, Ervin's full attention is on OPPOS. He brought on former Kay Unger designer Shelly Chilton to design the leggings, and is currently seeking funding to grow the business.
"I instantly said to myself: This could be a very big business," Ervin said. "It's a perfect segue from mixing and matching socks to mixing and matching leggings."
In the Salute to American Success series, FBN's Charles Payne puts the spotlight on self-made entrepreneurs, who – like him, are living proof that the American Dream is real.