7 Surprising Ways to Save Big Money on Your Wedding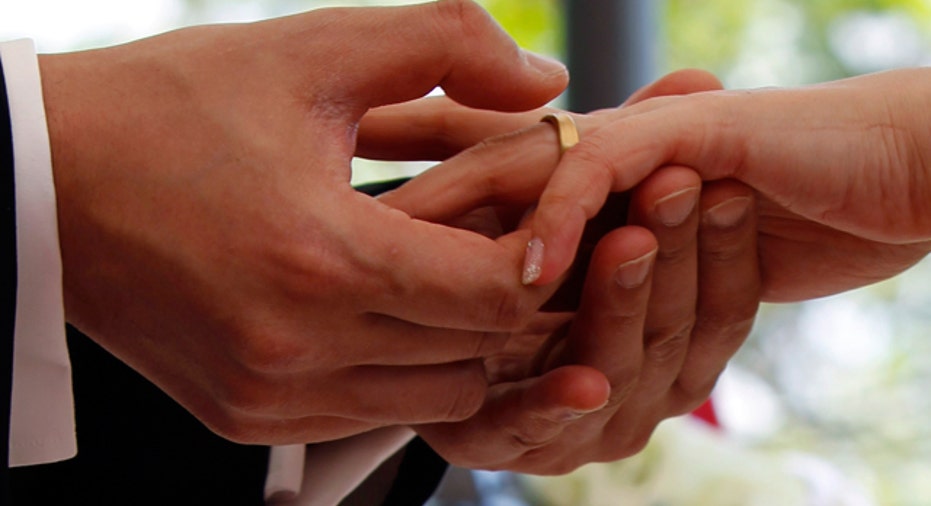 Take it from "Bridezillas"—planning a wedding is a challenging feat. Even harder is planning a wedding on a budget. When you're trying to coordinate the biggest, most exciting bash you'll ever host, the last thing you want to think about is pinching pennies.
After all, who wants to haggle with a catering company when you could be putting together a dance playlist? What's a few hundred more dollars spent on one of the most memorable days of your life?
But once the leftover cake is packed and all the guests have gone home, many newlyweds find themselves facing staggering wedding debt.
With the average cost of today's wedding topping out above $36,000, according to The Knot's 2015 Real Weddings Survey, it's not so surprising that more than half of couples rely on credit cards and bank loans to finance their nuptials.
Realizing that you now have to pay back the money (plus interest!) can really put a damper on your honeymoon, right?
Yet cutting expenses doesn't have to mean cutting corners. It's all about getting in on some money-saving wedding secrets that won't sacrifice the beauty of your big day. We pulled together some of our favorite tips and tapped wedding expert Meg Keene, founder and editor-in-chief of A Practical Wedding and author of two wedding-planning books, to weigh in.
If You Want to Save on … Invitations
Try: Fiverr and FedEx Office
No knowledge of Photoshop? No problem. "The wedding invitation industry has really blossomed in the last seven years," Keene notes, so it's easier than ever to find affordable options that work for your budget.
Graphic designers on Fiverr can create a custom wedding invitation for your big day starting at $5 per design. Whether you're going for elegant or bohemian, you can sift through the work of top-rated designers in search of the perfect style. For a slightly higher price, you can also order extras like save-the-dates, RSVP cards and thank-you notes.
Once you have your invitation designed, get it printed at a FedEx Office.
"People don't realize the range of printing options [FedEx Office has]," Keene says. That includes customized layouts, paper weights, finishes and even matching envelopes—with quick 24-hour to 7-business-days turnaround to boot. If you're starting from scratch, prices for 250 of their pre-designed invitations range from $150 to $200.
If You Want to Save on … Wedding Dresses
Try: PreOwnedWeddingDresses.com
With the average wedding dress running about $1,500, the dress of your dreams might be out of reach. That's where sites like PreOwnedWeddingDresses.com come in. They offer stellar gowns from designers such as Berta, Pnina Tornai and Monique Lhuillier at around 50% off.
Many of the secondhand dresses here have been gently used, while some are brand new—bought by brides who changed their minds and couldn't return it. The site connects buyers and sellers of new, sample and used wedding dresses to facilitate good deals.
Keene recommends first finding the dress you want and trying it on in-store well in advance. Then, spend the next few months scouting it out on discount sites. While you can use the site to find a less expensive version of a dress you were planning to buy, Keene says many people also use it to buy a dress they otherwise couldn't afford. For example, "buying used lets you get a $2,500 dress for $1,000," she explains.
If You Want to Save on … Wedding Bands
Try: I Do, Now I Don't
Rings removed after a divorce or broken engagement find new love at I Do, Now I Don't, an exchange that helps buyers connect with sellers of pre-owned wedding bands and engagement rings. You can save serious bucks on a site like this, so long as you're not superstitious.
Just about every style is represented here and at all price points. For men, prices run from a $40 tungsten ring to a Scott Kay platinum band for $2,900. Women's rings range from $85 for a simpler 10k white gold band to $14,000 for a Tiffany & Co. dazzler.
You can search for a band based on carat, cost, shape, certification, cut, clarity and color. Shipping your order takes about a week and a half—good news if you're still searching for the perfect symbol of your love almost up to the date of the wedding.
Skeptical about getting a pre-owned band? Once you make a purchase, the ring is shipped from the seller directly to the site's team of gemologists, who ensure its authenticity before passing it on to you. The site will also buy back your item if you're not satisfied with it upon delivery. A quick warning: "If you're spending more than, say $2,000, make sure you have an appraisal to make sure you're not being ripped off," Keene suggests.
If You Want to Save on … Bridal Party Outfit
Try: Weddington Way
Finding affordable options for bridesmaids and groomsmen should be a priority, whether you're footing the bill yourself or asking them to pony up.
Enter Weddington Way, which offers bridesmaid dresses in cocktail and floor-length styles in trendy colors, including mint, blush and coral. Prices start at $99; many dresses are under $150. Brides can create a showroom of their top selections and invite bridesmaids to comment on their favorites, so everyone gets to share their thoughts.
The site also rents dresses. For $75, your bridal party can select from six hues and six styles, ranging from size 0 to 18, for an 8-day rental period. Each rental includes a second size for backup, so your bridesmaids won't be stuck with extra alteration costs the way they could be with a purchased dress, Keene adds.
For groomsmen, suit and tux rentals on the site go for about $150, and you can coordinate accessories like bowties and pocket squares to match your wedding colors.
RELATED: How I Did It: 'My Wedding Cost Less Than $1,000′
If You Want to Save on … Flowers
Try: Fifty Flowers
Making your own floral creations can seem overwhelming, especially if you're no green thumb. That's the genius of sites like Fifty Flowers. They offer bulk flowers for special events organized by color, type and season. If you don't have an eye for design, opt for their Wedding Flowers in a Box, professionally designed collections that take care of your bouquets, boutonnieres, corsages and centerpieces.
But don't start browsing Pinterest for ideas just yet. "If you're doing your [own] wedding flowers, that's going to be one of your major projects," Keene advises. "Bulk flower websites like Fifty Flowers I do recommend—the vendors are great. But you need to be aware that it's a fair amount of work."
Keene urges interested brides to research all aspects of DIY floral assembly before taking the plunge, including your design and quantity specs, how your order will be delivered to you, how to keep your flowers alive, the space and transportation needed for assembly and how much help you'll need from friends and family.
Also remember to account for the cost of supplies such as ribbon, vases, floral tape, scissors and foam; pins and wire should also be in your flower budget. If well-planned, Keene estimates a couple can save thousands on floral arrangements.
If You Want to Save on … Catering
Try: Roaming Hunger
According to The Knot's 2015 survey, the average caterer charges $68 per person, which means that hosting a reception of 150 partygoers could cost upwards of $10,000. But there's a way to knock that expense down to $2,500.
Keene says using food trucks can help you cut about 75% off the catering price without sacrificing food quality. To help you select the right mobile food provider, check out Roaming Hunger, a directory that connects hosts to more than 8,000 food trucks that cater events, including weddings, in all 50 states.
The process is simple: Give Roaming Hunger the details of when and where you need catering. The site will then send you a list of available options for your event, and you can do more digging into the type of food they serve (from Asian Fusion to gluten-free to Venezuelan fare and more). Learn more about each food truck's history and mission, check out their gallery of food photos and read their reviews from previous customers. Customize your menu by bringing in more than one food truck, so guests can indulge in different types of gourmet cuisine.
Before booking, the site even helps you estimate costs based on your location, party size and whether you'll be serving an entrée, snack, drink, dessert or all of the above. Once you decide on the trucks you'd like at your event, Roaming Hunger does the work of handling the logistics and paperwork directly with the food trucks you select.
"You can save a lot of money on food trucks," Keene says. "However, there's a lot of hidden costs that people don't calculate."
While a food truck may charge less for meals, they likely won't include extras like tables, chairs and bussing services in their quote—items that usually are added in when you book an experienced caterer. Instead, you'll need to coordinate these services with a separate vendor.
If You Want to Save on … Alcohol
Try: Bringing it yourself
Caterers often mark up drink prices at weddings, so going BYOB can be the biggest cost-saver, says Keene.
Fads like "fill up the bar" showers allow you to crowdsource your alcohol from shower guests, who each bring a bottle that you can use for a small wedding reception. If you end up with too many bottles of gin and not enough vodka, you can buy whatever else you need at a big-box or outlet liquor store. Some even have policies that allow you to buy bottles in bulk and return unopened ones if your guests don't end up fancying one of the options.
If you're going this route, Keene advises that couples double-check with their venue coordinator to make sure they can bring in their own booze. Some local laws prohibit anyone except a licensed caterer from providing the libations.
Having the wedding of your dreams without emptying your bank account can seem impossible. But with some outside-the-box thinking, you can be on your way to starting the newlywed life sans any big-day debt.
RELATED: Looking to Hire a Wedding Planner? 5 Questions the Right One Should Ask YOU