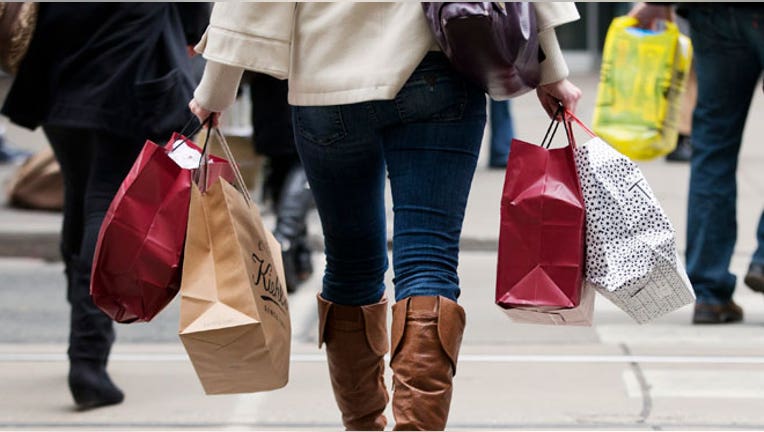 Making a list and checking it twice may not be enough to curb impulse shopping this holiday season. Whether you consider yourself a bargain hunter, a savvy shopper or a research-before-you buy type, there are a lot of enticements to get you to spend more than you planned and it goes beyond Black Friday.
Often retailers will sell a deeply discounted item for a loss but they make up for that with all the add-ons you'll need for that super cheap flat panel TV or digital camera. "Loss leaders is how they get you in the store," says Mark LoCastro, a spokesman for DealNews www.dealnews.com. "It's those other things like the HDMI cable, wall mount unit or extended warranty where they make their money" and you spend yours.
Discipline is the name of the game when shopping for the holidays. But if you lack that, there are other ways to curb impulse shopping. From carrying cash to not being wowed by a so-called deal, here are six ways you can avoid spending on those impulse buys.
Use cash instead of credit
Cash is king and that is particularly true of holiday shopping. Study after study has shown people are less likely to overspend if they are using cash instead of a credit card. Because of that LoCastro of DealNews says to head out to the malls with only the amount of money you want to spend that day or put it on a prepaid gift card. It's also a good idea to keep the credit cards at home if you know you won't be able to control yourself.  "If you go to the store with no credit card you are physically limited," says LoCastro. "You cannot shop in addition to what you came for."
Don't be swept up by the price
Everyone wants a bargain but when people are wowed by the price of an item it can easily lead to impulse buying, says Kit Yarrow, author of Decoding The Consumer Mind. "Most of the impulse purchasing I see today is the result of a price wow," says Yarrow. "If you are buying for price, in the long run you'll be less satisfied with how you spent your money."  If you see a great sale on something not on your list, Yarrow says to think long and hard about how much you truly want it before buying. "You can't save money by spending money, no matter how good the deal," she says.
Hold yourself accountable
Making a list and sticking to it is the ultimate way to avoid making impulse buys. But if desire gets the best of you, having a good reason to make the purchase may stop you in your tracks. According to Gail Cunningham, a spokeswoman for the National Foundation For Credit Counseling, if you are going off your list make sure you have a valid reason. A sweater you have been coveting for a long time may be 20% cheaper but do you need it is the question you have to ask yourself. "If the urge to purchase something that's not on the list is overwhelming, take a shopping break and think it through," says Cunningham. "It will likely still be there 15 minutes later but the passion of the moment may have worn off."
Run clear of the add-ons
Add-ons to your purchase are the second most common impulse buy and can often be the most wasteful.  According to Yarrow once you make the decision to purchase something you are primed to plunk down more money for the extras. The retailers, both offline and online, know that and have so-called deals ready for those additional purchases. "Stocking stuffers and add-ons knock the ho ho out of holiday budgets," says Yarrow.
Stay away from the store charge cards
Thanks to the Internet we are trained not to pay full price for pretty much anything and retailers are well aware of that. That's why during the holidays you'll see all sorts of deals if you open up an in-store credit card. Doing that, however, can not only lead to impulse buys but debt that you don't need to take on. "Retailers will entice you to open up a store credit card by offering 20% off or x amounts of months to pay it off," says LoCastro. "If you don't have the money to buy it don't open up a store credit card."
Don't wait until the last minute to make your purchases
Shopping early may seem overwhelming but it turns out it can be a great defense against impulse buying. If you wait to the last minute you may end up paying more or purchasing more in a fit of desperation. Shopping early "gives you more time to find the 'right' gift and avoid impulse decisions which too often leave you less happy with your purchase," says Mike Schenk, senior economist at the Credit Union National Association.