6 Steps for Getting Noticed in Any Setting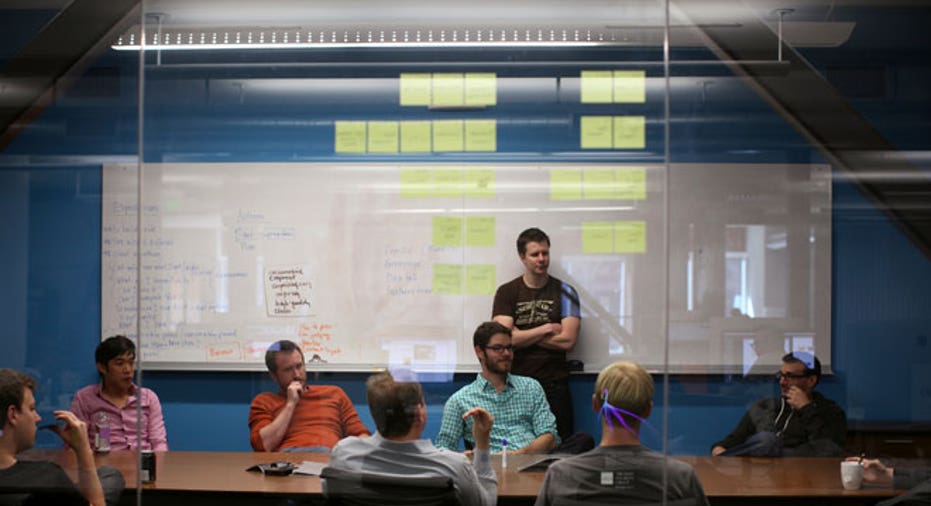 You know those people who command a room as soon as they walk in? There's just something about them. It's not their clothes, their haircut, or their fashionably late arrival. It's more about the way they carry themselves; something of their essence demands to be noticed.
For the rest of us, the act of getting noticed does not come as easily. It's something only achieved through careful thought, planning and practiced action. But with today's ever-growing collection of mediums for social and business connection, networking has never been more relevant. Knowing the right people — and forming a solid relationship with each of them — can, at times, have a greater impact on your career trajectory than your education background and experience, combined.
In short, when done right, the act of getting noticed can make your career.
So how, you might ask, can you get noticed? Last year I discussed some of the lessons I learned from Davos. Today, I believe getting noticed really boils down to six easy steps, outlined in my How to Get Noticed Slideshare, as follows:
Support someone in exchange for his or her time and attention. Simply asking for a business card, or becoming someone's new contact on LinkedIn, does not get you noticed. Asking the right questions and providing high value does. Prior to introducing yourself to a person, think about what you have to offer him or her. Relationships (or, at least healthy ones) are two-way streets; there is some give and some take. With that in mind, don't establish relationships when you need something. If you already have a solid connection with someone, you will find yourself in a better position to ask for help when the right time comes.
Stop comparing yourself to others. Think about it: when you compare yourself to others, you lose. You dampen your light and fail to show your own strengths. Comparison tends to drain your creative potential. Instead, think about what makes you so excited you can barely stand it. Then remember that you're a unique person with a mind that works unlike any other mind out there. You are an individual. Go out there and follow your creative drive. Don't let worrying too much about what everyone else is or isn't doing slow you down.
Don't make excuses that you are "too busy." There's always time for things that matter. Actually, let me rephrase that: Life isn't really about time, but rather about commitment, connection to outrage, hope, and a belief that your leadership will lead to real change. Don't ever stop evaluating the connections you make; ask yourself, "Am I spending my time and energy connecting with the values that inspire me to act?"
Make good use of your energy. Time is constant; you really can't manage it, or stretch it to accommodate all of your projects, commitments, etc. You can, however, manage your energy. Don't waste your energy — reserve it for things that mean the most to you. Say "no" to things that excite and/or benefit you and your career less. "No" isn't always negative; sometimes it's a blessing in disguise!
Commit to your greatness. In order to do this, first acknowledge that you don't need to be perfect to advance your career. If you want to dream, innovate and develop world-changing ideas, you need to live your experiments out day by day. It's hard to deny that we learn the most from our efforts that fail; it's how we improve, by tweaking and readjusting little increments of our lives as we go. If you commit to your greatness, it will show. Colleagues are more interested in connecting with someone who is confident, driven and focused on the big picture.
Start with your story. Your story evokes values and creates a connection with others that builds a real relationship. Don't be afraid that people will not care about your specific story or values. It's more than natural to be a bit nervous — Was I bold enough? Have I accomplished enough? Will he/she care about this anecdote? — but fear is a product of the mind. In order to tell your personal story in a way that fosters real connection, it's critical to overcome fears of being judged. Someone once told me that the best way to find out if you can trust someone is to trust them. So trust the fact that most people appreciate hearing about someone's personal history, struggles, and even failures. They like being reminded of the stories and moments that make us human. And if they don't, perhaps you must ask yourself: is this really someone with whom I want to build a relationship?
Now it's your turn. What's your best tip for getting noticed, no matter how big the room?
Erica Dhawan is the Founder & CEO of Cotential, a global innovation firm that helps organizations unleash the connected potential of people everywhere to solve their most pressing challenges. Follow @cotential and @edhawan for more innovation updates.
The Young Entrepreneur Council (YEC) is an invite-only organization comprised of the world's most promising young entrepreneurs. In partnership with Citi, YEC recently launched StartupCollective, a free virtual mentorship program that helps millions of entrepreneurs start and grow businesses.