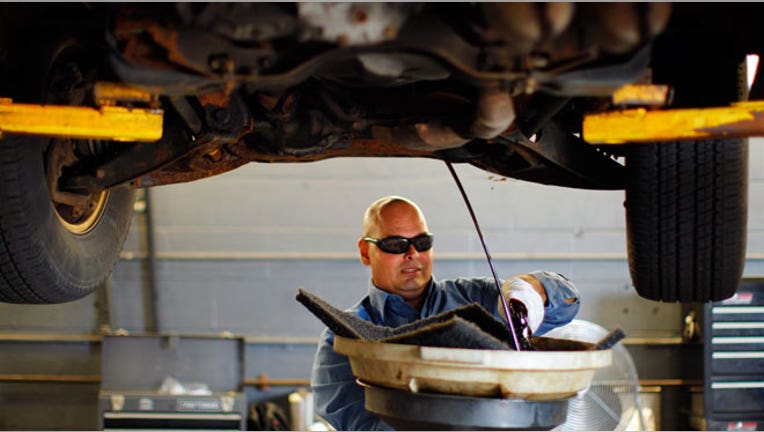 People are holding onto their vehicles longer, which means a trip to the repair shop is bound to happen. The majority of mechanics aren't out to rip off consumers, but there are bad apples that try to get you to purchase extra services or "fix things" that aren't broken.
"There are some unscrupulous people out there who will go on fishing expeditions," says Barry Soltz, president of the Arlington Heights, Ill.-based trade group Automotive Maintenance and Repair Association. "It does happen occasionally."
Even though many mechanics are honest, the anxiety level among consumers when it comes to repairs is high. According to a March survey of 2,128 adults for RepairPal.com, the San Francisco auto repair website found that 72% of consumers who own or lease a car said how much repairs will cost makes them anxious, while 38% worried that they cannot trust the mechanic.
"Auto repair often appears to be a mystical, secret service to people because they don't fully understand what their cars need and what they don't," says Michelle Naranjo, editor in chief of AutoBytel.com, the Irvine, Calif., automobile website.
But it doesn't have to be so worrisome. From reading your owner's manual to doing price comparison shopping, here's how to avoid overpaying for car repairs.
Find the best new-car loan rates in your area.
Read your car owner's manual
For many car owners, especially those with newer vehicles, most of their visits to the repair shop will be for maintenance, whether it's new brake pads or an air filter. Because of that, auto experts say one of the best defenses from being scammed is to read your owner's manual.
"You need to know when scheduled services are due," says Charles Sanville, a Raleigh, N.C., mechanic and blogger at HumbleMechanic.com. "You need to know that at 30,000 miles your car needs to have an oil change and the tires rotated so a dishonest mechanic doesn't do it at 5,000 miles."
Although the car manual can be intimidating, auto repair experts say it's a free and worthwhile way to make sure your mechanic isn't selling you things you don't need.
"Mechanics try to upsell all the time," says Lauren Fix, a Buffalo, N.Y.-based automotive expert . "Go off your manual unless there's a problem that needs to be fixed."
Sanville says to keep in mind that car repairs and maintenance are not always black and white. For instance, if you live near the beach, you may have to change your air filter sooner than the manual calls for.
Be prepared to discuss possible problems
Information is power and in the case of getting your car fixed, the more you know, the better. If you are taking your vehicle in because something is broken, the more details you can provide to the mechanic, the greater the chances are that you won't get ripped off.
For instance, if you are concerned about a strange noise, take note of when it happens and be prepared to explain what it sounds like.
"When consumers are equipped with information, it shows the mechanic they've done their homework, that they're prepared to discuss the possible trouble and repair needs of their vehicle," Naranjo says.
According to Fix, the worst thing you can do is discuss a possible mechanical problem without any idea of what's wrong. That puts you in a vulnerable position because the mechanic knows you are clueless.
"Using all your senses but taste, you should be able to explain the problem and help them pare down what to do," Fix says.
Use the Internet to research prices
The Internet is an equalizer for many industries, and that's true of the auto repair industry. Before the Web, consumers had to accept the rate a mechanic was charging, but that is no longer the case. There are tons of websites dedicated to giving consumers the ability to compare prices from one mechanic to the next.
Take AutoMD. This website lets users get the prices for repairs from multiple repair shops using the same parts. According to Shane Evangelist, chief executive of U.S. Auto Parts Network Inc., and owner of AutoMD, the reason prices vary is because mechanics use different parts.
"It's very difficult for consumers to argue about the price if they don't know the part," Evangelist says. "This service uses the same part in every single shop so it's an apples-to-apples comparison." Other websites include RepairPal and AutoBytel's MyGarage. Online review sites are another way to get feedback from actual consumers who have used the repair shop.
One of the big problems with getting your car fixed is that you feel pressure to agree to whatever the mechanic is diagnosing because you don't want to be without your ride. But car experts say you need to step back and check on the Internet to ensure you are getting a fair price before moving forward.
Get a second opinion on car repairs
When it comes to home repairs, most people will get two or three estimates before choosing a contractor, and that same discipline should apply to your auto mechanic. Prices can vary dramatically from one shop to the next, which is why experts say it's important to shop around.
"Getting a second opinion is definitely worth it if it's a large repair," says HumbleMechanic.com's Sanville.
Sanville says to get estimates from repair shops, a dealership and a specialty place if you're replacing something like a transmission or brakes. In addition to shopping on price, you want to compare warranties and the quality of parts from the different mechanics.
In order to get an accurate estimate, you have to know what's wrong with the car. Many mechanics charge a diagnostic fee, so make sure to inquire about that when shopping around. Another option for figuring out what's wrong with your car is to purchase a diagnostic code reader. Consumer Advice Editor Ron Montoya at Santa Monica, Calif.-based Edmunds.com, says it costs $50, but some cost much more. It plugs into your car to diagnose when the check engine light is on.
"It will give you a basic idea of what the car needs," Montoya says.
Make the mechanic show you the parts
Nothing is worse than paying a lot of money for auto repairs only to learn later that the part wasn't replaced or the mechanic used substandard materials.
A great way to keep that from happening is to ask for your old parts back. "You want those parts put in the box of the new parts," says Evangelist of U.S. Auto Parts Network.
You want the box to make sure what they say they put in your car is actually what went into your car, he says. If you ask to see the broken part and the box for the new one, it diminishes the chances that the mechanic is going to rip you off.
"If the guy is handing you back an alternator and it's bad, you know you are paying for repairs on your car that are needed," Evangelist says. "Anytime someone is not educated, he ends up paying more."
Copyright 2014, Bankrate Inc.