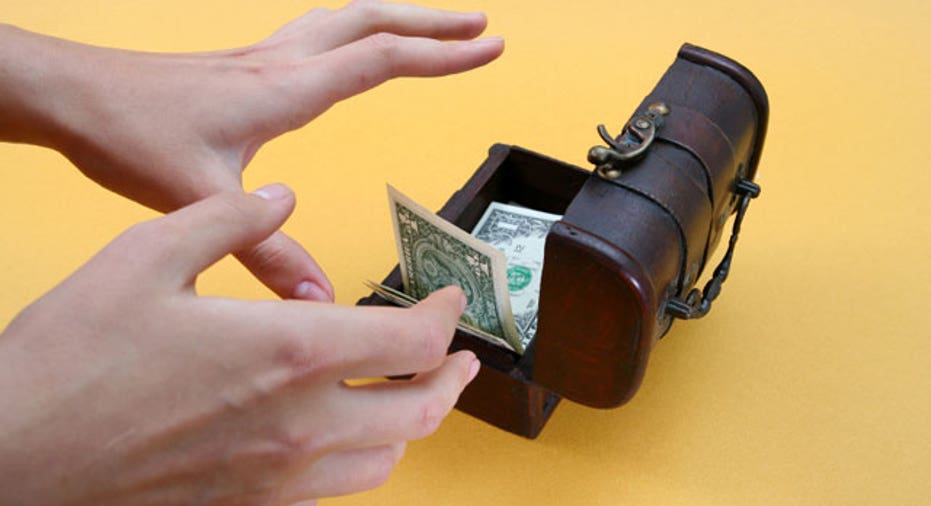 Cashing in on family money
Blood is thicker than water, as they say. However, perhaps it should be added "but money is thicker than both." Particularly if the blood is blue, it would appear.
The truth is, a number of American dynastic families might best be described as "rich, famous -- and feuding." Whether it's Grandma cutting off the heirs, or the heirs allegedly abusing Grandma, there's plenty of evidence that money can't buy a happy home -- no matter how many you own.
In fact, it may be the cause of the discord.
If the recession has left you feeling poor, the following family feuds may make you glad you don't have a fortune to fight over. When it comes to battling over estates, it would appear, where there's a will, there's a way to fight about it.
An Astor-nomical fortune
New York socialite Brooke Astor acknowledged motherhood wasn't her strong suit, friends said. She shipped off her only son, Anthony Marshall, to boarding school at an early age.Then again, there's evidence Marshall grew up to be a less than a dutiful son. In 2006, Marshall's son, Philip, filed a lawsuit demanding his father be removed as guardian of Grandma Astor, who was 104. The grandson claimed his father was denying Astor, who gave away a reported $200 million during her life, decent food, a warm place to sleep, even visits from her beloved dogs.JPMorgan Chase Bank was brought in to look at Astor's finances, and in court documents alleged Astor's son may have wrongfully taken millions from his mother's estate.
Astor died in 2007, but the Manhattan District Attorney's office investigated and indicted Marshall for what one prosecutor called "grand theft Astor." In 2009, after a five-month trial, Marshall was convicted in Manhattan Supreme Court of siphoning millions from his mother as she lay dying.
At the age of 85, he was sentenced to three years in prison. He remains free pending appeal.
Not-so-brotherly love
Ever feel like proposing a toast to family unity? It's doubtful the Gallos ever did.You've almost certainly heard of Ernest and Julio Gallo, whose winemaking operation was the largest in the world.
You may know less about a third brother, Joseph. During the Great Depression, he became a ward of his older brothers after an apparent murder-suicide in which their father shot their mother then turned the trigger on himself.
Prohibition was ending, and Ernest and Julio began making cheap wine from the grapes of the family's California vineyard. But Joseph felt his treatment was akin to servitude. He became a commercial dairy rancher, whose best-known brand was Joseph Gallo cheese.
In this case, wine and cheese clearly didn't go together. After an extremely bitter court battle, Ernest and Julio prevailed over Joseph's claims that he had been denied his rightful share of the winery. Further, in a trademark infringement ruling, Ernest and Julio were given rights to the Gallo name. The cheese line had to be renamed Joseph Farms.
Joseph never again spoke to his brothers. He died in 2007, a few weeks before Ernest.
Courting a supreme case
It's the classic story: Successful man meets younger woman, dies shortly after marrying her and everybody lawyers up.
In 1994, J. Howard Marshall II, a billionaire Texas oilman, married former Playboy Playmate Anna Nicole Smith at a drive-in wedding chapel. He was 89 to her 26.
Marshall died the next year, setting up a showdown between his widow and E. Pierce Marshall, who was technically her stepson although nearly 30 years older.
Smith claimed her husband -- nicknamed Paw Paw -- promised her half his estate. Problem: It wasn't in the will. The son appeared to have won. But the widow filed bankruptcy, and was awarded $475 million. That was thrown out by a federal appeals court, which said the bankruptcy court overstepped its authority.
In May 2006, the U.S. Supreme Court ruled Smith could pursue her case in federal court. A month later, E. Pierce Marshall died of an infection. Seven months after that, Smith died of a drug overdose.
But the feud continues. In 2010, a federal appeals court ruled Smith's estate deserved none of Paw Paw's money. In January, the Supreme Court heard her estate's appeal. It hasn't ruled.
Leona causes trouble
When it comes to family feuds, it's a dog-eat-dog world. Just ask Leona Helmsley's survivors.When the famed "queen of mean" real estate billionaire died in 2007, her largest beneficiary was her female Maltese terrier Trouble, who got $12 million, making the lady canine one rich dog.It was $12 million more than two of her four grandchildren. They got nothing "for reasons which are known to them," she tartly wrote in her will. Perhaps they didn't visit her during her imprisonment for tax evasion in the 1990s. Two other grandchildren got inheritances, though less than Trouble.
It wasn't the first indication Helmsley family relations were frosty. Years earlier, after her only son died of heart problems, Helmsley evicted his widow.
Needless to say, trouble followed Trouble. A judge negotiated a $6 million settlement with the disowned grandkids. The doggy dowry was cut to $2 million, including $100,000 annually for security, considering Trouble had received death threats.
The rest of her $5 billion to $8 billion went to a trust to provide for the care and welfare of dogs. A judge later ruled the trustees weren't collared by that restriction.
The widow pleads not guilty
As Robin might say: Holy whodunits! Ben Novack Jr. loved his Batman memorabilia. His collection was reportedly the second largest in the world.
He could afford it. He owned a successful Fort Lauderdale, Fla., convention planning firm, and his father, Ben Novack Sr., founded Miami Beach's famed Fontainebleau Hotel.
On July 12, 2009, Novack visited a hotel for the last time. He was beaten to death with a dumbbell in a suburban New York hotel while on business. His estate was worth a purported $7 million.
His wife, Narcy, said the murder happened while she was at breakfast.
But prosecutors contend the widow Novack skipped the bacon and eggs. Actually, she'd hatched a murder-for-hire plan and watched as paid hit men killed her husband, prosecutors alleged. She has pleaded not guilty and awaits trial on charges that could mean life in prison.In the aftermath, investigators revisited the death of Novack's mother, Bernice, found in a pool of blood in her Fort Lauderdale home three months before her son died. Initially believed an accident, the local medical examiner has reclassified it a homicide. Narcy Novack has been charged with masterminding that murder as well.