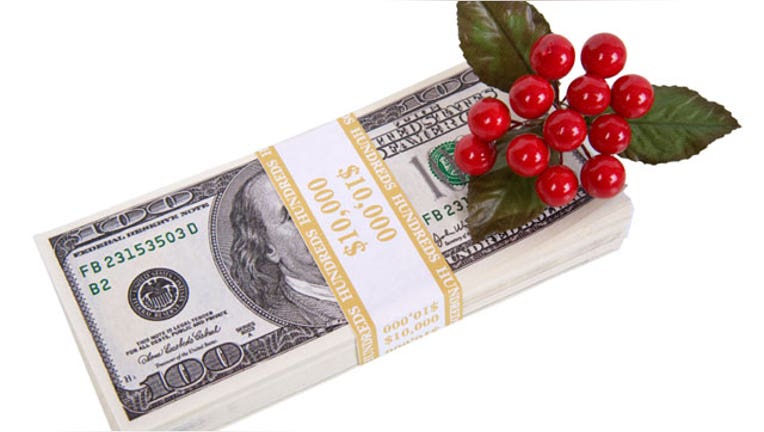 Black Friday, the traditional launch of the holiday shopping season, is right  around the corner. Time to set aside some money....
And you'll need lots of it. A new report from NPD Group, a global information company, shows that consumers plan to spend 3% more this year over last -- an average of $636 on holiday-related expenses.
Here are some painless ways to come up with that cash – and then some! – in just four weeks:
1. Adjust Your Tax Witholding=Monthly Savings: $250
---
Millions of Americans get tax refunds every year and with refunds currently averaging nearly $3000, that's $250 a month that you're loaning to the IRS --  interest-free! It's better to get your money as you earn it, says Greg McBride, chief financial analyst at www.bankrate.com. "Too many people are carrying debt at high interest rates or just scraping by on a tight budget and having too much withheld from your paycheck makes the monthly budget tighter than it needs to be."
Have you been overpaying this year? Go to your company's payroll office and fill out a new W-4 form.  Claiming extra allowances pushes down your withholding and pushes up your take-home pay.
Once you make these changes, they will be reflected in your company's next pay cycle.
2. Refinance Your Mortgage=Monthly Savings: $215
---
While mortgage refinancing has seen strong momentum in the past few years as borrowers have taken advantage of historically low interest rates, millions of Americans have remained on the sidelines. "Qualified homeowners may be putting off a refinance due to the paperwork and hassle," says Chris Ling, head of homebuying and mortgages at www.NerdWallet.com.  "Or, they don't know just how significant their savings could be."
Consider this: we're leaving $13 billion dollars a year on the table! That comes to an estimated savings of $215 each month for the 5.2 million homeowners with good credit and equity in their property who have not yet taken action, according to according to analysis from www.NerdWallet.com.
Inspired? "Mortgage rates may be creeping higher, but there's still plenty of time for homeowners to improve their interest rates and lower their monthly payment," says Ling.
3. Avoid Retail Rip-Offs=Monthly Savings: $100-$200
---
Among the many retail 'rip-offs':  movie theater popcorn (which is marked up by as a much as 1300%); wine you buy at restaurants (100%-200% markup on bottles; 300%-400% markup if you buy it by the glass); coffee (300% markup); and pre-cut fruits and vegetables, which cost 25-30% more than if bought whole. "If you avoid just 1 or 2 of these 'retail rip-offs,' you could easily save $100 if not $200/month, depending on the frequency of your habits," says Andrea Woroch www.AndreaWoroch.com, a consumer and money-saving expert.
4. Pay Yourself First=Monthly Savings: $100
---
Arrange to have your bank or credit union take a certain amount of money out of each paycheck and put it in your savings account, or in an account that you earmark as your own 'holiday club,' says Janet Bodnar, editor of Kiplinger's Personal Finance magazine. "That way, not only will you not miss money that you don't see, but you don't even have to think about making the deposit in the first place."
How much should you save? "Since we're talking about holiday cash, work backwards," says Bodnar. "First, decide how much you would like to save for holiday shopping and count the number of pay periods between now and then.  Then, divide the amount you'd like to save by the number of pay periods."
Food for thought: Just having $25 deducted from each weekly paycheck yields you an easy $100 in a month!
5. Change Gas-Buying Habits=Monthly Savings: $40
---
A new survey from GasBuddy  highlights the many ways our fuel-purchasing habits are costing us! Among the bad habits: filling up with expensive mid-grade or premium fuel even though our car doesn't require it; filling up at stations that are convenient or at stations we think have best prices (when in fact they may not); and running on empty (If you wait until the gas light does on, chances are you'll fill up at the nearest station—no matter the cost).
"Some consumers have gotten complacent now that gas prices are at historic lows," says Lynnette Khalfani-Cox, personal finance expert and co-founder of www.AskTheMoneyCoach.com.
She recommends using the GasBuddy app, which saves the average household about $40/month (and FYI: The app has recently been redesigned so in addition to helping you find cheap gas, it's also an excellent resource to locate clean bathrooms, a good cup of coffee and more).
Vera Gibbons is a financial journalist and Senior Consumer Analyst with GasBuddy.com. A former analyst with MSNBC who appeared regularly on the "Today Show," Gibbons was previously a Financial Contributor with CBS News. Prior to CBS, she worked as a Correspondent for CNBC's "High Net Worth". Gibbons has written for Inc., SmartMoney, Kiplinger's, Real Simple, The New York Times, Fortune.com, CNN Money and CNBC.com. Today, she writes for FoxBusiness.com, Bankrate.com, and Time.com.