5 Cool Things You Can Now Do With Adobe Document Cloud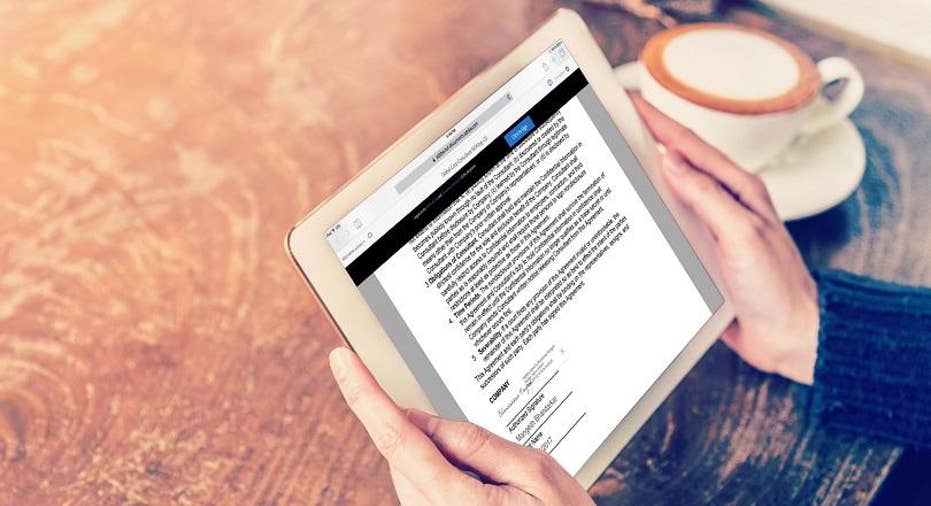 Adobe Document Cloud users are always looking for new ways to bring extensibility to their PDF files. Well, the document management behemoth has announced a host of features that are engineered to deliver adaptable, editable, sign-able, and just more easily manageable PDFs to any device within your grasp.
The most important new tool is called Adobe Scan, an Android and iOS app that lets users capture images via a smartphone camera. Adobe recently added Adobe Sign to its arsenal, a tool that lets users, share, e-sign, approve, and manage documents. Under the Adobe Sign umbrella come several new features that turn your phone into a workflow management epicenter.
"People enjoy consuming content on mobile, but they're also asking us to help them create content and do something useful with that content," said Lisa Croft, Group Product Marketing Manager for Adobe Document Cloud. "Mobile is the opportunity to deliver a modern document experience."
Here are five things you can do with Adobe Document Cloud that you probably didn't know you could.
1. Sign a Document Without a Touchscreen
With Adobe Sign, you're able to send a text message of your signature from the Sign app on your smartphone to your desktop version of Document Cloud. From here, you'll be able to access your newly created signature and apply it to any record or document. This is especially useful for workers who are primarily situated at desktops with no touch functionality.
For example, imagine that Sam is on his desktop but he prefers to sign a document on his mobile device. By clicking on the Mobile Signing option, Sam is prompted to enter his telephone number. He is then sent a Sign prompt on his mobile device. He signs, hits "Done," and the signature transfers to his desktop. "This is a great way to provide people with choice for however it is they choose to sign, no matter what device they're on," said Croft.
2. Put a Little Life into Your Emails
In the past, you'd request signatures from colleagues with boring, standard email messages. With Adobe Sign, you're now able to customize your email template to incorporate your company's logo, fonts, and general pizazz. You're able to use banner images to bring some style to your signature requests, which your marketing department will thank you for after signatures start rolling in more frequently than usual.
"A competitive advantage we have is that our customers can fully brand the signing experience. I can brand it with my logo and my URL," said Croft. "But now they can market to you to talk about new products [within the signing experience]."
3. Enjoy Quicker Onboarding and Customer Service
Adobe's recent integrations with ServiceNow and Microsoft SharePoint puts document management, customer service, and human resources (HR) management under one simple console. With these marriages, you're able to add Adobe Sign to any workflow in ServiceNow and SharePoint, including new-hire agreement forms, business contracts, and responses to resolved customer service inquiries.
In the past, you'd push the document out to your employees via an email message from ServiceNow. Your employees would open the doc, sign it with Adobe, and email it back to you. You'd open the document and load it into ServiceNow. Today, you can simply send the document to your employee within the ServiceNow system and he or she will make his or her mark within the software.
4. Scan Anything, Anywhere
Remember how awful gathering business receipts used to be? You'd collect all of your receipts, scan them into a scanner, convert them to PDF, and then send them to your finance gurus. Today, that process became a lot simpler. Adobe Scan now lets you turn any camera phone image into a PDF. By using Adobe Sensei, the company's artificial intelligence (AI) tool, Adobe Scan is able to detect proper image boundaries, correct perspective, and remove shadows to make text appear clear.
For example, you can scan a magazine page to pull out the text, separate images, and zoom into specific areas of the page. When you save it, it's automatically uploaded to Document Cloud. You can also pull in an additional image or remove an original image.
5. Edit and Adjust Scanned Text
Perhaps more importantly, Adobe Scan can automatically convert printed or written text into digital text that can be selected, copied, or annotated via Acrobat Reader DC or Acrobat DC. This means you won't have to scroll through page after page of handwritten notes to try to decipher what someone else was trying to say. With Adobe Scan, the notes will be converted to clear and legible text within which you can search or copy and paste for use in a secondary document.
"Like our other Adobe offerings, Sensei is at the heart of our brand," said Croft. "With it, you can actually do more with your scans. You can make your content intelligent and searchable, and move it into digital workflows in the cloud. Anything with printed text or images will be an option for Scan. Share it, perform additional editing, or you can even take it into some other workflow or ecosystem if you needed to do that."
This article originally appeared on PCMag.com.