5 Business Success Lessons of Louis C.K.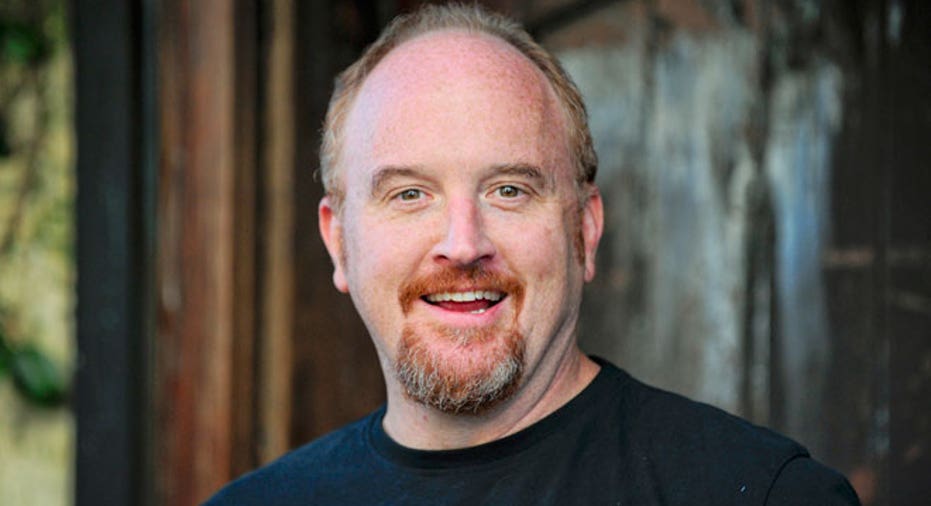 Writer, actor, director AND comedian Louis C.K. is riding high.
His latest HBO special "Oh My God" has drawn critical raves and excellent ratings.  His weekly show Louie on FX is also loved by critics and audiences, as well as the Emmys (it won two awards in 2011 and three in 2012). The artistry of his stand-up material is revered by his peers, and has earned him legions of devoted ticket-buying, album purchasing and download fee-paying fans across the country.
Louis's triumphs have been made possible by a powerful combination of incredible talent and a series of very wise business decisions.  Here are five of the success lessons that can be learned from Louis's moves, which could be leveraged by professionals in any industry who seek to attain superior results in their endeavors:
No. 1: Deliver excellence.
In his work as a television writer during the 90s for "The Chris Rock Show" (HBO), "The Dana Carvey Show" (ABC), and other high profile vehicles, Louis's work served up big laughs and helped to build big careers (including Steve Carell and Stephen Colbert on Carvey's show).  He was hired by TV networks and movie studios because he had developed a reliable brand as purveyor of consistently funny material.
His work as a stand-up also achieves high standards, and he's uncompromising in his pursuit of a pure, imaginative, and hilarious voice.  No easy roads or short cuts are taken, and no cheap laughs are embraced.
For Louis, there has never been any other choice than to offer a premium entertainment experience to his fans/customers.  Like Google, Louis makes sure his offerings are always superb, and the marketplace rewards him for it.
No. 2: Innovate and experiment.
Louis was a regular on the New York stand-up circuit in the 90s, and I was fortunate enough to catch his act a number of times at Luna Lounge, an alt-comedy spot on the Lower East Side.  His routines were fun, quirky and zany.
I lost touch with the comedy scene for a few years, and the next time I saw Louis's stand-up act, it was on his 2007 HBO special "Shameless".  The results were stunning:  Louis had completely redone his routine, and much of his material was based on his family life (with special attention paid to his daughters, one of whom he felt was a "total a**hole").  His observations were shocking, honest and side-splitting.  His voice, which was completely different than the one I heard in the 90s, had hints of Bill Cosby, Richard Pryor, and George Carlin, but it was completely new.  It became the basis of his presentation that's so popular today.
I don't know when the essence of Louis's act began to shift, but I'm figuring that family life gave him an endless source of ideas and material to draw upon.  His desire to follow that muse and evolve the core of his humor to a dynamic and very effective place was based on an innate need to be inventive, fresh and bold.
Louis's stand-up work, like the offerings of constantly-evolving (and improving) brands such as Starbucks, will continue to thrill his current fans/customers and attract new ones so long as he embraces the originality and innovation that currently define him.
No. 3: Don't coast.
It could have been very easy for Louis to take the triumphant routine that he had created with "Shameless" and turn it into a recurring formula.
Thankfully, Louis became an advocate of George Carlin's approach to creating stand-up material:  each year, Carlin would toss out the routine that he had performed during the previous 12 months and create a completely new act to share with audiences.  Louis adapted Carlin's idea to his own pursuits, and found that in order to harvest the best new content, he had to continually dig deep to access his most intimate fears, thoughts and desires.
Louis aims to never repeat the mistake of recycling the same stand-up material:  he did it for 15 years (prior to "Shameless"), and – while easy and safe – he found that it held him back creatively, spiritually and professionally.  In the same way that a top brand like Apple refuses to settle for "good enough", Louis is brave enough – and confident enough in his abilities – to annually start from scratch and reinvent his "product."
No. 4: Be resilient.
The 2006 HBO sitcom "Lucky Louie" was a chance for Louis to share his writing and acting talents with a wide audience, but the show unfortunately lasted for only 13 episodes.
While a period of understandable bummage may have ensued when he received the bad news, Louis eventually shook it off, got back to work on his stand-up routine, and in the process, set the wheels in motion for his hit albums "Chewed Up" and "WORD – Live at Carnegie Hall", his concert videos "Hilarious" and "Live at the Beacon Theater", his current HBO special "Oh My God", and his hit award-winning FX series "Louie".
When challenged with the demise of "Lucky Louie", Louis returned to the core business where his success began:  stand-up comedy.  By creating a consistent flow of superb material, which led to the production and release of a string of successful multimedia entertainment projects, Louis invigorated his brand, reached new audiences and surpassed whatever success and rewards "Lucky Louie" could have possibly delivered to him.
No. 5: Rewrite the rules.
When planning a national tour in 2012, Louis decided to bypass working with Ticketmaster, the entertainment industry's ticket sales and distribution behemoth.  Instead, Louis took a calculated and confident risk:  he would cut out the Ticketmaster middleman – which increases event ticket prices by adding a variety of fees – and instead sell lower-priced tickets to his shows exclusively through his website.
The gambit worked:  45 hours after making them available, Louis had sold 100,000 tickets at $45 apiece, resulting in a box office gross of $4.5 million.
Louis took a similar revolutionary approach to the sale of his "Live at the Beacon Theater" video.  Rather than produce a DVD of the show for distribution through conventional retail channels, Louis made the concert available through his site for $5 per digital download.  Over 12 days, "Live at the Beacon Theater" racked up $1 million in sales.  According to The Hollywood Reporter, Louis' innovative direct-to-consumer download distribution model "could shape the way entertainers produce and distribute their own starring vehicles".
In the same way the sale success of the Kindle Fire changed the tablet game, Louis had the fan base, the courage, and the leverage to change the ticket sales and content distribution games.  The marketplace was ready for this shift, and Louis was the right guy to do the shifting.
Louis's multiple triumphs have been made possible by a smart strategy and the flawless execution of well-timed tactics.  The lessons that have driven his amazing accomplishments are universal, and goal-oriented professionals in the worlds of business, sports, government, education, and the non-profit sector would benefit by borrowing pages from his well-written scripts for success.
Rafe Gomez is a principal at VC Inc. Marketing, a provider of SEO lead generation content creation and content marketing services for businesses.  Follow him @vcincmarketing.