5.11 Tactical Wins NASCAR's Driving Business Award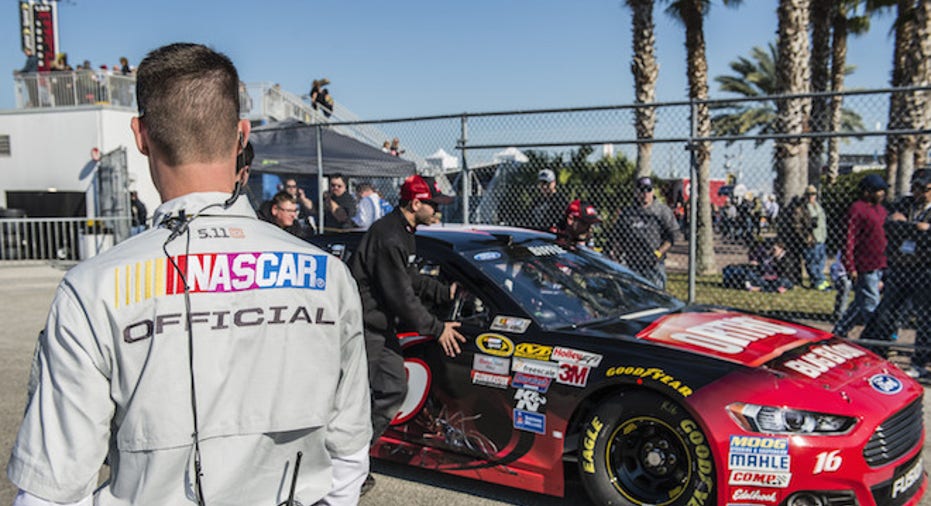 What's the value in a NASCAR sponsorship? Just ask 5.11 Tactical.
The maker of military and outdoor gear is the winner of NASCAR's 2015 Driving Business Award, which recognizes an official partner that achieves strong business-to-business results.
5.11 Tactical entered into a sponsorship deal with NASCAR in November 2013. In a little more than a year, the California-based company generated more than $12 million in B-to-B transactions with fellow members of the NASCAR Fuel For Business Council, a group of more than 50 sponsors.
"To have a company of their size win this award is remarkable," Steve Phelps, NASCAR's executive vice president and chief marketing officer, told FOXBusiness.com. Past award winners include industry giants like Ford Motor Co. (NYSE:F). "It speaks a lot to the power of NASCAR. It's the sport that works for business."
Bob Neapole, chief revenue officer at 5.11 Tactical, said B-to-B opportunities within NASCAR steered the company to invest in the sport.
Through NASCAR, 5.11 Tactical developed business relationships with 3M (NYSE:MMM) and Mechanix Wear, which produces gloves used by auto mechanics, construction workers and law enforcement. 5.11 entered into a supply agreement with Mechanix Wear, and the two companies are working together on 5.11's tactical glove line.
As for 3M, technology developed by the diversified manufacturer overlaps 5.11 Tactical's objective to supply apparel and gear that performs in the field.
"Companies that are partners with NASCAR are great potential partners with 5.11," Neapole said. "NASCAR does a tremendous job creating environment for like-minded businesses to get together."
The NFFB Council, now in its 11th year, organizes quarterly meetings to facilitate business transactions. Company personnel participate in "speed meeting" sessions that NASCAR says are designed to cut through corporate red tape and bring sponsors together.
The program offers a platform for 5.11 Tactical to introduce its gear to major brands tied to NASCAR. Plus, as the sport's Official Tactical Apparel and Gear Supplier, 5.11 Tactical makes uniforms for all NASCAR race officials.
"5.11 has been a great first-year partner. Having our officials wear their product brings a professionalism to the garage that I think is unmatched by previous years," Phelps said. "It also gives 5.11 visibility with all of the other sponsors and our fans."
The NFFB Council is the "best B-to-B entity that exists in all of sports," he added. Members are responsible for nearly $1 billion in transactions during the council's lifetime.
Connecting with Fans
During its first year in NASCAR, 5.11 Tactical was primarily focused on building B-to-B relationships and ensuring that officials were "100% satisfied" with their new uniforms, Neapole said.
Now the company is turning its attention to NASCAR fans, who are considered some of the most brand-loyal fans in the sports world.
Phelps said, "The loyalty of our fan base is unmatched. Not only do we have a loyal group of fans, but they understand the importance of sponsorships. They support businesses that support the sport."
Engaging with the fan base, particularly at the track on race weekends, fits perfectly with 5.11 Tactical's broader plans to widen its footprint in the mainstream retail market, according to Neapole.
5.11 Tactical has a growing portfolio that stretches beyond public safety and law enforcement applications. The company offers clothing, backpacks, knives and firearm accessories for both consumers and professionals.
"The nice thing about our NASCAR relationship is each of our activities is tied to growth strategies," Neapole explained. "One of our strategies to grow 5.11 is expanding distribution. The brand has really moved beyond public safety. Our efforts in fan engagement will be in line with our efforts to expand distribution."
Reeling in Sponsors
Perhaps more than any other sport, sponsors are critical to keeping the NASCAR engine running. Phelps said the success of official partners like 5.11 Tactical is "a very good sales tool for us" and serves as evidence that investing in NASCAR pays off.
He also noted that a company's investment is often paid for simply through participation in the NFFB Council.
"We have some potential new partners who come to our Fuel For Business Council so they can experience what goes on there," Phelps said. "Companies can see the success and hear the stories coming from our partners, and the results that they're driving."
Neapole said 5.11 Tactical has put a tremendous amount of effort into making the partnership work.
When 5.11 Tactical first presented itself to the NFFB Council, company officials stressed that 5.11 was going to be "actively engaged as a member of the council." 5.11 Tactical was prepared to be a buyer and seller, he added.
5.11 Tactical's early success is notable considering the big players in NASCAR. Blue-chip brands like Ford, General Motors' (NYSE:GM) Chevrolet, Toyota (NYSE:TM), Coca-Cola (NYSE:KO) and Bank of America (NYSE:BAC) have a rich history in the sport.
Phelps said 5.11 Tactical and other rookies keep the NFFB Council fresh. "It provides us opportunities to showcase new brands."