400 Economists Sign Open Letter Urging Yellen For Fed Chair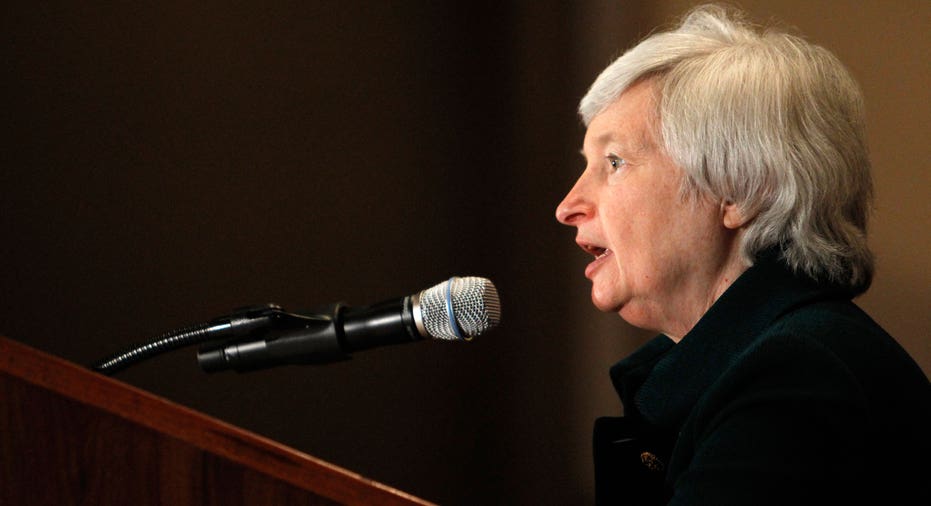 More than 400 U.S. economists have signed an open letter initiated by the Institute for Women's Policy Research urging President Barack Obama to select Janet Yellen as the next chairman of the Federal Reserve.
As of Thursday the roster of letter signers included such prominent names as Nobel Prize winner Joseph E. Stiglitz of Columbia University, Christina Romer, a former chair of the Council of Economic Advisers in the Obama administration, and former Fed vice-chairmen Alan S. Blinder, now at Princeton University, and Alice Rivlin, now a senior fellow at the Brookings Institution.
A spokesman for the Institute for Women's Policy Research, a Washington, D.C.-based advocacy group, said economists from 40 states, 172 colleges and universities and 17 companies, centers and institutions have signed the letter.
Yellen, who currently serves as the Fed's vice-chair, appears to be in a head-to-head competition with long-time Washington, D.C., economic guru Lawrence Summers to replace current Fed Chairman Ben Bernanke when Bernanke's second term ends in January.
Media reports have suggested Obama is leaning toward nominating Summers, who served as a close aide to the president during Obama's first term and who helped formulate economic policy at the height of the recent financial crisis.
Obama has reportedly met with Democratic Congressional leaders, some of whom apparently plan to oppose a Summers nomination, to defend the candidate.
Describing Yellen as "superbly qualified," the Institute for Women's Policy Research letter specifically cites her prediction of a housing meltdown well ahead of many of her Fed colleagues.
"Dr. Yellen was one of the first members of the (Fed's) Federal Open Market Committee to realize that the financial sector's difficulties in 2007 could cause a major recession, and she worked to focus her colleagues on the problems of the housing sector," the letter states.
The letter, without ever mentioning Summers, extols Yellen for her willingness "to hear multiple points of view and to bring many voices into the policymaking arena." In addition, the letter describes Yellen as "not beholden to a single interest group, nor to a single industry."
In the past, Summers has been criticized for reportedly being arrogant, difficult to get along with and not particularly interested in the opinions of others, qualities contrary to the collegial environment cultivated at the Fed under Bernanke.
Summers' opponents have also argued that Summers' long-time ties to Wall Street create a conflict of interest unworkable for a Fed chair.
Chicago-based securities attorney Andrew Stoltmann said those potential conflicts of interest would make it difficult for Summers, as Fed chair, to oversee elements of the Dodd-Frank banking reform bill that still need to be written.
"Luckily, there are a few senators speaking out against Mr. Summers and they are raising questions about potential conflict of interests," said Stoltmann.
Stoltmann also noted that in the 1990s Summers, a former Treasury secretary in the Clinton administration, advocated the repeal of the Glass-Steagall act, which limited the risks investment banks could take. Many economists believe repeal of the act opened the door to many of the risky banking activities that preceded the financial crisis.