4 Ways Private Colleges Make the Grade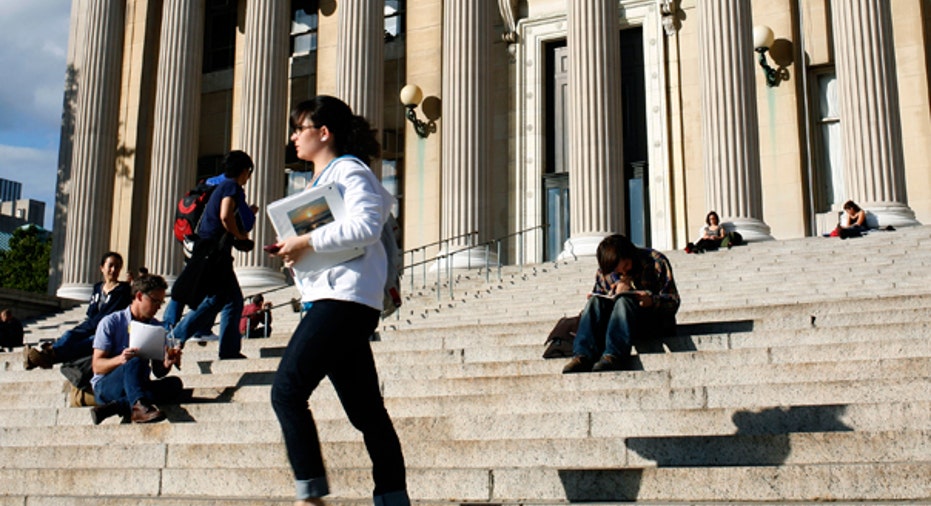 College Finance 4 Reasons To Attend A Private College
Consider attending private colleges and universities
Choosing the right school when deciding on a college is complicated, and students need to find the right fit. But how do you pick between a state and private university? Cost is usually the overarching factor for many students, but other criteria should be looked at before making the final decision. Private colleges and universities can offer distinct advantages for students who are looking for attributes that often stand out in a smaller college environment.
Sheila Haut, public information officer at William Jessup University, a private, liberal arts college in Rocklin, California, says students there like the school's sense of community.
"A smaller community allows students to find their niche," she says. "Professors know their students better than they would when they are conducting class for hundreds of students at one time." Haut believes that this kind of environment allows for more interaction, allowing the students "to build better, more meaningful relationships."
Taking advantage of a smaller student community
Especially at the more selective private colleges and universities, students will find smaller classes, more opportunities for primary research and closer work with faculty, says Carol Barash, CEO of Story To College, a company that provides college admissions coaching to students and schools.
"The No. 1 predictor of students' academic performance in college is class size, so for many students' academic performance and social ease, smaller is better," she says. But, she adds that "smaller" can mean the honors program at a public university, such as the Macaulay Honors College at City University of New York or Schreyer Honors College at Penn State. "Smaller can even mean starting at a local community college to gain study skills you missed in high school and then transferring to a private or public four-year college. Students should consider what type of academic and professional support services are available at each college they are considering."
Merit aid is available
A big draw for some private colleges and universities are specific programs that fit students' intellectual and professional interests. But often, the price of these universities makes these schools cost-prohibitive. "Money is a big factor," says Barash. "For most middle-class families, and even families where both parents have advanced professional degrees and successful careers, college can be very expensive."
To help defray costs, private colleges and universities with healthy endowments work to provide strong financial aid to current and prospective students.
"Endowments at private colleges and universities allow significant flexibility in how they spend their money, and if they choose to, colleges can enhance the amount of financial aid dollars that are devoted to their students," says Steve LeMenager, principal of Edvice/Princeton based in Princeton, New Jersey. He is also a former director of admission at Princeton University.
Stronger liberal arts education with graduate ties
Students pursuing a liberal arts path can gain competencies on subjects beyond a major. Requirements for traditional four-year majors may leave students without a broader scope for today's evolving and global world.
"A great liberal arts program really helps the student form a stronger basis for thinking that parlays into any field," says Kate McKeon, CEO of Prepwise, an educational consulting firm in New York.
McKeon says a liberal arts education includes rigorous study and investigation. "It is an extraordinary intellectual feat to complete a strong liberal arts program, usually culminating in a capstone class or thesis that ties together many disciplines. These graduates are prepared to be strong strategic thinkers," she says.
Furthermore, McKeon notes the most elite graduate professional programs, particularly in law, medicine and business, appreciate that ability to understand at the macro level while making decisions at the micro level. "Also, admittedly, some elite institutions have unspoken bonds with elite graduate schools," she says.
More approachable alumni networking
Private colleges and universities often boast tight alumni networks welcoming students to interact and take advantage of connections.
"The campus resources and the well-connected alumni networks are excellent benefits that private colleges offer," says Susanna Cerasuolo, founder of CollegeMapper.com, a website offering students a personalized plan to find and apply to schools.
For example, at Grinnell College in Iowa, there are opportunities for current students and alumni to benefit from job search and career experiences. "At places like Grinnell, alumni are highly loyal to their alma maters," says Joseph Bagnoli Jr., vice president for enrollment and dean of admission and financial aid for Grinnell College.
"That loyalty is often expressed through support of current students or recent graduates who are preparing to make a transition that is familiar to alumni. Opportunities for internships, job shadowing and early career placements are common forms of such support."
Copyright 2014, Bankrate Inc.