4 Tips to Navigate Private Student Loans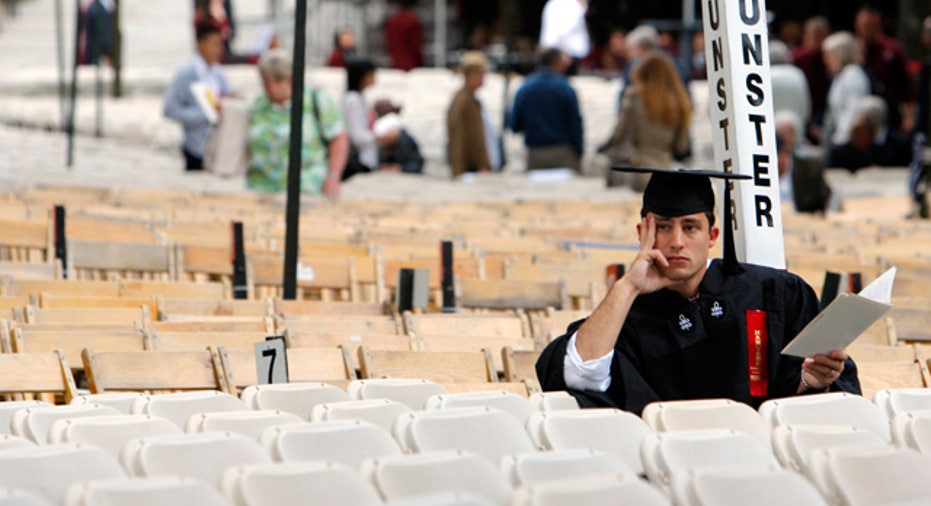 If you're thinking of borrowing from a bank to help pay for college, join the crowd. The rapidly growing volume of private student loans is on track to exceed the number of federal loans by around 2025, says Mark Kantrowitz, publisher of FinAid Page LLC, an informational website operator on student financing.
But while taking out a private student loan may be popular, it's not a move to be taken lightly.
"Students and parents are kind of living in a new economic reality today, so they have to take a very hard look at any private student loan before signing on the dotted line," says Justin Draeger, president of the National Association of Student Financial Aid Administrators in Washington, D.C.
Here are four tips to guide you when navigating the private student loan market.
Use up Federal Loans First
Before you start shopping in the market for a private student loan, make sure you have exhausted every opportunity for federal financial aid. Federal loans have fixed interest rates and allow you to defer payment while you are in school and during times of economic hardship.
"The federal loan program has several different repayment options," Draeger says. "One of them limits the repayment amount to a portion of a borrower's income, so borrowers can be assured that their student loan payments would never exceed a certain amount. Those types of provisions are very rare in private education loans."
Even private lenders looking for your business agree that a federal student loan is a better buy.
"Absolutely take advantage of the free money that's out there in terms of scholarships, grants and financial aid. When they do need a loan, the best loan for a student to get is a federal Stafford loan," says Mike Weber, spokesman for Credit Union Student Choice, a credit union service organization based in Washington, D.C.
Know the Interest Rate Formula
The interest rate on your loan will be tied to either the prime rate or the London interbank offered rate, or Libor. Kantrowitz says the best deals are no-fee loans whose rates are based on Libor plus 2% or prime minus 0.5%, similar to what the Federal PLUS Loan program offers.
Kantrowitz says the cost of a Libor-based loan will usually be lower over the long term, because Federal Reserve statistics show that the spread between the two indexes -- Libor and the prime rate -- has been increasing. It's also important to note that some college loans have variable rates that increase during the repayment period.
Rates also can vary, depending on whether the student applies for the loan independently or with a co-signer.
"The credit quality in either case is going to help determine the rates," says Mary Kay Bean, a spokeswoman for JPMorgan Chase. "It's most likely that for a student who doesn't have a credit history, to have a co-borrower is going to help them to qualify for a better rate on their loan than if they were to do it on their own."
Current rates on Chase student loans start at Libor plus 3.7% for a student who applies with a qualified co-signer, Bean says.
Add Up the Total Cost
The Higher Education Opportunity Act of 2008 spells out the disclosures that lenders must make at the time of a private student loan application and prior to the disbursement of the loan. That information includes the total loan amount, the interest rate and the terms of repayment.
"Unlike federal loans, there is no cap on your repayment amount (with private student loans)," Draeger says. "So (borrowers) have to take a very realistic look at how much they expect to earn once they complete their degree or credential, and what the repayment amount is going to be."
Draeger notes that online calculators provide a convenient way to figure your total repayment.
Loan origination fees can add significantly to the cost of a private student loan. Kantrowitz warns that a fee of 3% to 4% at the outset of the loan can have an impact equal to a 1% spike in the interest rate over the life of the loan.
Another caveat is that a longer repayment term increases your total interest payment even as it reduces the annual percentage rate of the loan.
Rewards for Good Behavior
Some lenders offer special perks like reducing your private student loan balance or your interest rate when you graduate, or when you set up an automatic payment system.
For borrowers who sign up to have their principal and interest repayments deducted from their bank accounts automatically, many banks will lower the interest rate by a nominal amount such as 0.25%.
"That's not going to lower the monthly payment amount, but it's going to reduce the interest that accrues, which would reduce the total amount that the borrower would have repay," Bean says.
Another example of a reward? Many banks offer to release co-signers from their obligation once the borrower has made a certain number of consecutive monthly, on-time payments.
In some cases, "The co-signer release has to be requested by the borrower, and the borrower has to pass applicable underwriting requirements at the time of the request," Bean says.