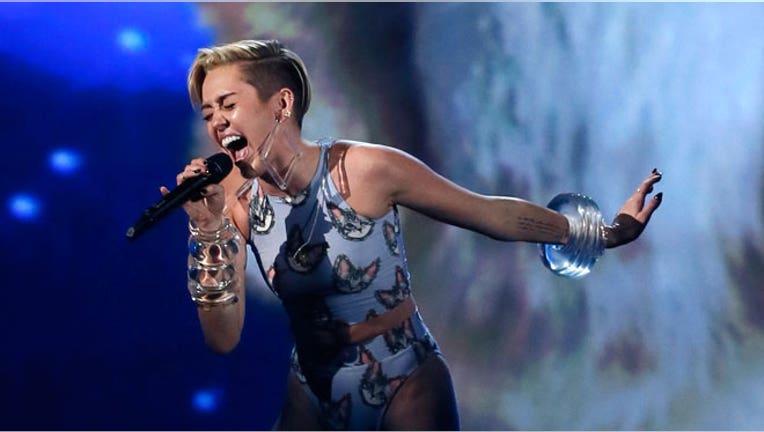 Love 'em or hate 'em, you've got to admit that celebrities like Miley Cyrus (or the Kardashians, even) know a thing or two about branding themselves. While it might not seem like the Queen of Twerk could teach you anything about running your business, I encourage you to dig deeper and find the lessons.
1. It Is Possible to Reinvent Yourself
Think back about 7 years. Miley Cyrus wasn't known for her onstage antics, but for her cute face on The Disney Channel. She had a successful career as a young actress, but decided she wanted to tarnish her pristine image and get a bit of grit under her nails. The result? Constant press (not much of it positive) and a booked-solid singing tour.
Takeaway Lessons: You don't have to stick your tongue out and wink to reinvent yourself like Miley. Just set a goal for what you want to be known for, and work your tail off to shift into that reiteration of your brand.
2. Bad Press Is Still Press
What should have been an embarrassing moment for Ms. Cyrus (I'm referring to her behavior at the Video Music Awards, in case you've been hiding under a rock) ended up launching her career full-throttle as a bad girl. Today, months after the offending event, she's still getting fresh mentions of the twerk-a-thon, with more than 7.4 million search results. Tell me that's not boosting record sales.
Takeaway Lessons: I certainly don't encourage you to seek negative publicity, but rather, if you end up with it (in the form of a negative Yelp review, a nasty Tweet, or a less-than-rosy product review), make the most of it. Find a way to leverage it to get your brand back on top.
3. Stay Relevant to Your Audience
So whom does Miley appeal to these days? Certainly not parents. No, she's catering to those same tweens and teens who grew up watching her on "Hannah Montana." They're older and crave something less bubblegum, less safe. And Miley delivers.
Takeaway Lessons: Are you capturing your audience as it evolves? That's one lesson we've taken to heart at my company, CorpNet. While we initially help entrepreneurs start a business, we've found ways to remain relevant to them on their journey through business ownership by offering more products. Our great customer service is what keeps our customers happy and coming back for other products. And our customer reviews are always helpful in helping us keep track of what our customers want.
4. Stay Connected with Your Fans
No business — least of all a teenage singer — will thrive long without interaction with fans and customers. Miley's big on social media (her 18.2 million followers on Twitter are a testament to this), and her fans avidly read what she's got to say.
Takeaway Lessons: No matter how big or small you are, stay connected to your network. Respond promptly to messages on social media, and be accessible.
Miley may not be your cup of tea, but you've got to admit: she's got the branding thing down pat.
More AllBusiness.com:
The Top 25 Home-Based Business Ideas10 Websites Where You Should Have Your Company Profile Listed25 Frequently Asked Questions on Starting a Business50 Inspirational Quotes for Entrepreneurs and Start-Ups
Nellie Akalp is a passionate entrepreneur, small business advocate and mother of four. As CEO of CorpNet, a legal document filing service, Nellie helps entrepreneurs start a business, incorporate, form an LLC or set up Sole Proprietorships (DBAs) for a new or existing business.