4 Steps to Choosing the Right SAT Test Prep Program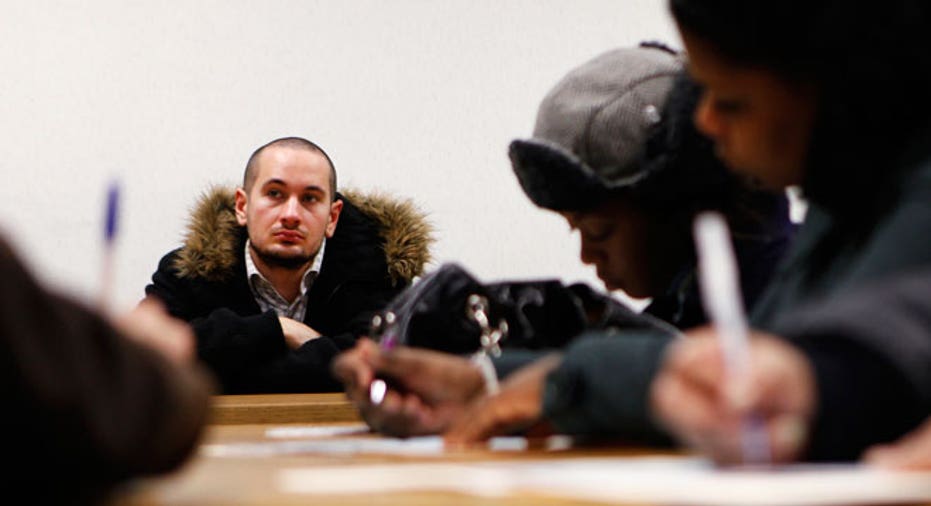 While a solid GPA, vigorous course load, letters of recommendation and quality essays are important components in an admissions officer's decision, experts say that SAT and ACT test scores remain at the top of the list when it comes to gaining acceptance.
As the college application pool continues to grow, standardized test scores have become an essential quantitative measure of a student's college readiness, says Ashish Rangnekar, CEO and co-founder of test preparation company BenchPrep.
"As much as these admissions committees are getting better at assessing a students' readiness for college, the actual test scores remain the single most important factor," he says. "Given the level of competition and awareness, the importance of this singular factor is causing a lot of anxiety and pressure on the student population."
The College Board reports that nearly three million students take the SAT each academic year, and more than 1.66 million students in the high school class of 2012 took the SAT at least once during high school.
Not only are exam scores an important factor in the admissions process, they are also frequently used to determine merit-based financial aid and scholarships, says Chuck Cohn, founder and CEO of Varsity Tutors.
"Achieving your best possible score on either exam can mean all the difference in getting into your school of choice and having the financial means to pursue your dream," he says.
The College Board reports that thoroughly preparing for standardized tests can increase the chances that students will reach their goal score the first or second time around, especially considering there is no evidence that taking the SAT more than twice results in significant score gains.
Here are four steps families and students should take to find the right fit when it comes to preparing for the SAT/ACT.
Step 1: Evaluate How Much Prep is Needed
The best way to determine the level of support a student needs to prepare for standardized tests is to take an entire timed practice exam and score it, recommends Cohn.
SAT and ACT test prep should cover test-taking strategies, subject-area knowledge, and critical-thinking skills.
"Taking a practice exam enables students to ascertain their specific challenges and weaknesses, and how many points they need to increase their score to an adequate level," Cohn says. "Students can focus test preparation on only the area(s) where they need the most help and choose a course or personalized tutoring service accordingly."
Step 2: Know a Student's Learning Style
Exploring test prep options with a student's learning preferences in mind can directly affect their level of commitment when it comes to devoting the time and effort needed to prepare.
"The student is not going to see the results if they're actually thinking of it as a burden on themselves, if they're not engaging with the program, if they're not liking the interface and the interaction with the tutor, the book or any of the options--it's not going to work," says Rangnekar.
Researching a variety of outlets such as online programs, study apps and more one-on-one personalized tutoring options can help families identify the right choice, says Jerry Slavonia, CEO of Campus Explorer.
"Parents should read reviews of test prep tutors, classes, websites and apps to help decide which combination of resources is best for the student and his/her learning style," he says.
Step 3: Compare Costs
Depending on a student's preferences and level of preparation needed, there are a wide range of costs for families to consider before committing to a program.
"They can buy a book that will cost them around $50 or they can hire a tutor that is going to cost them $50 per hour [for] a 20 hour test prep program so we're talking about $1,000 to $2,000 for tutoring," says Rangnekar. "There are online programs that I believe provide the most flexibility and are way more affordable than the tutoring programs, and they would be somewhere in the vicinity of $300-$500."
Families should inquire upfront about additional fees and add-on costs such as books and other learning materials, suggests Cohn.
Step 4: Create a Plan of Action
A major part in successful standardized test prep is the legwork students must put into studying material and completing practice exams on their own, says Slavonia.
"Taking an SAT/ACT prep course can really help students understand the test and how to take it well, but if they do not continue to practice the techniques on a regular basis with practice tests at home, they will not improve their test scores or skills nearly as much as they'd like," he says.
Cohn suggests that students begin prep two to three months prior to taking the exam and clock between 12-15 hours of total prep weekly.
"Creating a well-devised study plan adapted to the learner is one of the most critical steps to being adequately prepared for any standardized test," he says. "It takes the anxiety, stress and late-night cramming out of the equation to ensure you have the confidence and know-how to perform your best."