4 Reasons to Embrace March Madness in the Workplace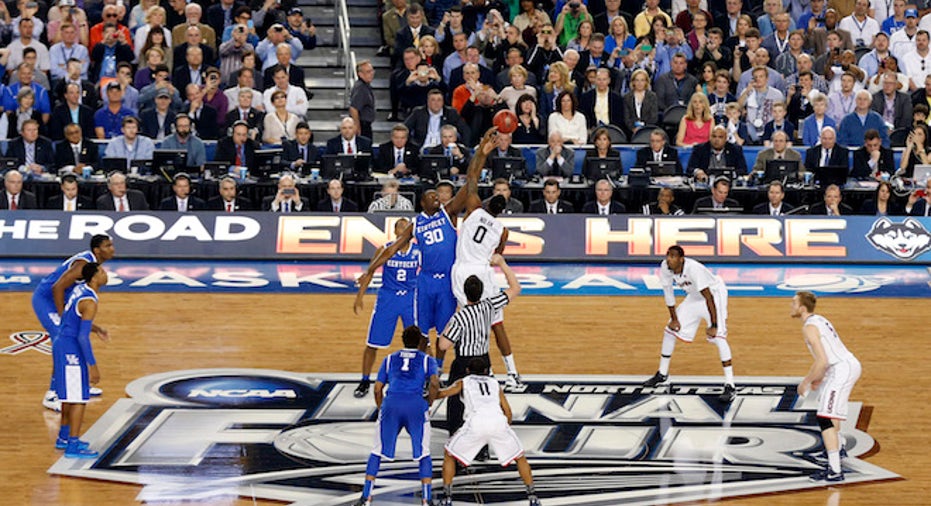 There is a lot out there about March Madness decreasing workplace productivity; but the reality is productivity is lost daily in the workplace. With March Madness, it's a transparent loss. Everyone knows it is happening. If companies have good managers who hold people accountable, work still gets done, and employees bond over the tournament.
Managers should acknowledge it's going to be there and then manage accordingly. They should get involved in company brackets and play alongside key producers. When they are a part of it, they become less critical. No one is saying throw goals out the window, but I am saying it's OK to have fun. The key is for managers to be upfront with employees and acknowledge it's happening, but reminding them that deadlines won't be ignored.
Here are four opportunities companies miss out on when they ban March Madness in the workplace:
Building team camaraderie. Sports can bring the most eclectic group of people together, with various ages, genders, workplace titles, passions and more. People get together and have conversations tied to personal interests, and when personal qualities are brought into the workplace, that's what helps create some of the strongest relationships between coworkers.
Strengthening client relationships. Don't just keep it internal. Host a March Madness event and invite clients and vendors. Use the games as an opportunity to maximize client relationships and demonstrate appreciation for their business, because just like the Super Bowl, even people who don't care for the game can join the festivities.
Encouraging competiveness.  Competition is good. Employers should want their employees to want to be better. This doesn't this mean they want anyone to fail. They just want a higher score. Competitiveness leads to employees being more engaged, and the more engaged employees the more willing they are to go above and beyond for the company and the clients.
Building employee morale. Sports make many people happy, and happy employees often make for productive employees. They are excited they get to share their passion with their boss, or maybe someone in leadership that they haven't had a lot of interaction with. It brings different teams and different offices together. An employee will be more invested in a company that supports his/her passion, and March Madness can be treated as a reward for their hard work. It shows they are appreciated.
Tom Gimbel is the Founder and CEO of LaSalle Network, a staffing and recruiting firm headquartered in Chicago. For the past five years (2011-2015), Staffing Industry Analysts has named LaSalle Network one of the top five Best Staffing Firms to Work for in the country, and recognized LaSalle Network on its national list of Fastest-Growing Staffing Firms for the past three years (2012-2014). Also, LaSalle has been named to the Inc. 500/5000 list of Fastest-Growing Private Companies in America for the past eight consecutive years (2007-2014), and Crain's Chicago Business' list of Best Places to Work in 2014. Gimbel individually has been recognized on Crain's Chicago Business' "40 Under 40" list, and was also inducted into the Chicago-area Entrepreneurship Hall of Fame.