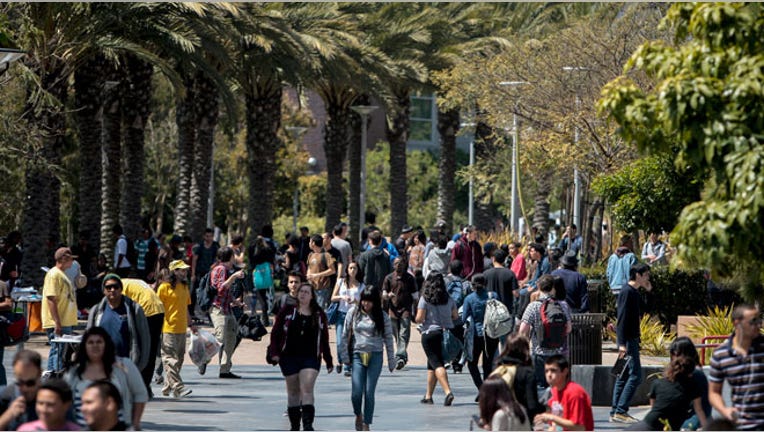 As incoming college freshmen starting prepping for their new college lifestyle, nerves might start to kick in over this new stage in life, but experts say summer orientation can be the perfect opportunity to calm jitters if students ask the right questions.
"It's the final check point for students to make sure they are ready for the transition to college," says Chuck Cohn, founder and CEO of Varsity Tutors. "In addition to the scheduled activities provided by the school, students should spend their time at orientation getting to know other students and professors, discovering the academic and student services available, and exploring campus life."
Students should create a list of all their questions and look them up on their school's website and bring them to their orientation or registration session, recommends Veronica Montalvo, vice president of Online Education Institute Enrollment Management for Post University.
"It's important to bring your 'A game' to summer orientation--come prepared with questions, listen carefully and read through the materials provided," she says. "Once you return home, review everything you received and see if there is anything else you need before you start packing up for the fall."
Here are the top four questions experts urge students to ask to ensure they are ready to go for the start of the semester.
Question 1: What if I need to change my course load?
Students are often required to register for their fall classes during summer orientation and they should take this opportunity to meet with an academic advisor to clear up any confusion about the registration process.
"It's a good idea to keep a folder with key contact information, so students can ask questions prior to their arrival [in the fall]," says Montalvo.
Students should inquire about the process of dropping and adding classes needed for general education requirements and their intended major for setting up a plan to take the right number of credit hours each semester, says Nicolas Tynes, director of College Quest at Harlem Educational Activities Fund (HEAF).
"It gives students confidence to recognize that they are not bound by the initial course list that they enter college with," he says. "They can withdraw from a class that they don't like or if they feel they have too many writing intensive classes in a semester, they can remove one of those and take something else that will diversify their course offerings and also help them to manage their time."
Question 2: What facilities are available to underclassmen and when are they accessible?
Colleges offer a wide array of academic resources and services and students should ask specifics about access to facilities for studying and working outside their dorm. After all, they are paying a hefty tuition bill for them.
"Orientation is the opportune time for students to gather as much information as possible so they know where to turn for help when the need arises, such as their school's writing lab or local tutoring services," says Cohn.
Finding out the hours of the libraries and which computer labs are open around the clock can help students feel confident about the transition from high school to college and how their new environment will foster their learning style and study habits, says Tynes.
"Also knowing if there are graduate schools on their campus--can they gain access and admission to those libraries?" he says. "[Students] may need to remove themselves completely from any chance of running into friends or peers…and graduate school libraries are quieter typically and they don't know anyone there."
Question 3: What kinds of health insurance plans are offered/accepted?
As many students will be dealing with health insurance issues on their own for the first time, it's essential to understand how the school's health center works, says Jerry Slavonia, CEO of Campus Explorer.
"On some campuses, the health care centers take certain types of insurance, whereas others have plans for students with different fees and reimbursement levels," he says. 'Some student health care plans offer free services to full-time students, while others will work in combination with your parent's insurance – knowing how your college's health care functions will ensure you get the care you need."
Montalvo warns that many schools will automatically enroll students in the school's health insurance plan and add the cost to their bill unless they receive a waiver form. Students should ask specifically how their own plan compares with the school's plan to avoid overpaying for coverage.
Question 4: Are there any campus group/organization leaders currently on campus?
Students should ask their orientation advisors any questions about campus organizations, but also see if any club or group representatives are available to chat, recommends Slavonia.
"During the summer there are less people on campus, so if a student can spend some time with a member of the group that interests them, he or she will get to learn more about the campus organization and have a chance to make a good impression before school starts," he says.
Talking to current students on campus can help incoming freshmen get a head start on thinking about ways to get involved and connect with others, says Cohn.
"Ask upperclass student volunteers what groups and activities they are involved in, check with faculty about organizing study groups and study abroad programs they recommend, visit the student affairs office for detailed information, and attend fairs for student clubs and organizations, which usually occur during summer orientation or welcome week."