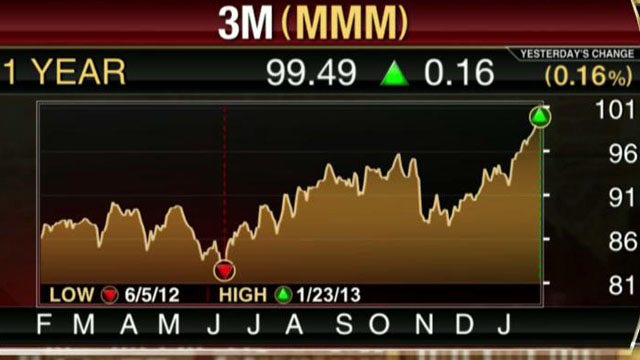 Post-It maker 3M (NYSE:MMM) posted an in-line 3.9% increase in fourth-quarter profits on Thursday as the blue-chip conglomerate delivered steady sales growth in North America.
Shares of 3M, which also makes a slew of safety and health-care products, had little immediate reaction to the mixed results.
The St. Paul.-based company said it earned $991 million, or $1.41 a share, last quarter, compared with a profit of $954 million, or $1.35 a share, a year earlier. Analysts had called for EPS of $1.41.
Revenue rose 4.2% to an all-time fourth-quarter record of $7.39 billion, topping the Street's view of $7.18 billion. Operating margins expanded to 19.5% from 19.2%.
"Fourth-quarter was a good finish to a successful year for 3M," CEO Inge Thulin said in a statement. "Our people executed well in the face of challenging macroeconomic conditions and we have built good momentum to innovate and move forward in 2013."
Looking ahead, 3M reaffirmed its earlier call for 2013 EPS of $6.70 to $6.95. The midpoint of that range, $6.825, would narrowly trail consensus calls from analysts for $6.85. Organic local-currency sales growth is still seen at 2% to 5%.
3M enjoyed sales growth in almost every region around the world last quarter, highlighted by a 7.2% jump in Latin America/Canada and a 7.1% increase in the U.S. Sales rose 5.1% in the Asia-Pacific but dropped 2.2% in Europe, the Middle East and Africa.
Likewise, most 3M business divisions generated growth, led by a 10.6% leap in display and graphics and a 7.7% rise for consumer and office. However, sales inched up just 1% in electro and communications and retreated 2.5% at the company's protection services segment.
Shares of 3M slid 0.53% to $98.96 in premarket trading, putting them on track to trim their 2013 rally of 7.15%. 3M has rallied 16% over the past 12 months, narrowly outperforming the S&P 500.
Earlier this week fellow blue-chip conglomerate United Technologies (NYSE:UTX) generated a 55% leap in fourth-quarter profits but disappointing revenue.