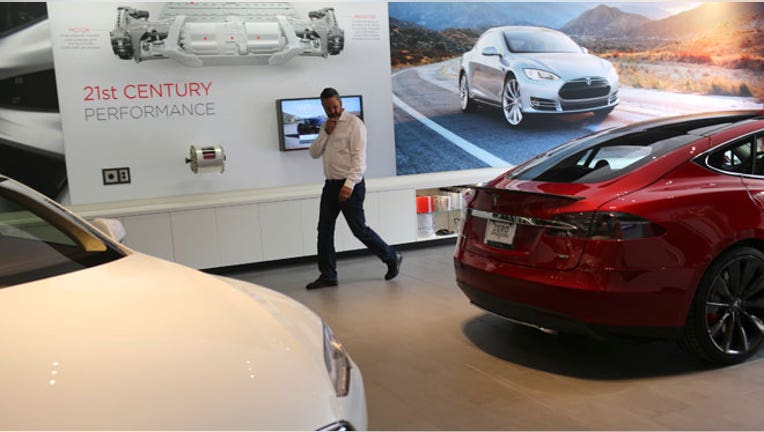 Wall Street is keeping a close eye on Tesla Motors (NASDAQ:TSLA), as the electric car maker enters a critical period in its history.
The company, which will report second-quarter earnings after Thursday's closing bell, is inching closer to launching new models and breaking ground on a large battery factory. Tesla also hopes to ramp-up production to meet growing demand overseas, particularly in China.
Early on Thursday, Tesla and Panasonic formally announced a partnership to build the so-called Gigafactory. The Japanese electronics company already has a supplier agreement to provide Tesla with two billion battery cells through 2017.
Tesla has said the Gigafactory will require an investment of up to $5 billion. The plant is expected to reduce battery costs and increase production of lithium-ion batteries starting in 2017.
At Tesla's annual shareholder meeting in June, chief executive Elon Musk said construction may begin at three sites before a final decision is made on the Gigafactory's location. Tesla is considering sites in Arizona, Texas, New Mexico and Nevada, while Tesla's home state of California hasn't been ruled out.
S&P Capital IQ analyst Efraim Levy said he will be looking out for more details on the Gigfactory in Tesla's earnings report. Quarterly deliveries and margins are also in focus, Levy added.
In the first quarter, Tesla recorded an automotive gross margin of 25.3%, or 25.4% on an adjusted basis. The Palo Alto, Calif.-based company is targeting margins of 28% by the end of this year.
Tesla swung to a loss in the first quarter, although revenue climbed 10.5%. Model S deliveries rose to 6,457, putting it on pace to meet its guidance for 35,000 deliveries. That would reflect a year-over-year gain of 55%.
The first-quarter loss was driven by higher costs associated with Tesla's expansion efforts in the U.S. and internationally. Just this summer, Tesla is introducing the Model S sedan to the U.K., Japan and Hong Kong.
Musk said Tesla remained on target to hit capital expenditures of $650 to $850 million for the year to expand its store and Supercharger footprints, increase production capacity and continue Model X development.
Tesla recently shut down production of the Model S to retool its assembly plant for the less expensive Model X, a crossover scheduled to go on sale next spring.
Kelley Blue Book senior analyst Alec Gutierrez said the Model X will put Tesla "firmly in a segment that's growing leaps and bounds."
"This is a critical time for Tesla. When they really started to make headways with the success of the Model S, Tesla proved they should be taken quite seriously," Gutierrez commented. "If they want to grow and compete with automakers and tech companies in general, they need to have new products in the pipeline."
Production of those vehicles remains the key. Tesla plans to boost capacity to 1,000 units per week by year's end. First-quarter production checked in at 7,535 vehicles.
Pricing will be an important consideration as well, since the Model S, with a starting price of around $70,000, competes with luxury vehicles. Tesla has yet to announce final pricing of the Model X, while its next-generation sedan, the Model 3, is expected to be a mass-market vehicle.
Gutierrez noted that Tesla's new models will bring the manufacturer into competition with the broader auto market.
Tesla's performance the rest of the year mainly hinges on sales volume for the Model S, Gutierrez said. China and other international markets are seen as a tailwind for Model S deliveries going forward.
Meanwhile, concerns over the impact of franchise laws in many states have dissipated a bit. Tesla has reached deals with Ohio and New York to maintain a certain number of stores that sell vehicles directly to consumers. In New Jersey, lawmakers are working on legislation that would pave the way for direct sales by Tesla.
"It seems as though the tide has turned," Gutierrez said of Tesla's fight against franchise laws. The company still has work to do, but it appears "Tesla will be able to establish their sales model across the U.S.," he added.
Tesla shares were down 1.9% at $224.57 in recent trading.