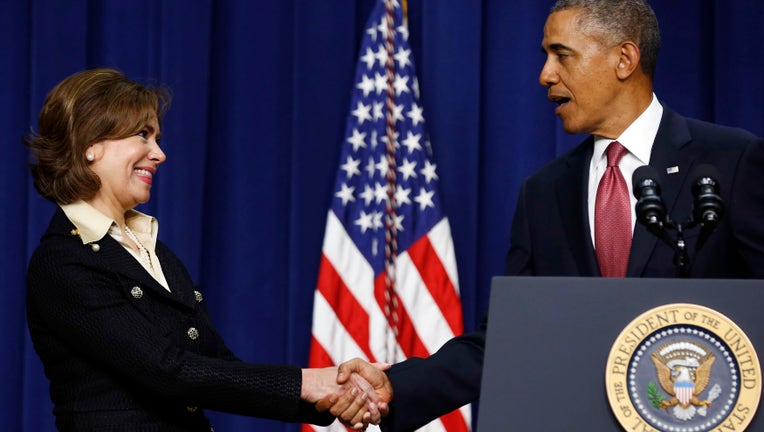 As Small Business Administration (SBA) Chief Maria Contreras-Sweet settles into her new role, a number of challenges await her.
Contreras-Sweet succeeds Karen Mills, who left the agency more than six months ago. During her term, the position was raised to a Cabinet-level position by President Obama, whose 2012 reelection campaign focused heavily on helping small businesses so that the economy could get back on track.
In welcoming the new SBA administrator at a White House ceremony, the president highlighted her experience in founding a Los Angeles-based community bank, as well as her service as Secretary of business, transportation and housing in California.
Like Hector Barreto, who served five years as SBA administrator under President George W. Bush, Contreras-Sweet has Mexican roots and understands that the American Dream still motivates countless immigrants today. Speaking no English, she came to the U.S. with her mother and five siblings at a young age.
"I've lived that dream," she said. "As the SBA administrator, I'm determined to help others realize theirs."
Contreras-Sweet has big shoes to fill. Under Hector Barreto's stewardship, the SBA exceeded all previous records in small business loans and women and minority owned business support. Barreto now serves as the chairman of The Latino Coalition, a national organization that represents Latino interests.
Karen Mills became SBA administrator in 2009 under President Obama, who elevated her position to Cabinet-level status in January 2012. Although her tenure began during the Great Recession and overlapped with the "Credit Crunch," the SBA backed more than $106 billion in loans to small companies. This included record years of more than $30 billion worth of loan guarantees in 2011 and 2012. Mills was a strong advocate for making it easier for small businesses to apply for government-backed loans.
In taking over the SBA, Contreras-Sweet's priorities should be:
Continuing the automation process at the SBA
The SBA does not currently allow online applications of loans, thus requiring small business borrowers to fill out reams of paperwork. This is unnecessary in the 21st century when people want to conduct transactions online. The SBA should streamline its processes further, for instance allowing digital applications and accepting eSignatures, as many financial institutions currently allow.
Promoting the adoption of the SBA Express program by big banks
Smaller banks are taking advantage of the agency's SBA Express program, in which funding comes in amounts ranging from $10,000 to $350,000. The SBA offers an 85% guarantee for loans up to $150,000 and a 75% guarantee for loans of $150,000 to $350,000. This can mitigate credit issues such as insufficient collateral or low credit ratings and also encourage big banks to approve loans to small business owners.
Examining the agency's own historic data and coming up with better credit modelsThe SBA would benefit from better understanding the small business lending market by simply examining its  own loans, tracking performance of the companies that borrowed money through SBA lending programs, and then figuring out what improvements could be made to offer even better products.  No one really seems to have a handle on this information. Coming from banker background, Contreras-Sweet should make it a priority.
Because entrepreneurship is so vital to America's economy, the SBA plays an important role in the success of small companies. I have long maintained that it is America's most effective federal agency. It helps facilitate important programs, such as SBA Express and the popular SBA 7(a) Loans for entrepreneurs, as well as disaster loan funding. The agency also provides valuable business counseling and mentoring services, as well as special programs for women, minorities and veterans.
The job of SBA administrator is one of the most important jobs in the country, and I am wishing Maria Contreras-Sweet much success in her new position.
Rohit Arora is co-founder and CEO of Biz2Credit, an online resource that connects 1.6 million small business owners with 1,200+ lenders, credit rating agencies and service providers such as CPAs and attorneys via its Internet platform.  Since 2007, Biz2Credit has secured more than $1.2 billion in funding for small businesses across the U.S.  Follow Rohit on Twitter @biz2credit.