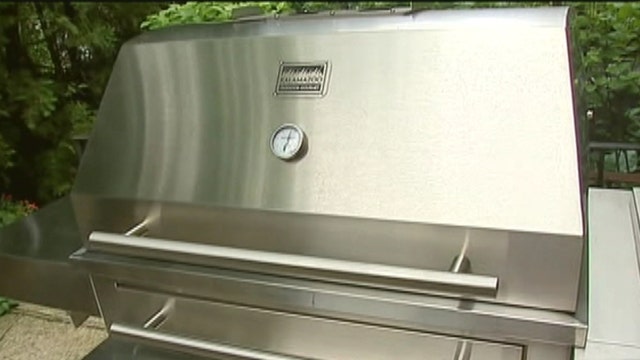 What does the Rolls-Royce of outdoor grills look like? Take a look.
While many consumers are still looking for great deals, Kalamazoo Outdoor Gourmet president Steve Adolph says his high-end outdoor kitchen company isn't feeling the heat.
In this week's Conference Room, FBN's Jeff Flock spoke with Adolph about Kalamazoo's high-end offerings, like a $21,000 outdoor grill that's compatible with gas, charcoal and wood.
While the steep price tag is twice the cost of grills from upscale competitors like Viking and Wolf, Adolph says his customers are willing to invest in a product that lasts – and won't need to be replaced in a couple of years.
"I think the most important thing for this segment is seeing the enduring value, and that our products are built to last a lifetime," says Adolph.
Kalamazoo's products come with lifetime warranties, so consumers know they're not going to be shelling out thousands of dollars on repairs, or another model down the line, Adolph says.
Selling $21,000 Grills to 'Not-Rich' Buyers
Adolph says Kalamazoo's target demographics are the "HENRYs." The acronym stands for "High Earners, Not Rich Yet," which he says is a category that has the money available to spend on a high-end outdoor pizza oven, but may not fit the traditional image of a wealthy individual.
One way the company seduces its customers into buying its luxury products is by making the experience feel special. Adolph points out that each grill is hand-signed by its maker, truly making the grill a one-of-a-kind item.
Another savvy strategy employed by Kalamazoo Outdoor Gourmet is that all of its grills are made to order. Adolph adds that this method helps solve inventory problems – and it's clearly helping the company turn a profit.
Adolph says the company recently added a second shift to its factory in Kalamazoo, helping to employ more workers in America's heartland.