2011 Gift Guide: 6 Hot PC Accessories to Keep Warm This Holiday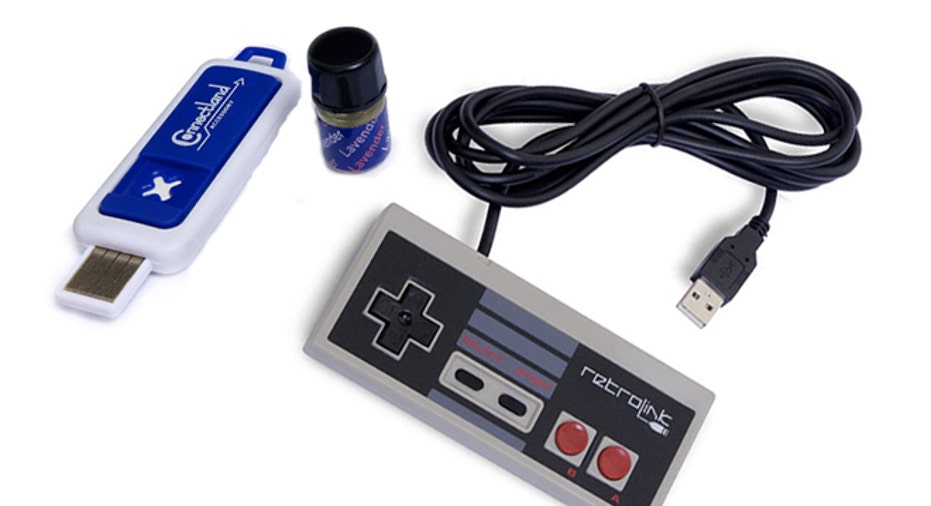 Most of us eat, sleep and drink at our desk. It's our live and we can do with it whatever we please. If your loved one spends more time at a desk in front of a computer than anywhere else, the following gifts will likely light up their face. There's something here for everyone from the Mac fanboy to the retro gamer.
Retro NES USB Controller
If the gamer in your life fires up emulators more than modern games (or even if it's an occasional thing), this $29.99 controller is a great gift. It will certainly invoke memories of nights attempting to beat Castlevania. The classic NES controller is still one of the best form factors of all time. Real games do not need 32 buttons. Give the gift of simplicity this year.
The controller is available at ThinkGeek for just $29.99 where they also sell a USB joystick that's even more retro. Both are safe bets, though.
iLaunch Thunder
These USB rocket launchers are nothing new, but this model now supports direct control via an iPhone or iPad, allowing you to remotely aim and rain down hellfire upon unsuspecting office mates from outside of the room. Casual Body Armor Friday will never be the same. The launcher connects to your phone via Bluetooth and you can aim remotely. Sadly, there is no built-in camera for aiming more precisely and at $82 it's a bit expensive, but it may be just the thing you need to unleash hell on accounting — or your mother-in-law Christmas morning.
See more tech stories on the FOX Business Technology homepage
USB aromatherapy oil burner
Simply plug this little guy into a horizontal USB port and drop a bit of the included lavender oil into the receptacle. That's it. In a few short moments, your cube will transform from an institutionalized torture chamber into a relaxing room at the finest spa. All for $5.99 plus shipping from ThinkGeek. There are no drivers to install and it really doesn't require a computer. The adventurous among us will try this with wall wart USB chargers and the like. But no matter how you butter the toast, the result will be a more pleasing area to be in as aromatherapy is often just a fancy $10 word for a pleasing smell — something most people could use at their desk.
FitDesk X Compact Pedal Desk
The modern office will likely lead to the rise of apes and the collapse of society. You better do your part this holiday season and ensure that your loved ones do not waste away in an office chair. The FitDesk X Compact Pedal Desk is just what it sounds like: a desk with pedals. That way, you know, office workers can tone their calves and strengthen their core while avoiding work by browsing Reddit. With an MSRP of $289 (Amazon sells it for $229), it's not the cheapest gift available. Plus, it would be mighty tough to wrap. But giving the gift of a better tomorrow cannot be ignored. That might be the greatest gift of all.
Neatdesk
The Neatdesk is just a fancy scanner. It knows that and so will the gift receiver. However, they will be pleasantly surprised once they discover that this novel device will actually clean up their desk and organize their life. Because it will. The scanner is quiet, quick and effective. The software is a bit confusing at first but the user should be able to overcome the learning curve by News Year's. The little scanner takes everything from business cards to receipts and quickly organizes the lot. It's not as exciting as a puppy, but this is a gift that will continue giving throughout the year. $379 at Amazon.
Twelve South PlugBug All-in-One Dual Charger
It's hard to improve upon the design of Apple products. But Twelve South managed to do just that. The PlugBug All-in-One Dual Charger piggybacks on a MacBook charger, adding a full-power USB charging port to the power brick — charge an iPad, charge an iPhone, heck, it would even work with that silly USB aromatherapy oil burner above. Better yet, it works as a stand-alone charger. The novel product will likely warm the heart of any MacBook owner who also owns a smartphone that charges via USB (that's everyone).
More from Tech Crunch: