13-Year-Old Makes $100K Reinventing the Scooter Wheel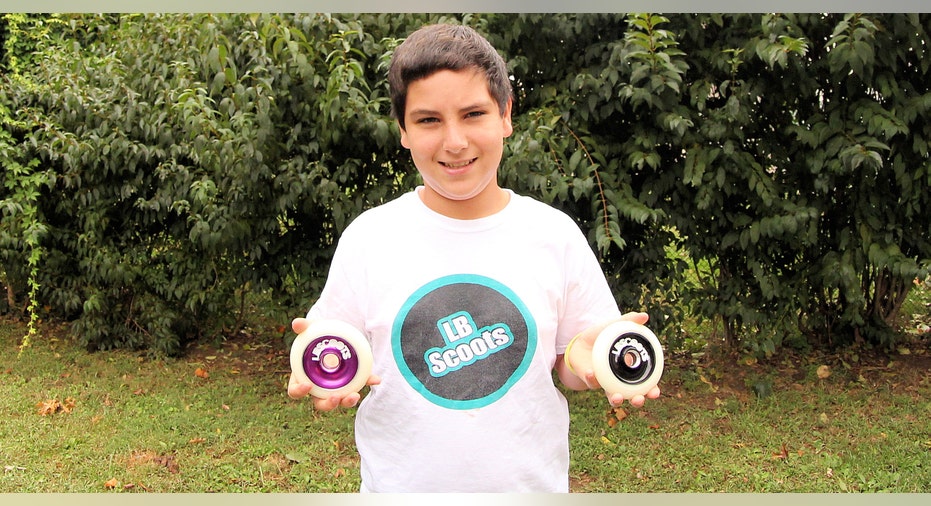 Nicholas Pinto may be one year away from high school, but he's already doing big business.
The 13-year-old says he's always loved scooters, but was frustrated by how quickly the wheels would break.
"As you develop your skills, like landing on the scooter harder when you're going off of a ramp, what you want is for the parts not to break," says Pinto, who lives with his parents and three siblings in Cranford, New Jersey.  He says he was spending a lot of money replacing the wheels every few weeks.
"I was saying, 'Wow, this can't be!' I was trying so many wheels, I thought I better make my own and help the world," says Pinto, who enjoys competing in scooter competitions.
Over a year ago, the entrepreneurial eighth-grader began researching manufacturers who could reinvent the wheel, so to speak. He says he finally located a manufacturer in California to make a durable, polyurethane wheel that would be tougher than the breakable plastic wheels found on most scooters.
"I made a step-by-step design with all of the dimensions and they did it," says Pinto, who borrowed $2,000 from his parents to create 500 wheels, bringing his fledgling company LB Scoots to life.
"The LB stands for 'Little Boy.' It's the name of my dog, a chocolate lab," says Pinto.
Grassroots Marketing Helps LB Scoots Get Off the Ground
Once the wheels were made, Pinto says he built an e-commerce website with the help of Youtube tutorials and his mother, who had created a website herself for her own small business, a modeling and acting agency.
From there, Pinto says he started selling wheels thanks to word of mouth, showcasing his new wheels at skate parks and competitions.
"We went to competitions and had a big banner there.  We were giving out stickers and saying, 'Everyone check us out online!'" says Pinto.
Within a year, Pinto was receiving orders from all over the country, and even as far away as Australia. "We made about $100,000 in the first year," says Pinto.
Pinto says he's going to stick to LB Scoots for now, but isn't ruling out the possibility of branching out down the road.
"As I grow up, I want to keep having LB Scoots, and I would also like to start other companies," says Pinto. He's also mentoring his little sister, who's an entrepreneur in her own right.
"She makes duct-tape wallets and paintings and sells them online," says Pinto.
And with three years on his little sister and experience running a $100,000 business, Pinto's got a lot of advice to share.
"She's 10 … I help her out a lot," he says.