$1,200 Jeans a Cut Above the Rest?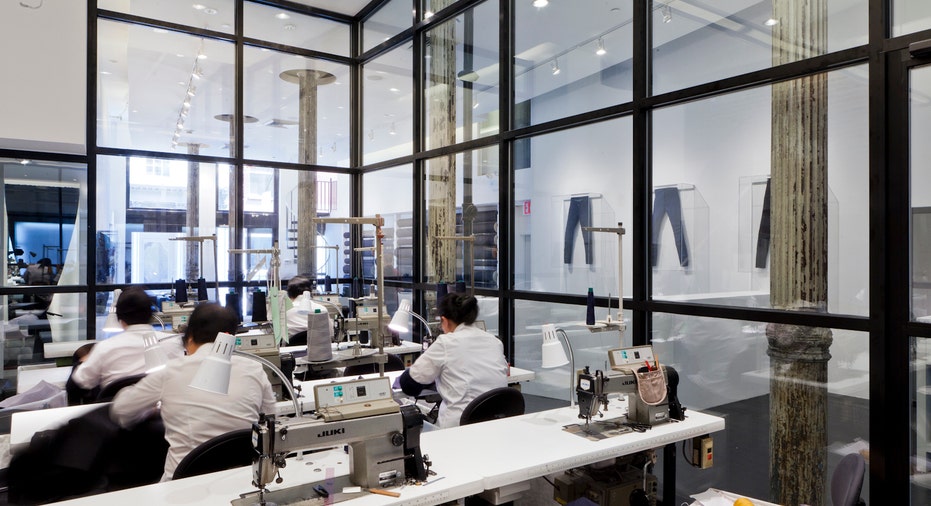 When a serial entrepreneur sets off to launch his third or fourth business, it's fair to assume he'll do so in the most cost-effective way possible.
But Scott Morrison isn't your average serial entrepreneur. And the jeans he sells aren't so average either.
Morrison, 39, is the founder of 3x1, a premium denim company that prides itself on making exclusive and custom jeans. Having founded two major high-end denim labels in the past – Paper Denim & Cloth in 1999 and Earnest Sewn in 2004 – Morrison could have gone the easy route and had his latest line mass produced in a factory somewhere overseas. Instead, he decided that 3x1 jeans would be manufactured in New York City – in small quantities – from the best fabrics – by people who weren't being paid by the number of pieces they sew.
Morrison admits his concept is both unusual and expensive.
"There really isn't a factory in the world that produces that way. It's not very economical or efficient," he says.
But that was never the point. In conceiving 3x1 (which gets its name from a type of weaving construction), Morrison wanted to return to the early days of jean making, when everything was more or less done by hand. His staff produces about 22 to 30 jeans a day, all by single-needle sewing machines. He wanted to create something special, something that didn't feel as if it were churned out by a "giant monobrand" that aims to offer a little something for everyone.
Mostly though, he wanted to bring customers into the process – and he's done it in a few unique ways. In addition to making it so that 3x1's manufacturing operations are within plain view of those walking through the company's one retail store, Morrison offers customers the opportunity to essentially create their own jeans. He offers two services in this category:  a "custom made" option that allows people to choose the fabric and hardware they like, and a "bespoke" option, which involves a customer working with Morrison and his patternmaker to build a pair of jeans from the ground up. The price is $525 to $750 a pair for the custom made option and $1,200 minimum for the bespoke option. (There is one other jean option – "limited edition" – which refers to jeans that are already assembled and ready to wear. Those styles are available in small quantities – 24 per style at the most – and range from $295 to $445 a piece.)
Pricey, much? Morrison is first to admit his products aren't for everyone, but says that a surprising amount of his business is a result of his custom services.
"It's a tough market for everyone but there is a luxury market that still exists and, quite frankly, is pretty strong," he says.
If you're wondering what could possibly make a pair of jeans so expensive, Morrison says the biggest driver of the cost is the denim itself. He sources fabric from all over the world and says it generally costs anywhere from $12 to $30 per meter, before duties and freight costs. One of the most expensive fabrics he uses costs $100 a meter. Approximately three meters are needed to make just one jean, he says.
Of the people who have taken up Morrison on his bespoke jean service, celebrities, athletes and high-powered business executives are some of the most common. But Morrison has seen others – for instance, people who want their favorite pair of old or discontinued jeans remade in some way or people who are generally hard to fit. (One of his first customers was a 6'4" woman.) The most he's ever seen someone spend on a pair of jeans in his store was $1,400.
3x1, which opened its one main store-and-manufacturing facility in New York last May, is mulling opening a second store in Japan with the same sort of setup. Morrison says that the concept has far surpassed his expectations and he could see it working in a number of different countries. Still, he acknowledges it's a relatively new idea and one he hopes will stick.
"I think that time will tell whether this continues to be a great idea or disaster, but right now it's shaping up to be a wonderful thing. It's very atypical for the time."