101 Secrets to Running a Successful Home-Based Business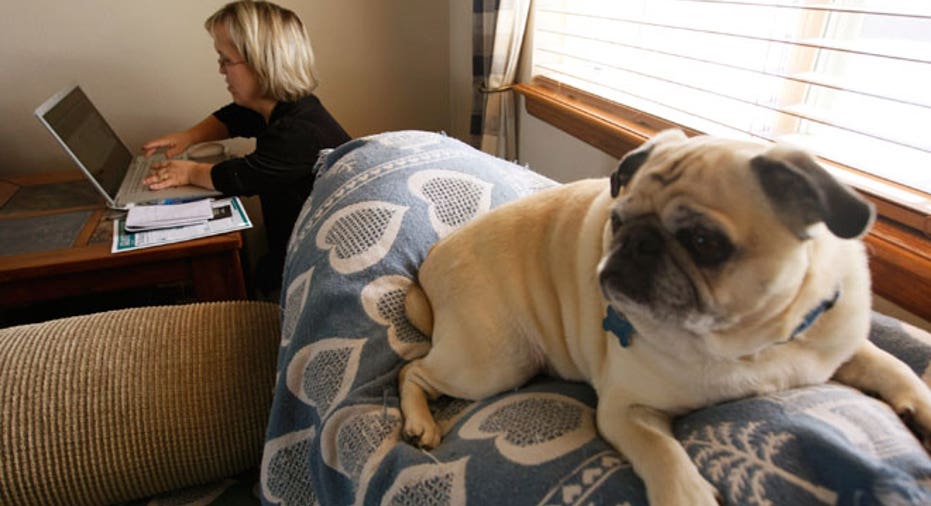 It's a well-known fact that America's small business owners are movers and shakers. They come up with innovative products and services; they employ about 50 percent of all private sector workers; and they persist even during tough economic times. But what might not be such a well-known fact is that most of them do all of this without even leaving their homes.
According to the Small Business Administration, more than 50 percent of small businesses are home-based. Home-based businesses offer low overhead, helpful tax incentives, and the opportunity to work in your pajamas, among other benefits. But before you get started, there are some things — 101, to be precise — that you should know about running a company from home. Here is our list of top tips, lessons, pitfalls, and more to get you on your way.
Getting Started 
We asked home-based business owners to share their best tips and advice. Here's what they had to say about organizing a home office, skillfully operating a business from home, and more.
1. Create a work environment you feel good in. And that includes investing in professional office equipment and furniture. "Everyone is vulnerable to repetitive stress injuries from using office equipment," says Paul Robert Edwards, coauthor of Working From Home as well as a Small Business Development Center consultant. "So take care to get things that fit you ergonomically. Particularly important are your chair and your keyboard."
2. Keep your overhead to a minimum. "It's not about how much money you make, it's about how much you keep, so overhead is key," says Craig Wolfe, founder of CelebriDucks, a company that creates celebrity rubber ducks. "It's great that you're working from home, but you can still bankrupt yourself through ill-conceived overspending, especially in technology."
More AllBusiness.com:
The Top 25 Home-Based Business Ideas10 Websites Where You Should Have Your Company Profile Listed25 Frequently Asked Questions on Starting a Business50 Inspirational Quotes for Entrepreneurs and Start-Ups
3. Create a strong team. "Work with experts on parts of your business where you are not an expert," says Cathi Brese Doebler, a home-based business owner for 10 years and author of Ditch the Joneses, Discover Your Family. "For example, if you are not good with computer hardware, hire someone to help you set up your computer network. Or, if you are not an expert on taxes, find a good tax advisor. Focus your business on your areas of expertise and strength, and hire experts to help you with your areas of weakness."
4. Work where you're most productive, even if it's outside of your home. "Sometimes home is not the right place and work is not the right place — even when they are the same place," says Stephanie Staples, a personal coach and motivational speaker. "I need a third location. For example, a donut shop, library — somewhere that even though other things are going on, I don't have to pay attention or care about it. It is the power of the third location; I think differently, work differently, act differently there, and it really helps me."
5. Work on your business, not in your business. "There's a big difference between working in your business and working on your business," says Jeannel King, a visual facilitator and coach, and founder of her own home-based business, Big Picture Solutions. "A home-based business typically translates into being a small operation of one: you! In that situation, it's easy to focus only on product or service delivery. However, it's essential to make time to work on our business, and that means focusing on the finances, the marketing plans, the vision and strategy, the systems and processes that provide the infrastructure for our businesses to be not just successful, but thriving and sustainable."
6. Have the attitude that you work from home, not at home, says Edwards.
7. Don't hide it, flaunt it! "Don't try to shy away from the fact that you run your business at home," says Maria Rapetskaya, cofounder of Undefined Creative, a home-based design and animation studio. "Give your potential clients the rundown of why it benefits them — like low overhead."
8. Don't forget that looking professional is still important. Rent an office address, an office for a day, or conference room space when needed, advises Dannelle Shugart, director of business incubation at the Community Business Partnership, a nonprofit near Washington, D.C.
9. Train others in your home to answer the telephone with a pleasant greeting,recommends Edwards.
10. Avoid going into business before you know you have a winning idea. "A good way to vet this is also a method of bootstrapping: Apply for grants. If your idea is good enough to become a successful startup, it's good enough for someone else to help with development," advises Amy Baxter, founder of MMJ Labs, which makes reusable, inexpensive products for personal pain control. "Programs such as local university incubators, Huggies MomInspired, Cartier Women's Initiative Awards, and even Small Business Innovation Research grants can bankroll part of your R&D."
Click here for the full list at AllBusiness.com.
Sara Wilson is a freelance writer who specializes in issues related to small businesses. Contact her at wilson.sara@gmail.com.