10 Tips to Avoid Seeming Old at Work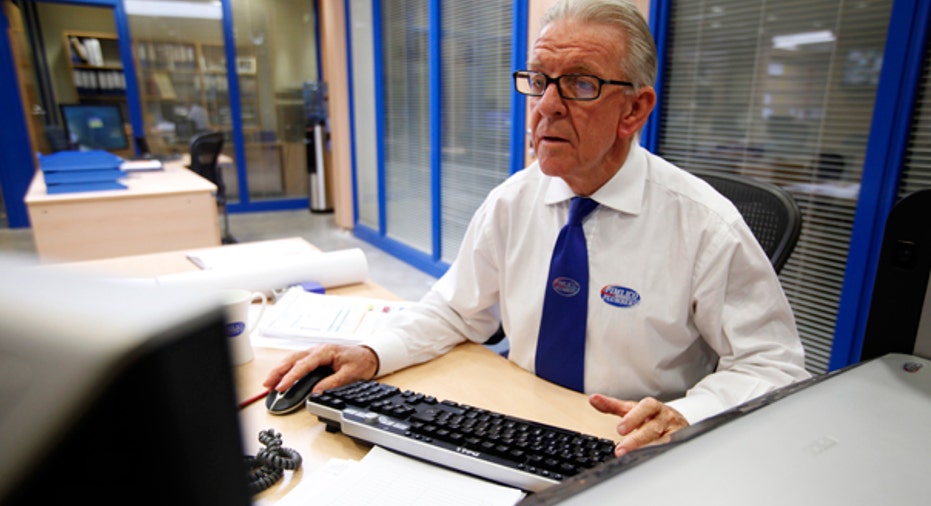 As if you don't have enough to worry about in your personal life as you age (creaky joints, fading eyesight, Cialis commercials actually applying to you), there's something to worry about in your professional life as well: age discrimination.
A recent AARP survey in New York City found that nearly half of people over 50 were concerned about age discrimination at work. And with good reason. AARP also notes that people over the age of 55 take four months longer to find employment. And according to the Equal Employment Opportunity Commission, age discrimination cases have jumped more than 40% in the last 15 years.
"Age discrimination in the workforce is an unfortunate reality," says Dr. Colleen Georges, a certified career and life coach. "Often, a candidate over 50 may be thought by recruiters or hiring managers to be 'too close to retirement' or 'too set in their ways.' Some may worry about a lack of energy or motivation to learn, or even that the over-50 candidate will command too high of a salary. These misperceptions can thwart someone from getting an interview, moving to the second round of the interview process, or moving up the ladder to roles of greater leadership."
So how can you best avoid being labeled, stereotyped and looked over as you get older? Experts share their tips for looking as young as you feel in an office environment, so that people notice your talent, skills and experience—before they notice your age.
1. Ditch your AOL email account. Since AOL has been around literally since the advent of the internet, it reminds people of those dinosaur "dial up" days and is frequently viewed as an archaic email provider—which can make you look dated as well. What should you get instead? "All things associated with Google are the way to go right now," says Georges. "I typically advise clients to get a Gmail account. It's most certainly the 'in' email, forever evolving in its capabilities."
2. Get on LinkedIn. Stat. It's free. It's easy, and really, you don't have a choice, say the experts. "It's not a luxury anymore," says Georges. "Those who aren't on LinkedIn can be viewed as lacking social media savvy, which is a career no-no." Not being on the networking site could ultimately keep you out of the running for the position—and give younger, more tech-savvy candidates the edge. So get a good headshot and build your profile today.
3. Leave out a few … er… dates on your résumé. Just like you'd never tell a prospective partner on the first date that you've got $150,000 in debt, you should likewise not advertise your age on your résumé or in an interview. "I don't advocate lying or fudging details," says Georges, "but for workers with graduation years in the 1980s, I do suggest leaving those dates off. I also suggest providing just the last 15 to 20 years of experience, unless you're seeking a very senior position where experience holds greater value."
4. Bookmark Mashable. And read it regularly. Nothing makes you look older than when a group of coworkers is discussing Miley Cyrus' latest foam finger debacle and you chime in with, "Who's Miley Cyrus?" "Mashable is a perfect catch-all site that can keep you in the know on current news, information, and trending social media topics," says Georges. "It even has a category called 'watercooler' covering the top work-related conversational topics." Other good sites for keeping up-to-date on pop culture? Twitter, Facebook, Tumblr and Reddit.
5. Don't act like you know it all. "Too often, we make the mistake of emphasizing what we think is our strong suit—wisdom and experience—which can only serve to make us seem, yeah, old," says Pamela Redmond Satran, author of "How Not to Act Old: 185 Ways to Pass for Phat, Sick, Hot, Dope, Awesome, or at Least Not Totally Lame." "Sure, institutional memory has its value, but lecturing people on how things were done in 1986 is likely no longer relevant and only reminds them that you were around in '86 (when they were probably in nursery school). It can also make you sound parental, which is an unconscious association you really don't want to spark."
6. Don't make fun of Twitter. You may think someone live-tweeting their nephew's Bar Mitzvah is the epitome of what's wrong with kids today, but defensive jokes about technological innovations or social media are not going to get you far, says Satran. "Now that the Pope's on Twitter, you should be too—and you should 'get' it, along with Skype, Instagram, Pinterest, Google Drive and YouTube. Your younger colleagues may laugh at technology jokes, but they'll really think it's sad."
7. Buy a scarf. Or a trendy handbag. "Accessories can instantly update your look and help you appear more modern (read: in the know) and distinctive," says Kim Johnson Gross, author of "What to Wear for the Rest of Your Life: Ageless Secrets of Style." Try a contemporary or colorful bag, bold jewelry or a stylish shoe in a fun print. "Scarves are ageless and help you look prettier, thinner, younger and chicer," she says.
8. Be careful with hair color. "Whether you choose to dye your grays is really a personal preference," says Johnson Gross. "But, if you do decide to try, keep in mind that coloring it black will look severe. Try warmer colors and highlights rather than a one-color process." She also says that a good, modern cut can do wonders to help gray hair look younger. "Think Diane Keaton," she says, "and use products designed to help it look healthy, vibrant and a dramatic silver rather than dull."
9. Seek out companies that see you as an asset. "The truth for many experienced workers is just that—they are experienced," says Georges. "They have seen organizations through ups and downs, they have learned to be flexible with change, they can see the bigger picture, they have learned to value difference on their teams." Fortunately there are organizations that know this. When job-hunting, check out search sites dedicated to companies who are seeking candidates with such knowledge and experience like JobsOver50.com, Workforce50.com,Seniors4Hire.org, and SeniorJobBank.org.
10. Be true to yourself. That advice your mom gave you when you were heading off to college and she had a little tear in her eye? It applies here too. "When all is said and done, I do believe that we must be true to who we are," says Georges. "Dress in clothes that make you feel on top of your game, seek work projects that fill you with energy and excitement, and speak in ways that are respectful to you, your clients and your colleagues. None of these personality traits have a thing to do with age, but they do correlate with success and happiness."
Read More from LearnVest:
What Does "Business Casual" Really Mean?
 6 Big Résumé Flaws—and How to Hide Them
50 or Older? Your Ulimate Job-Hunt Guide
Job Hunting? 8 Tough Interview Techniques to Prepare For