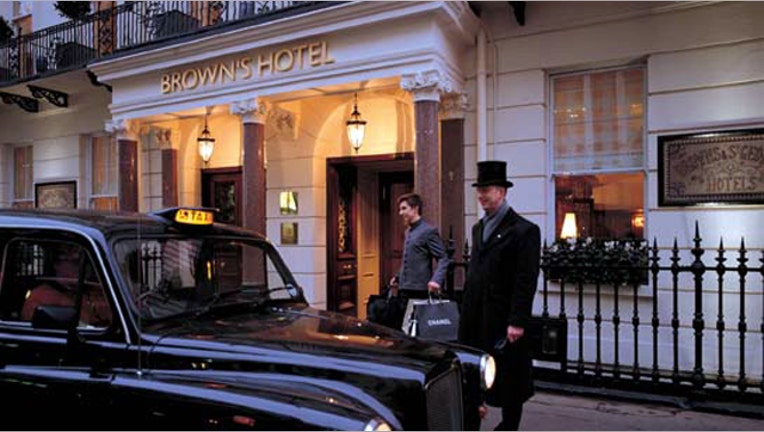 Hotels in London are offering all kinds of packages commemorating the much-anticipated nuptials of Prince William and Kate Middleton, and the iconic Brown's Hotel is one of them – but are these packages selling? We checked in with Brown's head concierge Simon Thomas to see whether the hype has translated into real business and to get his thoughts on when "royal wedding fever" will subside.
1.  As the oldest hotel in London, Brown's has certainly been witness to a number of major historic events. You've been head concierge at Brown's since 2005. How important is this event to the hotel and to general business in the area?
It is of course very important to the hotel and we are all extremely proud of our British heritage. As you are probably aware, the majority of royal warrant holders are situated in Mayfair so it is a big day for all of us! I am sure that we will be inundated with requests from the various European royal families as we already play host to them on a regular basis.
2.  Is Brown's completely booked through the weekend of the royal wedding?
We do still have limited availability.
3.  Plenty of hotels in London are offering special packages to commemorate the royal wedding. What sets Brown's package apart?
Not only are we offering one of the most luxurious packages, in the form of our 'Royal Wedding Celebration Suite' package (that includes transfers from the airport, a tour of Asprey and its workshops, a royal map that I have created and a number of unique gifts), our 'Little Princess for a Day' package caters to younger guests and, as we know, if you keep the children happy, mum and dad will follow!
4.  How much does the package cost? How does this compare to the typical rates at Brown's?
Royal Wedding Celebration Suite package prices start from £870 ($1,420) for a Junior suite, £1550 ($2,528) for a Classic suite, £2100 ($3,426) for a Deluxe Suite, £2500 ($4,079) for a Signature Suite and £3400 for the Royal Suite - Hellenic. These prices include all elements of the royal wedding Celebration Suite package, excluding VAT [value-added tax].
Our published rates range from £915 ($1,492) for a Junior Suite, £1750 ($2,855) for a Classic Suite, £2450 ($3,997) for a Deluxe Suite, £2300 ($3,752) for a Signature suite and £3650 ($5,955) for the Royal Suite, excluding VAT.
5.   Has anyone signed up for the package yet, and if so, how many?
Yes we have sold a number of Royal Wedding Celebration suite packages and we are still expecting more bookings of this. We are also looking forward to welcoming the first of our little princesses taking part in the 'Princess for a Day' package this weekend.
6.  It's been said that Americans are more excited about the royal wedding than Britons. Is that true, from your standpoint?
We are always so touched by the support of Britain and our monarchy that we get from the American market. As usual the Brits are demonstrating their stiff upper lips! However, I know that the majority of us will be tuning in to watch the wedding and many even attending street parties.
7.  How excited are you about the wedding?
Really excited--I am very much a royalist and I love the pomp and ceremony.
8.  How long will it take for "royal wedding fever" to subside, in your opinion?
Looking at the Princess Diana phenomenon, I think the excitement surrounding the royal wedding may even increase after the main event on 29 April. This event is a great showcase for London and the United Kingdom and I think that many people will want to follow in the footsteps of the happy couple.
9.  Any advice for people visiting during the wedding weekend?
London is unseasonably warm, so if you are going to watch the procession, do take a bottle of water with you. Be sure to get up early as there will be lots of people all keen to get the best view!
10.  As concierge, what's the question you get asked the most from hotel patrons?
"Who is the most famous guest you have ever had?" As for the answer to this, discretion is the key to a good concierge!