10% of Amazon's workforce in Ohio is on food stamps, report says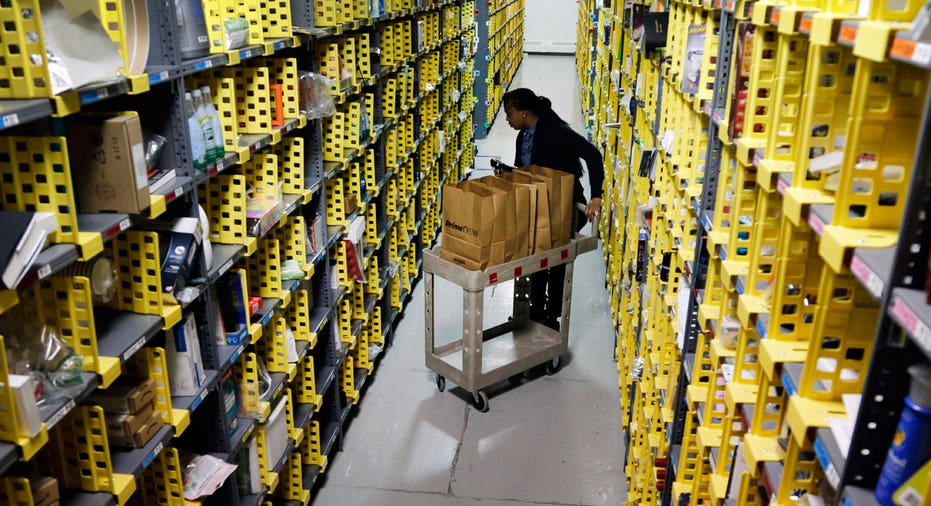 In recent years, Amazon (NASDAQ:AMZN) has vastly become one of Ohio's largest employers, hiring more than 6,000 workers with thousands more jobs expected as the online retail giant adds three additional warehouses.
The only problem is, according to a new report, is despite the increase in jobs, many of Amazon's workforce in Ohio is still reliant on food stamps.
According to the progressive policy group Policy Matters Ohio, as of August, Amazon had 1,430 workers and their family members on food stamps, which is roughly 10% of its workforce.
However, overall, Amazon ranked 19th on a list of fifty large employers in the state that still has its employees receiving federal aid under the Supplemental Nutrition Assistance Program (SNAP).
Walmart (NYSE:WMT) ranked the highest at 11,560 employees seeking aid, while McDonald's (NYSE:MCD) ranked second at 9,927 employees, according to Ohio Department of Job and Family Services. Other companies mentioned included Kroger (NYSE:KR), Bob Evans, Wendy's, and Dollar General. According to the report, in order to be eligible for food stamps, a family of three needs to make less than $26,208 a year, or about $12.60 an hour for a 40 hour work week.
In a statement to FOX Business, an Amazon spokesperson said, "Amazon's full-time hourly employees in Ohio earn between $14.50 and $15 an hour as a starting wage with regular pay increases plus Amazon stock and performance based bonuses. We also provide comprehensive benefits which include health, vision, and dental insurance coverage starting on day one, generous maternity and family leave, tuition for career education, and a network of support to succeed."
Additionally, a source told FOX Business that SNAP eligibility is multi-faceted and is not always determined solely on revenue but rather on the special needs and medical care of the dependents.
Neither Walmart or McDonald's immediately returned FOX Business' request for additional comments regarding the report.
"It is troubling that so many of those who qualify are working and still don't make enough to get by. The sudden emergence of Amazon as an employer of so many who need that assistance raises a question: Why is this giant, successful company offering such limited pay and hours of work that many of its workers need help buying food?" Zach Schiller, Policy Matters research director said.
Schiller added that while those figures include both full and part-time workers, it is likely that mostly part-time workers are the ones who qualify for aid.
"We've appreciated having more employment, but maybe we should be focusing economic development dollars on good jobs. It's pretty clear that a lot of these jobs are not good jobs," Schiller told The Columbus Dispatch. "That should raise a policy question for our public officials, and that's why we think it's worth pointing out."
Additionally, Ohio has put in a bid to be the home of Amazon's second headquarters, which according to The Dispatch, would generate 50,000 more jobs and over $5 billion in investment.
Schiller also pointed out that Amazon receives millions of dollars in state and local subsidies at its warehouses.
According to a Bloomberg Businessweek report, in certain counties in Ohio, emergency responders have answered calls at one Amazon's warehouses at least once a day without any financial support from the company.
"Amazon has become something of a poster child for incentives that make it tough for public services to accommodate the added strain its facilities bring. In four deals struck through JobsOhio since 2014, the company has received at least $123 million in tax breaks, plus $2.9 million in cash grants," the Bloomberg report said.
However, Matt Englehart, a spokesperson for JobsOhio, told FOX Business, that Amazon has been nothing but a good thing for the state, by more than doubling its job commitments at its fulfillment centers in Etna and Obetz.
"These full-time associates now have jobs that include compensation that pay 30% above the national average for retail workers, opportunities for professional advancement, benefits that include health coverage starting on day one, generous maternity and family leave, and 95% tuition assistance for careers regardless if they are with Amazon," Englehart said.