10 Hidden Home Insurance Credits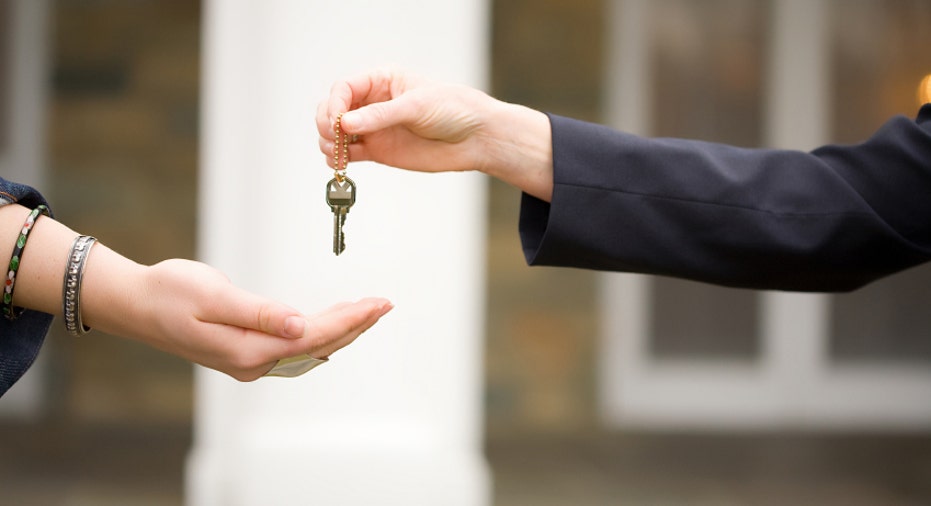 Save Big With Home Insurance Credits
When looking for ways to save on home insurance, many homeowners stop at a smoke detector, a security system and a multiline discount for insuring your home and vehicle with the same company.
But property and casualty companies have a variety of other lesser-known credits available that can shave your homeowners insurance premium by up to 25%.
"Mitigating loss is a big part of who we are and what we do," says Sean Meehan, second vice president of property strategy and design for Travelers Insurance of Hartford, Conn. "Yes, we pay claims. But at the same time, we want to help prevent claims, which lowers premiums in the long term."
Madelyn Flannagan, vice president of agent development, education and research for the Independent Insurance Agents & Brokers of America, or the "Big I," agrees: "Insurers give a discount to encourage people to be more careful and to better understand the homes they're insuring."
Here are 10 "hidden" home credits that may be available through your agent to cut down the cost of home insurance. Discount estimates are courtesy of the Big I.
Gated Community: Have Peace of Mind
Do you live in a gated community? Your home insurer shares your peace of mind in knowing there's a layer of security between you and home invaders, and may be willing to credit you for lessening their risk.
"That definitely falls under loss mitigation," says Meehan. "If you live in a gated community, it's a lot less attractive to a thief than a place that doesn't have that security."
In the larger scheme, where you live always affects the rates you pay. That's logical, since some parts of town statistically pose more risk than others of vandalism and theft. But sometimes living in the country can actually cost more.
"If you live near your local fire department in a safe, quiet, easily accessible neighborhood, your homeowners rates might be lower than if your home is located off the beaten path," says Meehan. "Your home may cost more to insure if you are many miles from the nearest fire department."
Gated community credit: 5% to 20%
New Wiring: Save Money and Lives
Want to scare your insurance agent? Tell him your teenage son rewired your house over the weekend. Then expect your premium to go through the roof.
The math is simple: house + old wires = fires. According to the U.S. Fire Administration, in a typical year, home electrical problems result in 67,800 home fires, 485 deaths and $868 million in property losses, according to a 2006 report. The USFA estimates that home wiring causes twice as many fires as electrical appliances.
Considering new wiring? Depending on the age of your home, you may qualify for a new wiring credit.
"New wiring, if it's installed right, is much safer and less likely to cause any type of outages, shortages or fires," says Meehan. "It can be an insurance eligibility issue, too, because a lot of companies are not as keen to write old knob-and-tube wiring because of the fire risk. It could limit your options.
New wiring credit: 10%.
Impact-resistant roofing: Grab a hard hat
Your roof is a major concern to your insurance company. Not only does it take a beating from wind, rain, hail and hurricane-blown debris, but once it's compromised, the damage costs on a home insurance claim can rise dramatically.
So it comes as no surprise that, as more and more impact-resistant roofing materials have come to the market, insurers have been increasingly willing to offer rate discounts to homeowners as an incentive to invest in a "hard hat" for their abodes.
Your state's department of insurance can direct you to information about impact-resistant UL 2218 standard roofing material, which is graded as Class 1 through 4, with Class 4 being the sturdiest. Insurers may require that your roofing material be tested by an approved laboratory before issuing a credit. The upgrade may also net you a tax deduction.
"Insurers definitely are giving discounts for Class 4 because, if your roof blows off in a rainstorm or nor'easter, the water damage is going to be substantial, resulting in a much larger claim," says Flannagan. "They definitely want you to protect yourself against that."
Impact-resistant roofing credit: 5% to 10%.
Claims-Free Credit: No Claims is Good News
You know that good-driver discount the auto insurance companies offer? A claims-free credit is the home insurance equivalent.
The reason is pretty simple: Your absence of claims keeps more money in your insurer's pocket. And increasingly, they're willing to pass some of that savings on to you by shaving your home insurance premium.
"That's a fairly new discount, but almost every year we're seeing more companies add it," says Flannagan. "People who have been claims-free for 10 years can get like a 20 % discount. I think a lot of companies are trying to reward longevity."
Even if you've had a claim, you may still qualify for a long-term customer discount upon renewal if you've been insured for a certain number of years.
Claims-free credit: 20%.
Homeowners Association: Keep Risk at Bay
As strange as it seems, some home insurance companies will give you credit for the company you keep -- as long as that company is in the form of a neighborhood homeowners association, or HOA.
"I've heard that it's because of the security aspects of HOA communities, with things like community watch," says Flannagan. "Plus, people may have to maintain their home in a certain way in order to meet the requirements of a homeowners association's restrictions and covenants."
You don't necessarily have to be a member of the homeowners association to take advantage of this discount; your home is simply considered less risky because of the involvement of your neighbors in keeping your community safe from thieves and vandals.
Homeowners association credit: 5% to 10%.
New Ratings Models: This Year's Could Cost Less
Home insurance is a changeable business, in large part because real estate is a dynamic market. Actuarial experts crunch the numbers as neighborhood values rise and fall and construction costs ebb and flow in order to develop models that help insurance companies manage their risk.
Since your homeowners insurance rate naturally flows from these models, it follows that rates can change as well -- sometimes in your favor. In some cases, new models are used to establish lower rates to attract new customers.
"Many insurance companies have tiered rating now, and if you don't quite fit into the perfect mold because of something that might have been on your credit report, you could be paying more than necessary because you haven't cleared that up," says Flannagan.
"Even your address can have an impact on it, because when you bought that policy, CLUE, or Comprehensive Loss Underwriting Exchange, reports might not have been part of the underwriting, but now they are."
New ratings credit: Call your agent. Sometimes, you can even save money by applying for a new policy with the same company.
New Home or Renovation: Have Fewer Safety Risks
In auto insurance, a new car will usually cost more to insure than an older model. In home insurance, however, the savings often goes to the new house or one that has been recently renovated.
The reason? New pipes don't leak, new furnaces don't malfunction, new electrical panels and wiring don't cause fires, and new roofs, chimneys and foundations don't lead to costly claims.
"We offer homebuyer discounts," says Meehan. "The logic behind that is, you've had it inspected by a professional and a lot of times they've detected -- and you've arranged to have an electrician fix -- all those wiring issues. Usually, when you buy a new or even an existing home, that loss mitigation has been done because of the inspection process. It gives us a better understanding of what's going on in that home."
If you're considering a renovation, check with your insurance agent first. They may have suggestions on how to tweak your project to maximize your home insurance savings.
New home or renovation credit: up to 25%.
Nonsmoker Credit: Kick the Habit for Lower Rates
Where there's smoke, there's fire. Unfortunately.
Even though the number of smokers nationwide is in decline, smoking remains the No. 1 cause of home fire fatalities in the United States. According to the U.S. Fire Administration, smoking caused 18,900 residential fires in 2007, killing 595, injuring 1,200 and causing $327 million in residential property loss.
Home insurance companies generally raise their rates if there's a smoker in the household. Will they conversely offer you a discount if your home is smokeless?
"Yes, most companies do that," says Flannagan. "With home insurance, it is one of those underwriting questions that does provide a credit for some policies in some states. It's not a rating tier, however; you don't go to a nonsmoker rate for home insurance the way you do with life insurance."
Nonsmoker credit: 5% to 15%.
Mature Insured: Age Has its Privileges
Home insurers love retired customers because they tend to spend more time at home, where they might be able to detect a home hazard in the making -- a gas leak, pipe break or smoldering electrical panel -- and avert a disaster.
If you or your spouse are 55 or older and retired, and your home is your permanent residence, you may qualify for a mature insured credit.
"There is some data out there to support that people who are retired and therefore home more are able to avoid loss or identify loss sooner," says Meehan. "During the day, if you're working and have a pipe break, you won't know it until you get home. But if there is someone home at the time, they go, 'Oh, pipe broke,' call people, boom; the loss is minimized. It's a five-minute water run versus a five- or six-hour water run. You're mitigating the loss immediately."
Retired or 55+ credit: 10% to 25%.
High-Tech Sensors: Create a Safer Home
When we think of sensors that keep our home safe, most of us think of either a fire alarm or a security system. While these are both excellent and creditworthy loss-prevention devices, insurance companies are equally excited about a new generation of home sensors that can detect water or natural gas leaks before they become a claim.
Water sensors come in two varieties. Passive leak detectors are inexpensive stand-alone devices that emit an alarm and/or flashing light when moisture is detected. Active leak detectors signal a leak and shut off the water source. Active systems may be installed on individual appliances or as a whole house solution. Gas detectors are most often passive.
"Gas and water sensors are a great credit," says Meehan. "The big-box stores helped create the culture of improving and protecting your home because you can go to Home Depot and Lowe's and just buy this stuff. That drove companies to create solutions that people can self-install."
Sensor credit: 5% to 10%.