10 Buying Factors to Consider When Purchasing a Business NAS Device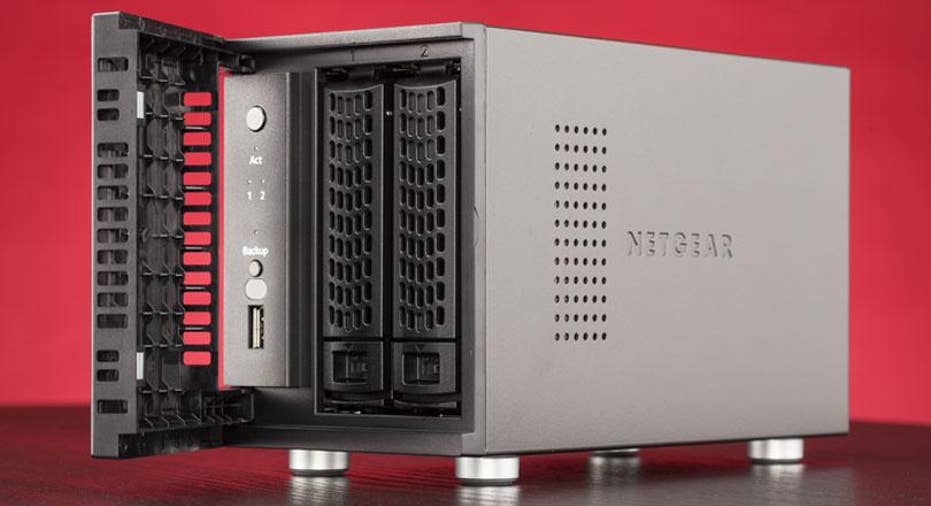 (Image: Netgear ReadyNAS 202)
If you run an office that produces and stores photos, videos, and audio files, then you'll want to consider a network-attached storage (NAS) device. These high-capacity storage devices let you and your colleagues house and access large files and large amounts of small files in and outside of the office. NAS devices are also excellent machines to use for backing up files and streaming content to external laptops and tablets.
Unfortunately, choosing the right NAS device can be quite daunting. Each NAS device has its own unique set of hardware specifications, operating system (OS) features, and security safeguards. Thankfully, we've compiled this list of 10 factors for you to consider when choosing the right NAS device for your business. Happy hunting.
1. Capacity
Depending on how many employees you have and how much data you're creating, you'll want a NAS array that holds a large amount of data. The number of hard drives you're going to add to your NAS array will ultimately determine how much storage capacity you'll have. For example, if you have a 6-bay NAS device loaded with 8-terabyte (TB) hard drives, then you'll be able to store 48 TB of data. That's more than enough for a small business so it's important you take stock of your data output and determine exactly what you'll need before making a purchase. If your company is really small, then you'll probably want to consider a home or small-office NAS device rather than an enterprise array.
2. Price
Because NAS capacities vary so greatly, there's no set price you should aim for when making a purchase decision. Instead, decide how much storage capacity you'll need and then begin pricing your options. For example, NAS devices with more than 10 TB of included disk storage capacity begin at about $700 and max out at about $20,000 retail. However, if you're in the process of buying a NAS device and the cost is creeping about the five-figure mark, then you should call vendors and get custom price quotes. You can also buy NAS devices without preinstalled disks and then you can go and choose your own hard drives. These arrays can be as cheap as $250, but each hard drive you add to the array will add to the overall cost.
For smaller businesses, you can buy basic devices with less than 5 TB of storage for a few hundred dollars. These devices won't offer the expansion, power protection, or security features you'll find on enterprise devices but they'll be enough to help you store and backup files.
(Image: Western Digital My Cloud DL4100)
3. Disks
As I previously mentioned, you can purchase a NAS device with its hard drive or drives preinstalled or you can buy diskless NAS device, which has empty bays that you populate with drives yourself. If you decide to purchase your own drive, then there are several important things you'll need to consider. First, you'll want to pick a drive that's optimized for NAS. These drives are typically designed for backing up data, streaming large audio and video files, and simultaneously streaming to multiple external devices. These drives tend to be more reliable than the drives you put into your desktop, and they feature easier data recovery controls to ensure you can retrieve data after a disaster. Because they're more expensive, these hard drives typically offer longer warranties than desktop drives do, so you're protected for a longer period of time if things go wrong with your drive.
4. Built-In Wi-Fi
Most high-end NAS devices serve as their own access points; this means you're able to wirelessly connect to your NAS device via your laptops, smartphones, and tablets without having to connect the NAS device to your office router. This reduces the number of cables tangling in your office and it can serve as a Wi-Fi booster for your existing network range. This built-in functionality is especially useful for NAS users who will be streaming media, uploading and downloading images, or performing quick edits to large video files.
5. Operating System
As with any other device, the OS is your main point of interaction. If you hate the software's layout, if it doesn't quickly jump back and forth between operations, if updates aren't installed when necessary, then you're probably going to regret your purchase decision. Most users know OSes such as Windows Server and Ubuntu Server, but there are other, lesser-known systems such as FreeNAS and unRAID that are well-known amongst power users. When researching the OS you'll ultimately choose for your NAS device, look up things such as stability, the number of packages and applications available, how it plays with the hardware you've chosen, and whether it's open source or licensed out by a vendor. For example, FreeNAS is, well, free, but it's typically considered a complex solution that requires the help of system admins to manage. Windows Server begins at $501, but it comes with so much support that even a novice will be able to help maintain the system.
(Image: Asustor AS3202T)
6. Security
You'll want to make sure your OS and hardware are capable of implementing the safeguards required to keep your data secure. When researching vendors, find out if their NAS device allows for system-level encryption, file-level encryption, user access controls, and data access monitoring. You'll want software that can be remotely wiped should your drive be stolen from your office. There are plenty of software vendors that can add these features to your existing underlying software, but it will better serve you to find a vendor that already has most of these safeguards covered, either directly or through partnerships with third-party vendors.
7. RAM
Like PCs, NAS devices perform better with improved processors and increased memory. So, the faster you'd like to zip between processes, the more RAM you should plug into your NAS device. The typical rule of thumb for RAM is 1 GB for every TB of storage. This means that your 16TB storage array should have 16 GB of RAM. However, most anecdotal evidence suggests that falling a bit short of this rule won't necessarily cripple your system; just don't expect to operate at maximum speed when performing complex processes.
8. Power Consumption
You'll probably plug in your NAS device and let it run for several years before you ever turn it off. As a result, energy consumption is a terribly important feature to consider when buying a NAS device, especially if you'd like to keep your energy costs down. As a general rule of thumb, you'll want a NAS device that runs at no more than 130 watts when maxing out. The NAS device should run normally at about 100 watts and it should idle at about 75 watts. A device with these stats will give you a machine that performs on par with the best devices on the planet while also helping you be mindful of the planet and your bottom line.
(Image: Buffalo TeraStation 5200DN)
9. Speed
There's nothing worse than a transfer that takes too long. You'll want to investigate the read speed (or throughput) of your potential NAS devices. A good NAS device will operate a bit under 100 megabits per second (Mbps) and some can run at turbo, up to 120 Mbps. Most NAS devices will run above 80 Mbps so, if you purchase a device and its read speed is less than 80 Mbps, then you'll want to investigate to determine if you have an issue or if you just bought a slow NAS device.
10. Uninterrupted Power
You don't want to lose data if you suffer a power outage. That's exactly what will happen if your NAS device isn't connected to an uninterrupted power supply (UPS). Thankfully, some NAS devices offer built-in UPSes in the form of small, typically lithium-ion batteries. The secondary battery lets your unit recognize that the main power supply has stopped, kick on the backup battery, and shut the device down properly, without losing data.
This article originally appeared on PCMag.com.