New US solar installations a miss in 2022, but production expected to fuel surge
The US expects an output forecast to triple from current levels by the end of the year
New solar installations in the U.S. dropped 16% in 2022 from the prior year, largely because of limited availability of panels due to a ban on some Chinese goods.
Previous estimates were revised up for the year and a broad market recovery is projected, according to a quarterly report by the Solar Energy Industries Association and research firm Wood Mackenzie.
The industry is expected to benefit from new climate legislation and supply chain onshoring.
The residential segment was a bright spot, rising 40%, with a record 700,000 homeowners installing rooftop solar in 2022.
TEXAS, OTHER RED STATES LEADING US IN WIND, SOLAR ENERGY, REPORT FINDS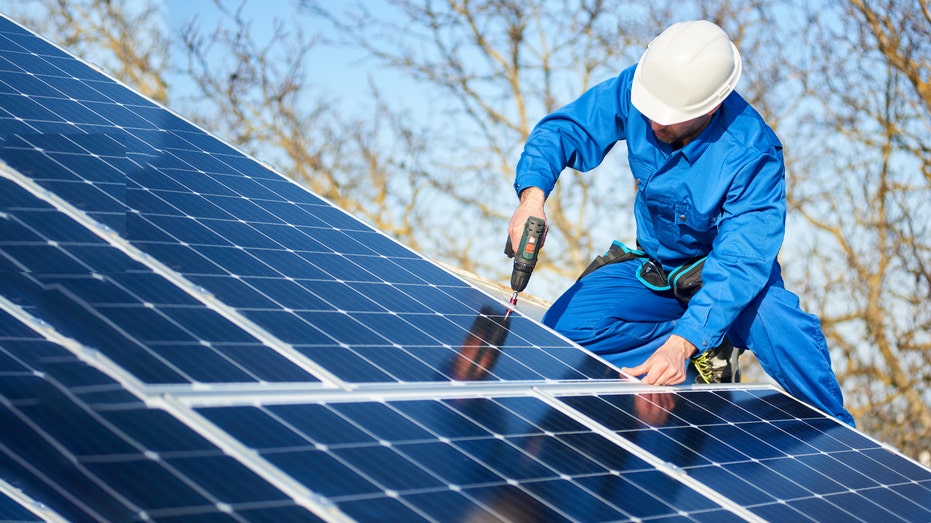 The report projects steady growth, averaging 19% a year, until 2027.
Utility-scale solar installations fell by about a third year-over year.
Last year's general upward revision was a result of more utility-scale projects coming online in the last quarter of 2022.
"While 2022 was a tough year for the solar industry, we do expect some of the supply chain issues to ease, propelling 2023 growth to 41%," said Michelle Davis, principal analyst at Wood Mackenzie and lead author of the report.
CHINA SOLAR PANEL SHIPMENTS SCRUTINIZED OVER FORCED UYGHUR LABOR
CLICK HERE TO GET THE FOX BUSINESS APP
Solar panel production within the U.S. is expected to fuel that surge, with output projected to nearly triple from the current level by the end of this year, the report said.
President Biden's Inflation Reduction Act, passed last year, has also helped stabilize the outlook for solar financing, by providing hefty subsidies to build renewable energy projects.
The greater availability of solar panels is expected to boost installations this year.
Reuters contributed to this report.