Is America's economy crushing it?
As economists and Fed officials try to handicap whether the U.S. economy is "crushing it" as described by Trump's chief economic advisor Larry Kudlow, it is fair to note there is a growing consensus that the recovery is not only sustainable but is also gaining momentum.
"It's something that is stunning people around the world, who keep upgrading their estimates on what the U.S. is doing," Kenneth Rogoff, Harvard University professor and former IMF chief economist, tells FOX Business.
Case in point, on Wednesday second-quarter GDP was revised up to 4.2 percent from the initial 4.1 percent read, the strongest since the second quarter of 2014, according to the Bureau of Economic Analysis. Earlier in the week, consumer confidence for August rocketed to an 18-year high and GDP Now, an up-to-date tracker monitored by the Federal Reserve Bank of Atlanta, is now forecasting third-quarter growth of 4.6 percent.
Still, not everyone is convinced the U.S. economy can maintain growth above 4 percent, right now anyways. 
"I don't expect it will continue at the clip it did in the second quarter, but it will probably be higher than we've seen last year," said Kansas City Federal Reserve President Esther George during an interview with FOX Business at the annual economic symposium in Jackson Hole, Wyoming. George, who still described the U.S. economy as "firing on all cylinders," has ratcheted up her annual GDP estimates to 3 percent from 2 percent.
The National Association of Business Economists shares that view, with the majority, 68 percent, forecasting annual growth of 2.1 percent to 3 percent.
Economic bulls have been starved for robust growth over the past few years. U.S. GDP peaked at 5.2 percent during the third quarter of 2014, before tapering back to levels economists describe as subpar through the first quarter of this year.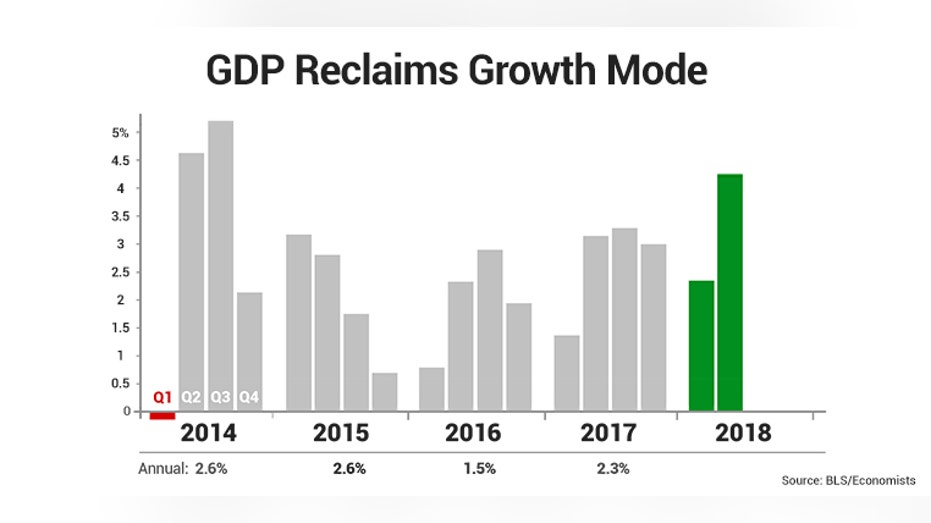 Still, the flow of positive economic data points over the past few months has been delighting President Trump, who continues to tout the economy's progress under his watch. "Our economy is setting records on virtually every front," he tweeted last Friday. 
Later that day, unrelated to his tweet, Fed Chair Jerome Powell, in prepared remarks, also gave an upbeat assessment of the economy. "With solid household and business confidence, healthy levels of job creation, rising incomes, and fiscal stimulus arriving, there is good reason to expect that this strong performance will continue."
In some respects, that scenario is already playing out. The U.S. unemployment rate sits at 3.9 percent, near a 20-year low, while small business optimism is hovering near record levels, along with U.S. stocks. This week the Nasdaq Composite crossed the 8,000 mark for the first time ever, as the S&P notched up a fresh record and the Dow Jones Industrial Average continued to work its way to back to an all-time high of around 26,616.
Stocks got a lift this week after President Trump sealed a new trade deal with Mexico, calling it "one of the largest trade deals ever made" and re-naming it the "U.S.-Mexico trade agreement," saying the prior NAFTA agreement needed to be scrapped in name and in principal. Trade negotiators are now turning their attention to Canada, which will be another important focus for financial markets. 
Despite the basket of positive news, some remain more cautious than others. Ahead of the deal with Mexico, the New York Federal Reserve cut its third-quarter GDP forecast to 2 percent from 2.4 percent, while the team at Bank of America Merrill Lynch forecasted 3.3 percent growth for the third quarter, with second-quarter GDP holding at 4.1% in the second estimate.
Suzanne O'Halloran is Managing Editor of FOXBusiness.com and is a graduate of Boston College. Follow her on Twitter @suzohalloran