US employers added 155,000 jobs in November, missing expectations
U.S. employers added 155,000 jobs in November, missing Wall Street's expectations for an increase of 200,000 jobs, after an already rocky week for stocks exacerbated on Thursday by investor fears that a U.S-China trade deal could be reneged amid newly inflamed tensions.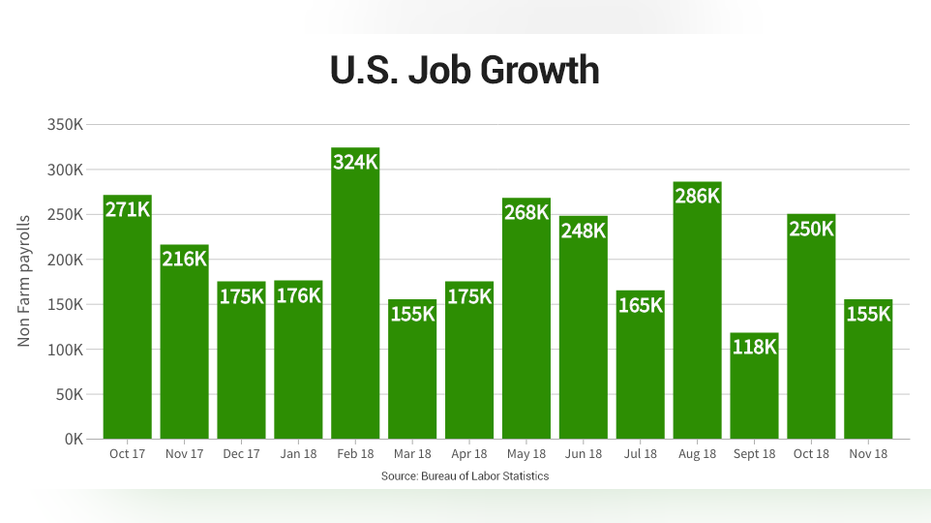 The unemployment rate remained steady at 3.7 percent, the lowest rate in 50 years, while the labor force participation rate also stayed the same at 62.9 percent during the month. Average hourly earnings meanwhile rose by 6 cents to $27.35. Over the year, average hourly earnings have increased by a total of 81 cents, or about 3.1 percent.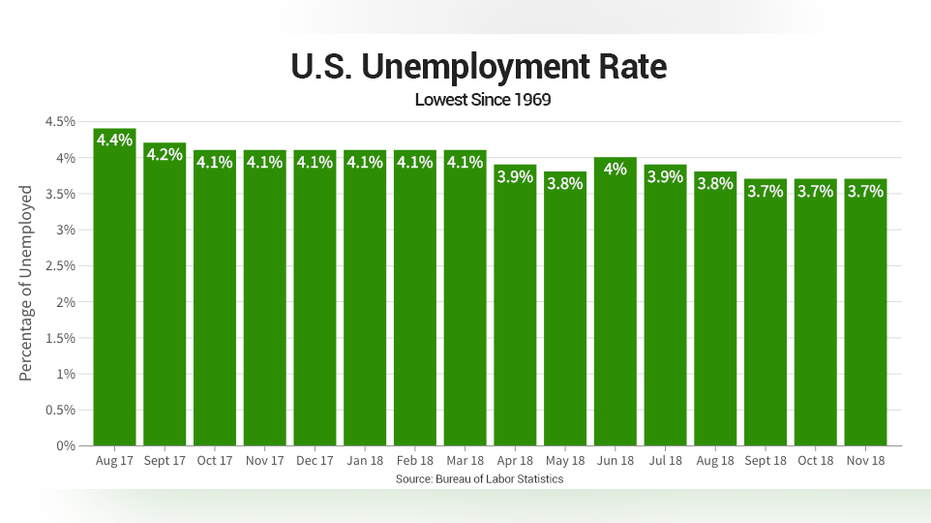 Although it was a weaker-than-expected number, experts portrayed the data as another good report, particularly regarding wage growth. It's the 98th-straight month of gains and indicates that despite a slight miss, the labor market remains robust and the economy strong.
"Wage growth remains respectable with the 3.1 percent gain in average hourly earnings over the past year," said Mark Hamrick, senior economic analyst for Bankrate.com "That's not a lottery jackpot, but it also doesn't set off inflation alarm bells for financial markets or central bankers.
And with an already tight labor market, analysts said they expect job creation to continue to cool heading into 2019 -- even as wages continue to rise.
"The unemployment rate reflects a tight labor market as the availability workers is low," said Tendayi Kapfidze, the chief economist at Lending Tree "The participation rate of 62.9 percent suggests that people on the sidelines are not sufficiently attracted by the level of wages to enter the job market."
Jobs numbers come on the heels of a report Wednesday from payroll processing firm ADP, which revealed the private sector added 179,000 jobs November, up from 227,000 in October -- the highest level since February.
Analysts anticipated that unemployment would hold steady at 3.7 percent -- a 49-year low -- while forecasting the creation of 200,000 jobs, according to economists polled by Refinitiv (formerly Thomson Reuters).
While the U.S. economy is still creating jobs, the softer report could give the Federal Reserve a reason to slow its planned pace of rate hikes in 2019. On Thursday the Wall Street Journal suggested the Fed is considering adopting a wait-and-see policy on future rate rises. Central bank policymakers will hold their final meeting of the year on December 18-19 and are expected to raise interest rates at the conclusion.
"This report is supportive of a Fed rate hike despite recent market volatility," Kapfidze said. "The outlook for rates is heavily dependent on expectations for inflation, which in term are influenced by wages where gains are starting to emerge."